The New Era For The Nebelhorn Has Begun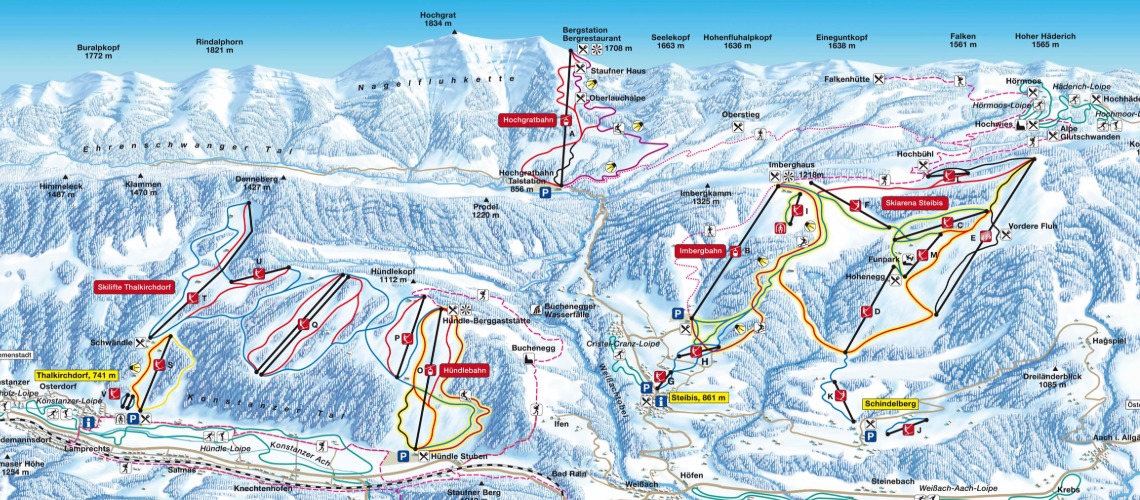 After more than 90 years of operation, the starting signal has been given for the all-round renewal of the highest mountain lift in the Allgäu.
In order to make the best possible use of the time during the official shutdown by Corona, Nebelhornbahn-AG moved the new building of the Nebelhornbahn forward by almost six months. By Easter 2021, a 2-cable gondola with modern 10-person cabins from LEITNER ropeways will replace the old large-scale aerial tramway. Nebelhornbahn AG invests around 55 million euros in the extensive renovation of the Nebelhornbahn and thus in the quality and service for guests.
Motivation, the engine for the major project
Nebelhorn-AG has a vision: in less than a year, the Nebelhornbahn should shine in new splendor. So there is great motivation to prefer the construction work during Corona's break and thus save time. "Yes, we are in the middle of a crisis. But that's why we don't put our heads in the sand, but see the situation as a great opportunity to advance a long-term and unique project. The course for financing was set a long time ago and now we have the opportunity to start and finish construction earlier than planned, "says Henrik Volpert, CEO of Nebelhornbahn-AG.
The modern cable car together with the architecture of the valley, middle and mountain station will make the Nebelhorn an outstanding overall experience and set new, impressive accents in the region.
"With the 10-person cabins from LEITNER ropeways, we guarantee considerably more comfort. Every visitor gets their own seat with a panoramic view in the barrier-free Symphony 10 cabins in Pininfarina look. In addition, the waiting times are significantly reduced, since there is no longer a change at the middle station to get to the Höfatsblick mountain station, "explains Johannes Krieg, CEO of Nebelhornbahn-AG.
The middle station will also be inviting for a trip to the Seealpe in the future. In addition to the cable car itself, the architecture of the valley station is a centerpiece and a real eye-catcher. With the natural wood construction, imposing glass elements and curved lines, it will become the gateway to the natural arena.
"Since 1930, visitors to the Nebelhorn have been on the high alpine terrain by train. Johannes Krieg is certain that the once longest passenger aerial tram will now evolve into a state-of-the-art gondola lift earlier than planned. "With the advantage of the construction, we see another decisive advantage: After the crisis, we can start the summer season 2021 stronger - hopefully without corona after-effects - and offer our guests a unique experience in the highest mountain lift in the Allgäu," says Henrik Volpert
The highlights of the construction of the second highest mountain railway in Germany:
New valley, middle & mountain station in natural wood construction with imposing glass elements
No change is necessary to get to the Höfatsblick mountain station
Reduced waiting times
Barrier-free Symphony 10-passenger gondolas in the Pininfarina look from LEITNER ropeways
Own seat and panoramic view for every guest
Two-wire technology with 2S technology:

Less noise due to tension rope pulleys and plastic pulleys mounted on springs
less maintenance and longer service life
more compact and space-saving stations
Despite construction work is by Nebelhorn and Söllereck cableways
Share This Article