Sled Dogs Aims To Be The 'Third Wintersport'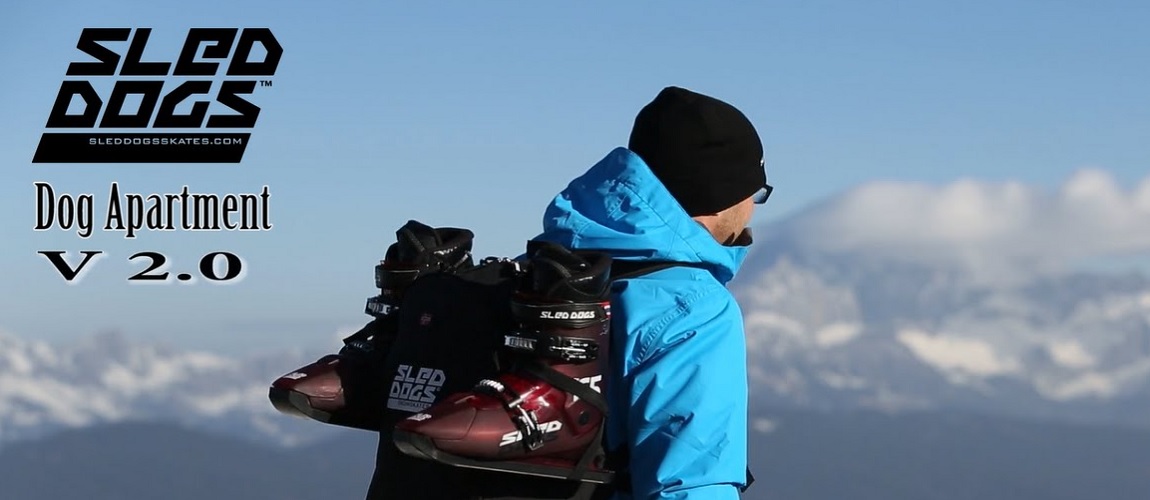 Sled Dogs inline snowskates believe they have a game-changing offer: Fun and confidence on day one.
If you always wanted to get into winter sports but felt discouraged by the cost and difficulty, this new invention from Norway could be the game-changer you've been waiting for: Skates that glide effortlessly on snow and are so easy to learn – so the makers claim – that total beginners can teach themselves in just one day.
The snowskates resemble ski boots but with different design technology: They are more flexible and are fitted with an integral, rigid base fringed with steel edges that grip the snow.
They are designed to provide secure ankle support at speed and on jumps, while offering a unique lightness and agility that means you can use them just like inline or ice skates – but on downhill snow slopes.
Developed by inline skaters Tommy Einar Gydar Syversen and Ronny Paul Gydar, Sled Dogs Snowskates were launched in 2014/15 with a focus on inline skaters and hockey players.
This heritage is evident today in the distinctive hockey-style jerseys and aggressive tricks you can see in some of the more eye-popping videos online.
After finding success with these groups and at tISPO, he world's largest sports fair in 2017 – where Sled Dogs was tipped as one of the best new winter hardware products of the year – the company is now turning its attention to a wider audience including families and winter sports newcomers.
"We'll always be a skating company, first and foremost," the founders emphasise. "Our message now is: Skating on snow is the fastest way to enjoy the slope, so come and join the party!"
It's a message that could revolutionise an otherwise static industry: Since the advent of snowboarding in the nineties, the winter sports market has remained stubbornly resistant to growth – even registering a small decline in some areas. Sled Dogs Snowskates wants to change that.
"You can have fun on your first day, you can travel light and it's a genuine alternative to ski and snowboard," says instructor Chris Norton. "I've been in the ski and snowboard game for thirty years and this is the first thing I've seen where I've thought: These are going to go all the way."
Certainly, there is no limit to the company's ambition: This season, they are launching in the UK and the USA as well as touring European ski resorts with their fully-customised tourbus and showteam.
High-profile international race fixtures are also set to be held in Canada, Germany, China, and Korea. Around the world, a new winter sports crowd is making itself known – and it wants you to join the party.
They see a ready market with inline and hockey, which they have already successfully connected with, but the most exciting potential is for total newcomers and families.
FIS has confirmed that cost and perceived difficulty are the two main barriers for 'people hesitating to take up winter sports'. Sled Dogs Snowskates are relatively inexpensive and mind-blowingly fast to learn - lowering those barriers to participation considerably.
Most total beginners discover they are confident enough on Sled Dogs Snowskates to enjoy a simple slope within one or two hours, with minimal instruction; however, most newcomers strongly express a desire for instruction and the SCP is a key part of a growth plan.
They are also keen to work in harmony with ski and snowboard – as they are bringing in new customers and once these are 'in the door', they are more likely to then take up ski and snowboard. In fact, they've found that beginners learn twice as fast on ski and snowboard after just two days using Sled Dogs Snowskates.
They are growing very quickly: Since launching three years ago they have expanded from a core base to over 40 countries, with a worldwide BONEFIGHT race competition, ISPO prize shortlisting (2017) and are launching this year in the USA with physical presence on the slopes.
They fully expect to achieve their ambition of becoming the 3rd winter sport after ski and snowboard.
They are also advertising in Norwegian Air in-flight magazine this season (full page ad plus Christmas wishlist feature). As mentioned, they have a presence in over 40 countries and expect to be featured on Chinese and Korean television once again this year, as well as on TV in the USA, if all goes to plan.
It really looks set to be a BIG year for them - as you can see, they have some big events in big markets in the USA, Canada, Korea, and China -
Share This Article