Build A Better Mousetrap - Aerospace Engineers Invent A Better Way To Ski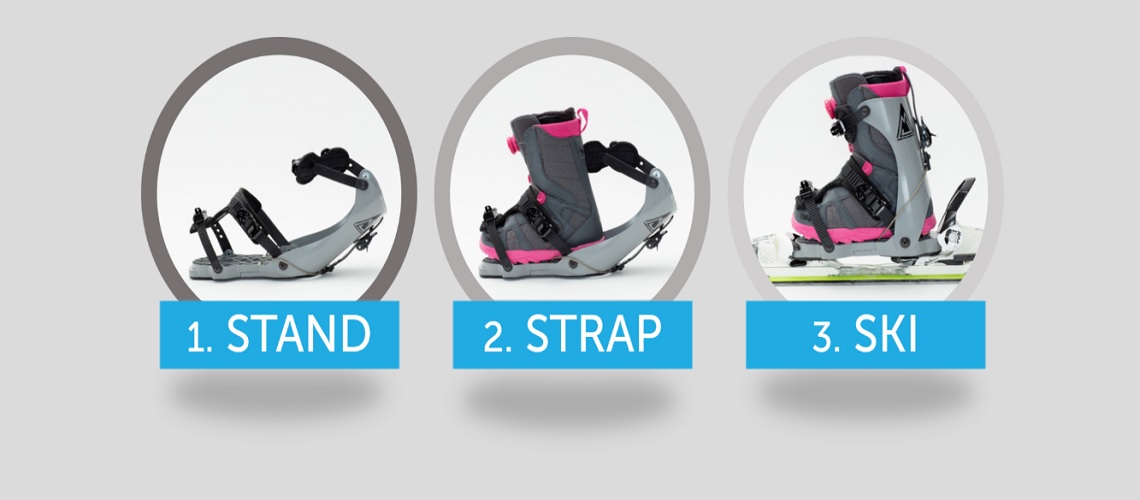 Mad Jack Snowsports, officially launched their 2018/2019 product line. Their flagship product, the MadJacks, a patented device that allows snowsports enthusiasts to morph snowboard boots to ski bindings, giving the skier an efficiently new way to ski that is affordable and comfortable while not hindering overall performance. The MadJacks comes at an opportune time for the skiing industry, as the industry searches for new ways to grow the pastime activity. Recently, The National Ski Areas Association discovered that the ski industry only converts 24% of first time skiers into lifelong skiers. This is due to the fact that 76% of those new skiers find the experience uncomfortable and unfeasible for gear as well as expensive.
The Aerospace Engineers and avid skier founders, Dr. Eric Mehiel and Bill Demarest took a leap of faith to create the MadJacks, after Mehiel's wife Kristin endured many seasons on the slopes feeling exhausted and tired of the pain associated with her traditional alpine ski boots. Mehiel and Demarest restlessly studied the physics behind skiing and how it relates to the modern ski geometry. Within their findings, the founders discovered that modern skis do not require a severe forward flex, but they do require a firm medial support to drive the ski. Soon after, the MadJackswas born for the modern skier with a moderate and comfortable flex that allows you to drive your skis with a superb response. The MadJacks are also designed to wrap around a snowboard boot. Now skiers can eliminate the pain associated with skiing, and enjoy the comfort of a snowboard boot..
"Being an engineer, I found it fascinating that ski boot technology has not changed since the 70s. With all the innovation out in the world today, it still surprises me that someone had not tackled this problem sooner." - Dr. Eric Mehiel, Co-Founder Mad Jack Snowsports
After a successful launch last December, which allowed the company to bring a limited release to market, Mad Jack Snowsports has hit a number of key milestones. Such as the technology of the Mad Jacks Snowsports patent, and Mehiel's wife Kristin being named as CEO, who successfully raised $145,000 in seed investment throughout the year.
"We're so humbled with the amount of interest so early on in the season. It is great to take part in this and see the number of responses that pour in daily simply praising us for creating a better and modern way to ski," said Kristin Mehiel, co-founder and CEO of Mad Jack Snowsports. "We have a crystal clear plan for further product evolution to ensure our company meets our mission of keeping the people happy on the hill."
The MadJack conforms to all ISO and ASTM standards related to alpine ski boot geometry (ISO 5355) and snowboard strap bindings for soft boots (ISO 14573). As such, MadJacks is considered a standard alpine ski boot - relative to the fit of the MadJacks to the alpine ski binding - and accepts a standard snowboard boot acting as a standard snowboard binding. It comes in a variety of sizes
Share This Article