Vlhova Takes Slalom Win In Lienz, Aamodt Kilde Wins Bormio Super G, 3rd Win In A Row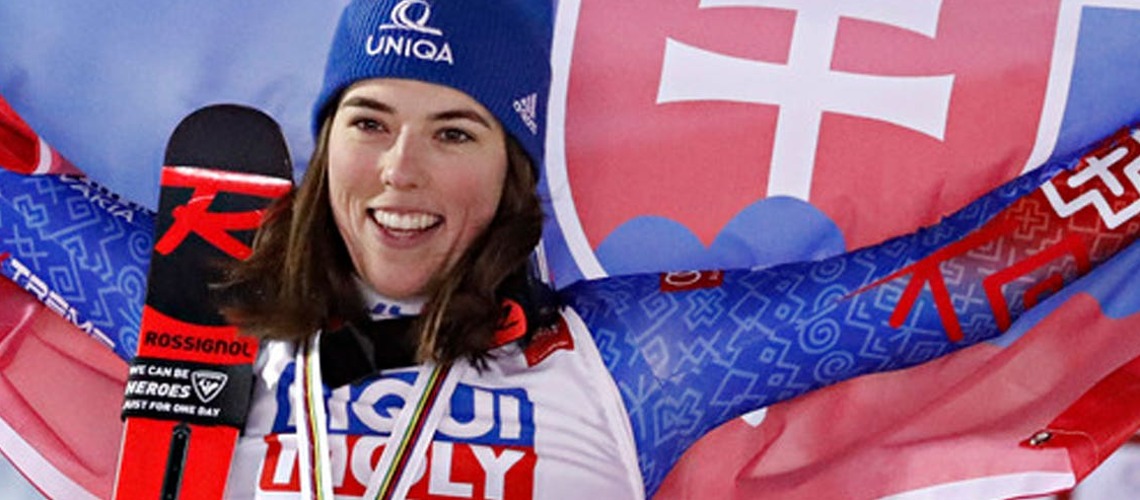 It was the first slalom race since the Killington World Cup over Thanksgiving weekend—a long break between events—and the weather warmed up to above freezing, making the course rough with ruts and bumps throughout the day. Petra Vlhova of Slovakia dominated the second run of the race to take the win by more than half a second over 2021 slalom World Champion Katharina Liensberger of Austria, who had just returned to the World Cup tour after recovering from COVID. Michelle Gisin of Switzerland was third, .68 seconds behind Vlhova.
The three podium winners were separated by a mere 0.24 seconds after the first run, setting up a thriller for the second run.
Vlhova held the bragging rights after the first run. She had a 0.08 second lead ahead of Switzerland's Michele Gisin, who ended the day also with a podium finish in third place.
Gisin was also a surprise podium winner. The Swiss racer hasn't logged much training time for the discipline this season, focusing instead on the giant slalom and speed events, but she looked very solid today.
Also putting in a good performance was Katharina Truppe, who climbed nine places in the second run to finish in fourth place.
"It feels good today," said Vlhova after the win. "It wasn't easy, it was tough. There were a lot of us close together after the first run. Conditions were perfect and the settings for both runs were not easy. At the end I am happy to get another victory. I have confidence in my slalom skiing right now."
Vlhova still leads the World Cup slalom standings, with her win boosting her to a 120-point advantage over Shiffrin. She also accumulated more points toward the overall standings, given Shiffrin's absence and Italian Sofia Goggia sitting out the slalom. Shiffrin still maintains the overall lead in the standings by 93 points over Goggia. Vlhova sits in third, behind by 135 points.
Paula Moltzan was the top American for the second day in a row in Lienz, Austria, taking 20th in the FIS World Cup slalom to close out the series. Mikaela Shiffrin, who has won the Lienz slalom twice in the past, did not race again after announcing she had tested positive for COVID-19 earlier in the week.
Moltzan had hurt her wrist before the races in Courchevel and found out that it was fractured before the races in Lienz. But the injury didn't stop her from racing—she taped her pole to her hand and threw down two runs of gutsy skiing to take 20th place. Her second run was the ninth fastest, showing that she has the speed, even with a wrist injury.
"Today was definitely challenging physically and mentally," said Moltzan. "I am happy to have crossed the finish line twice all things considered. I didn't think I would even be able to race today. The conditions here were awesome and we are definitely missing all the people who are not here."
The rest of the Americans did not make second run, battling a rough and rutty first run course. Lila Lapanja and AJ Hurt straddled, while Katie Hensien skied out. Nina O'Brien, who was having a fast run that would have given her a second run, got tossed out of the course going over the breakover and did not finish.
For the men Aleksander Aamodt Kilde (NOR) goes ahead and claims another super-G victory, making it his third in a row. The Norwegian had already claimed a super-G victory in Beaver Creek and Val Gardena so was in high spirits for today's race, even though he placed 6th in yesterday's downhill race.
Finishing second, Raphael Haaser (AUT), claims his very first World Cup podium after finishing 0.72 seconds after Kilde. Starting with bib 25, Haaser's best result so far this season was eighth place, which he obtained in the second super-G in Beaver Creek. He beat his follow Austrian skier and the reigning super-G World Champion, Vincent Kriechmayr, by 0.13 seconds with a stunning race. Claiming his first World Cup podium on the Stelvio is pretty special for him, considering that it isn't one of the easiest slopes on the circuit.
Last year's winner, Ryan Cochran-Siegle (USA), was holding onto third place for quite a while until Haaser put in his stellar performance to knock him off the podium. Unfortunately for yesterday's downhill winner, Dominik Paris (ITA), performance was not on his side in today's super-G. The Italian started with bib 6 but finished in 24th.
Cochran-Siegle missed the podium by five one-hundredths of a second, but this was a huge leap forward for him. In flat light, with relatively warm conditions, Cochran-Siegle showed that he's back on track as the White Circus heads into the classics on the calendar and with the Olympics on the horizon. It was a good step forward after his top-20 in the downhill on the Stelvio on Tuesday.
"I think, just, it's good to be a goldfish and forget the past and really just focus on what's before you," Cochran-Siegle reflected. "So today I was just trying to reassess, go about a good warm-up and get a good feeling prior to the race and trust my inspection and my ability. I know I've done well here on this hill, so I know how to ski it well, you just have to go out and execute."
Cochran-Siegle spent the evening before the race watching video and contemplating his set-up with his coaches aiming to create a set-up for super-G that allowed more freedom under the foot, where he could be more playful and ski more free. It seems Cochran-Siegle and his coaches/serviceman were spot on, because he skied a lot more free in the first of two super-G races.
"I definitely felt better today," he added. "I was allowing myself to, kind of, go with the hill more, less holding on. I think, too, with my skiing you can see I had a good amount of risk and was pushing. So I think for tomorrow, just try to keep that same mentality and just ski the way I can ski and not think too much beyond that."
Cochran-Siegle will undoubtedly watch video tonight as he preps for Thursday's super-G. He gave up a little time on the San Pietro jump, but rest assured, his skiing is looking very similar to the Cochran-Siegle who won the super-G last year and was the fastest in the world prior to fracturing his neck in the downhill at the Hahnenkamm in Kitzbuehel, Austria. With a little more confidence to trim the line, Cochran-Siegle will be back on the podium.
Travis Ganong also finished in the points, grabbing a solid 18th place. Other American starters included Steven Nyman, who landed in 37th, Jared Goldberg 40th, Erik Arvidsson 43rd, and Bryce Bennett 46th.
Share This Article