Modena Ready For Sunday's Skipass Big Air World Cup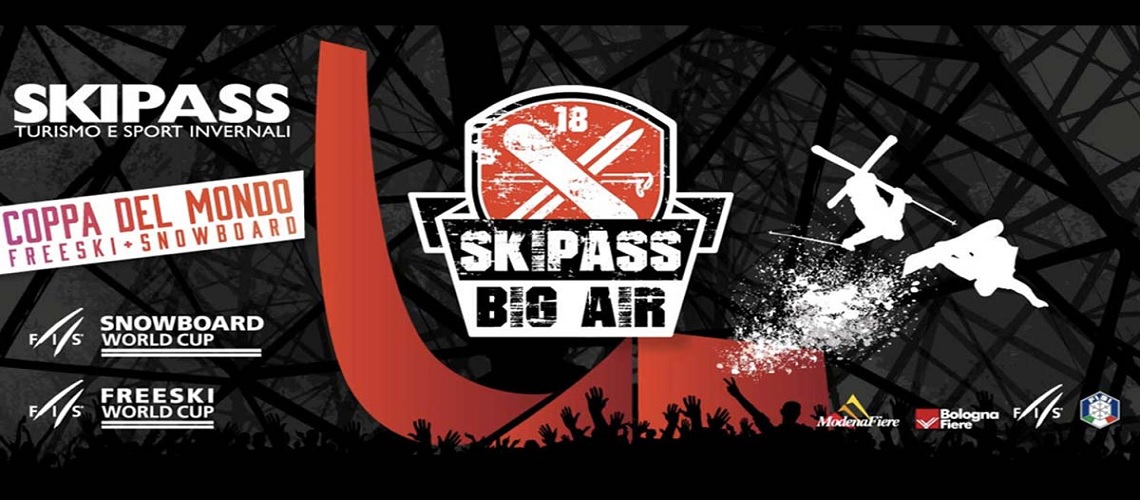 FIS Freeski is gearing up to open the 2019/20 big air World Cup this weekend with what promises to be a hugely entertaining return to World Cup action in the northern hemisphere, with action once again set to take to the skies above Italy for the Modena Skipass big air World Cup on November 3, 2019.
Last year was the first visit to Modena for FIS Freeski where, in conjunction with the 25th anniversary of the ModenaFiere SKIPASS winter sports trade show and festival, a hugely successful event saw an impressive collection of the best freeskiers from around the globe thrilling the crowd on the massive Modena scaffold jump ramp. And, with an even stronger set of athletes on hand for this season's event, it's shaping up to be a thrilling kick off to the winter on this side of the equator.
Meanwhile, men's qualifications are likely to go down on Sunday before finals, with finals featuring the top six women and top 10 men still set to begin at 17:00 on Sunday evening.
Who to watch: Women
While the FIS Snowboard big air World Cup already got its start for 2019/20 at Cardrona back in August, competition at Modena SKIPASS will be the first of the season for the women and men of the FIS Freeski big air World Cup, and an exceptionally deep entry list suggests the athletes are excited to get back to doing what they do best.
For the women, we expect to see all three of last year's Modena podium athletes back in action on November third, with Kea Kuehnel (GER), Sarah Hoefflin (SUI) and Mathilde Gremaud (SUI) all ready and looking for another strong start to their World Cup campaigns.
Gremaud and Kuehnel would end up finishing the 2018/19 big air World Cup season ranked second and third overall, respectively, behind only Elena Gaskill (CAN), who finished fourth last season in Modena before going on to win the crystal globe. Gaskill will once again be back in Modena this season and she, along with her teammates Dara Howell and Megan Oldham, will be looking to make an impact for Canada.
The host Italians will be well-represented by the veteran Silvia Bertagna who, even at the age of 32, remains one of the world's top freeskiers. As well, look for Guilia Tanno (SUI) and Johanne Killi (NOR) to be in the mix come finals time in Modena.
Who to watch: Men
For the men, the list of riders set to drop in at Modena SKIPASS is an absolute who's who of the freeski world, beginning at the top with Andri Ragettli (SUI), as last season's big air crystal globe winner leads a stacked Swiss team into Italy. Ragettli had the most World Cup podiums of any freeskier in history, and has finished on the podium in 13 of his last 15 World Cup competitions. As always, the unparalleled 21-year-old is likely to once again factor into the top three equation in Modena.
However, it's not going to be easy for him, as he'll be up against a Canadian squad that features the likes of Alex Beaulieu-Marchand and Evan McEachern, a US team boasting Alex Hall, Colby Stevensen, and Mac Forehand, the stylish Swedes Henrik Harlaut, Jesper Tjader, and Oliwer Magnusson, and, of course, the rest of his own Swiss team, with names like Fabian Boesch, Kai Mahler, and Colin Wili all able to put down some big tricks on competition day and push for top spot on the podium.
But why stop there? James Woods (GBR) will be there, and he remains one of world's elite, day in and day out, while the Norwegians will be rolling hard with PyeongChang 2018 Olympic slopestyle gold medallist Oystein Braaten and emerging big air/slopestyle/halfpipe triple threat Birk Ruud...
Long story short: the list is deep and we couldn't be more excited to see what everyone can do come competition time on Sunday.
Share This Article