First Edition Of Slay Days Hosted By 'Girls Are Awesome' Is A Wrap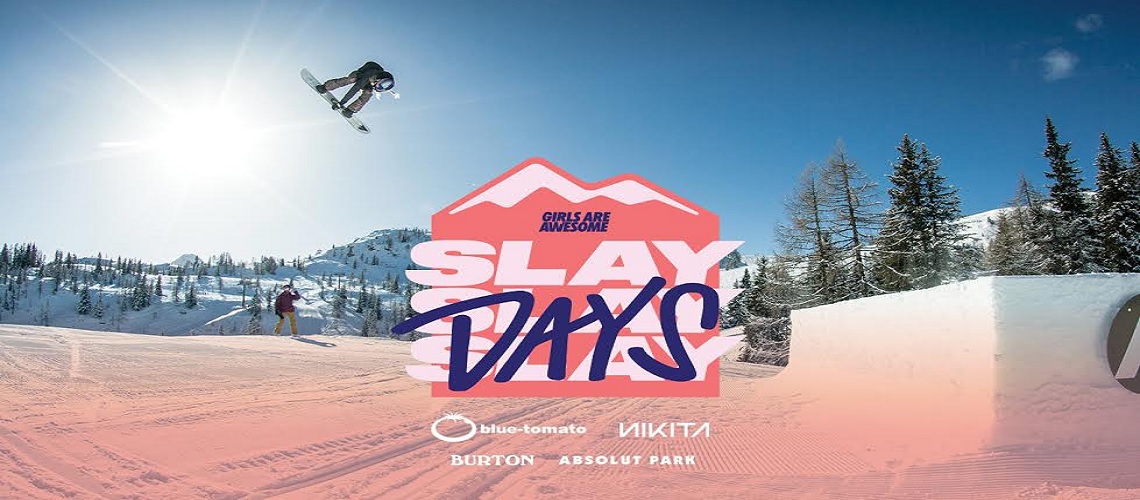 The first edition of Slay Days presented by Girls Are Awesome took place at the Absolut Park in Flachauwinkl, Austria's premier spot for freestyle riding. Slay Days was all about celebrating and empowering women who all share a common love for snowboarding and freeskiing. The gathering was one of a kind, packed with a variety of events. It was about creating a space to facilitate the conversation between like-minded girls, to support each other to learn new tricks, progress and most of all have fun.
It all kicked off on Wednesday with inspiring talks by Yuka Fujimori and Zoi Sadowski-Synnott. Yuka – a four-time Olympian shared her story, which is different to many snowboard careers. Being on the Japanese Boardercross team, she discovered her love for freestyle snowboarding very late and decided to go for it. Yuka knew it was her path and followed her dream. Zoe is only 18 years old, but can already proudly claim an Olympic Bronze medal and X-Games Gold. She grew up in New Zealand's best snowpark in Wanaka – SnowPark NZ, which her parents were running. Having the opportunity to ride this amazing park every day, she spent her time well and fearlessly progressed very quickly. It will be interesting to see what the future holds for this young lady.
Besides the talks, Absolut Park was the focal point with fun events like the Hike Race and Hip Contest, both presented by Blue Tomato, the Nikita G.W.R. Rail Session & Coaching as well as the Red Bull Kicker Photo Session and Mini Kicker Session. Girls also had the possibility to test the latest products from Burton and Blue Tomato. Off the snow the mini ramp outside Ofentürl was the place to be to gather after riding, accompanied by good tunes and followed by movie screenings in the chalet. Mornings started with Yoga sessions with Paula Viidu to get everyone in the right mood for the day. It was a great mix of a variety of events for all participating girls to connect.
"With Slay Days and all the other great women's events out there, we're excited to see more girls and women riding together, supporting each other and growing their communities based on fun, support, positivity and love. This week we've seen the positive effects when women of vastly different levels get together to push their progression in a low pressure environment", says Nick Bridge, founder of Girls Are Awesome (girlsareawesome.com).
Girls Are Awesome is already looking forward for next year's 2nd edition of Slay Days and would like to thank the following partners and supporters who made this event possible: Blue Tomato, Nikita, Absolut Park, Burton, Red Bull & Mizu.
Share This Article