Contract Award For The Renewal Of The Ochsenkopf Cable Cars Completed. Bidding Consortium Leitner/Zublin Awarded Contract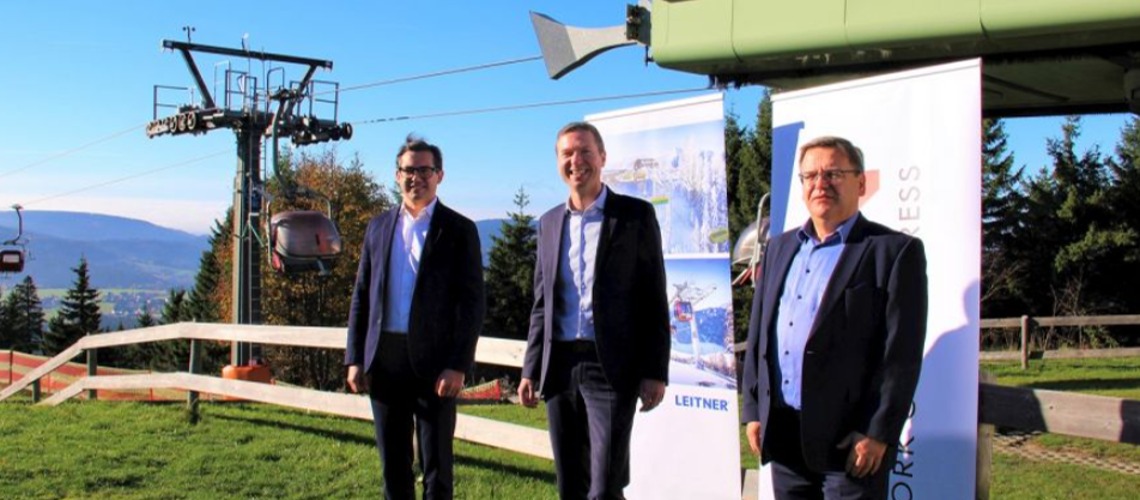 A big step towards the renewal of the cable cars on the Ochsenkopf has been made: As the association for the promotion of tourism and winter sports in the Fichtelgebirge announced, the contract has now been awarded. Florian Wiedemann, district administrator of the district of Bayreuth and at the same time chairman of the Zweckverband: "This is a milestone for this lighthouse project. The completed award of the contract gives us planning security and allows us to look to the coming months with confidence."
The process leading to the award of the contract, which has now been completed, was anything but easy. The corona pandemic, rising material costs and replanning of the design of the Ochsenkopf site meant that the "Renewal of the Ochsenkopf cable cars" project had to be regularly readjusted.
Those responsible around District Administrator Wiedemann are all the happier to have found a reliable partner for the flagship project in the Leitner/Züblin bidding consortium. The bidder secured the contract for both the southern and northern runways, with the net costs for the northern runway amounting to just over 22.5 million euros and for the southern runway just under 14.5 million euros. The association receives a subsidy of 30% on the eligible costs.
The companies in the bidding consortium are well known to the association and the district. Leitner, based in South Tyrol, built the existing chairlifts and knows the Ochsenkopf just as well as the Züblin company, which has its headquarters "around the corner" in Neudrossenfeld.
"Now we are in good spirits that the two lanes will be renewed in the tightly knit period," emphasizes District Administrator Florian Wiedemann. The northern runway is to be dismantled after the winter season in spring 2023 and then be erected and put into operation by the start of the 2023/24 winter season.
In the spring of 2024, the existing southern runway is to be replaced by the new runways. Commissioning is expected for the 2024/25 winter season.
Share This Article