"I never stopped trying." Brit' Ryding Wins Kitz' SL. GB's First Alpine World Cup Win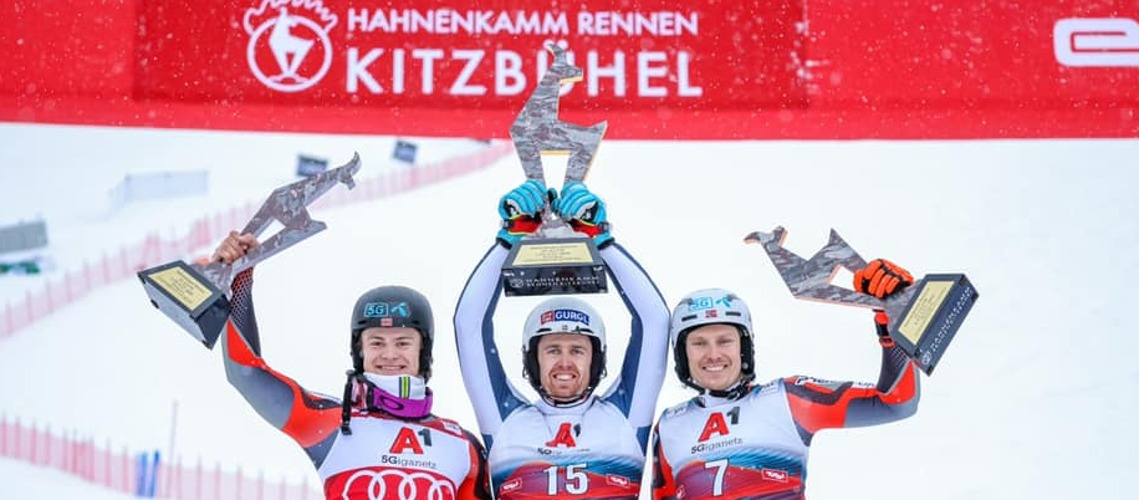 Dave Ryding took the top step in the men's World Cup in Kitzbuehel. On the bumps of the Ganslern the Briton won for the United Kingdom, the first UK win in the history of the alpine World Cup.
Ryding finished with an overall time of 1'41 "26, behind him was the viking duo made up of Lucas Braathen, on his third career podium and Henrik Kristoffersen, who recovered 21 places in the second run.
Ryding soared from sixth in the first run to first with two runs of 51.40 and 49.86 for a 1:41.26 total. The top three from Run 1 were Italian 22-year-old Alex Vinatzer, Clement Noel and pre-race slalom leader, and reigning world champion, Sebastian Foss-Solevaag from Norway, but by the end Vinatzer was 18th, Clement 15th, and Foss-Solevaag failed to finish in treacherous conditions.
Ryding had three previous podiums on the World Cup, including second place behind Marcel Hirscher in the Kitzbuhel in 2017. But until today no Briton has ever won a race in the 55-year history of the Alpine World Cup
"I've gone blank," he said right after the race "there was so much emotion when I finished and now I just, I don't know what to say, I'm normally not lost for words but now..."
"I always believed I could do it, I always thought I can do this but my races were getting less and less and doubt is always there.
"My team never stopped believing, they kept pushing me. More than I would like sometimes. My fiancee always supports me, my family is always there and I'm not the easiest to deal with all of the time. I hope they are popping a prosecco at home."
"You know, I'm 35 now, but I never stopped believing, I never stopped trying, and to bring the first victory for Great Britain in a World Cup, in Kitzbuhel, I mean, I don't know if dreams are made better."
Asked what he had to say to the cheering fans, he went on: "Thanks for your support, it means the world just to hear some Brits and people cheering in the fans because you know, I don't have a home race but there's always some Brits in the Alps because we love skiing and we love to party as well, so, thank you!"
"I had so much emotion when I finished, It means the world just to hear some Brits and people cheering," he said.
The win takes Ryding up to fourth in the overall World Cup slalom standings with 162 points. He also takes 100,000 euros winners prize
Share This Article