Bartholet - New World Record In Turkey. World's Longest Monocable Gondola Lift For Eight People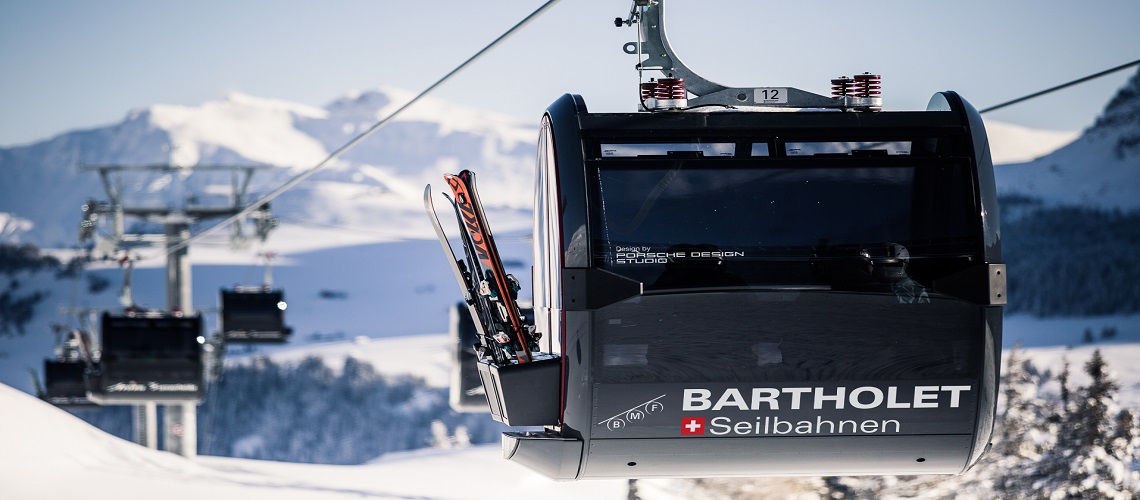 Bartholet is currently building four new installations in Turkey. Two further ropeways were commissioned at the end of 2019. Extreme weather conditions, challenging terrain and limited local resources place a variety of demands on the ropeway manufacturer Bartholet. The installations are mainly used to transport tourists. The new 8-seater gondola lift in south-eastern Turkey even sets a new world record.
Düziçi: World's longest monocable gondola lift for eight people
"In the middle of the plain" means the location name Düziçi, where a very special facility is currently under construction. The 8-seater gondola lift, which will open soon, sets a new world record. With an inclined length of 5682 meters, it represents the world's longest monocable gondola lift for eight people in a single section. But it is not only the length that is spectacular, but also the outstanding topography that is overcome. The line leads over rough and smooth, past barren rocks and overcomes a total height difference of 1'551 meters, which already represents the next record.
Starting from the valley station, which is located at 695 meters above sea level in the town of Düziçi, which is surrounded by mountains, around 43 vehicles overcome 25 towers until they reach the top station at 2,246 meters above sea level. Once at the top, an incredible view opens up as far as Syria and the Mediterranean. The summit, which was previously only accessible by a 45-minute drive along temporary gravel roads, can now be reached comfortably during a journey of around 17 minutes. Still pending is the wiring of the track. The remaining construction work has been completed. The cable pull was particularly impressive. It is a rope loop of about 11.2 kilometers, whereby two ropes were spliced together in the middle of the track. Even the transport of the two rope bobbins by truck into the impassable terrain was a major performance. Considering that one meter of rope weighs about eleven kilograms. Prior to the actual rope, a nylon leader was placed with the help of a drone and pulled in manually. Various ropes of increasing strength were pulled, followed by the actual steel cable.
Technical data GLD8 Düziçi
Type of lift:detachable 8-seater gondola
Valley station:695 m. a.s.l.
Top station:2'246 m. a.s.l.
Altitude difference:1551 m
Inclined length:5'682 m
Number of towers:25
Number of vehicles:43
Driving speed:6 m/s
Driving time:17 min. 9 sec.
Capacity:600 Pers./h
Drive:773.7 kW
Rope:53 mm
Babadağ: Three new facilities at a dream destination
The region around Babadağ is one of the most popular tourist areas in Turkey and attracts guests from near and far all year long. With an incomparable panorama over the Mediterranean Sea and the Greek islands, the peak Babadağ in southwestern Turkey is a perfect location. The mountain located above the bay of Öludeniz is the highest in the region with a height of 1969 meters. Thanks to the ideal wind conditions, the mountain is considered the ideal starting point for paragliding. The beach at its foot serves as an optimal landing place at sea level. The three successive new facilities serve as a feeder to the departure points as well as a means of transport for tourists visiting the mountain. From the valley at 226 meters above sea level, a 10-person gondola lift with two sections takes you up to 1,734 meters above sea level. Equipped with comfortable benches, the passenger in the gondola in the classic "Spacecab" design overcomes an inclined length of 4,206 meters.
The gondola lift is followed by two fixed-grip 2-seater chairlifts, which lead up to the top of the summit. Depending on the weather conditions one can choose between different departure points. The two fixed 2-seater chairlifts with a transport capacity of 800 people per hour are already in operation. The construction work on the gondola lift is in its final phase. In the first section, the towers will be installed soon. The second section is already completed. At the beginning of July, the cable lift is planned to be put into operation in August.
Technical data GLD10 Babadağ 3
Type of lift:detachable 10-seater gondola, 2 sections
Valley station:226 m. a.s.l.
Middle station:1'208 m. a.s.l.
Top station:1'730 m. a.s.l.
Altitude difference:1'504 m
Inclined length:4206.7 m
Number of towers:22
Number of vehicles:73
Driving speed:6 m/s
Driving time:14 min. 22 sec.
Capacity:1'500 Pers./h
Drive:430 kW
Rope:53 mm
Technical data CLF2 Babadağ 1
Type of lift:2-seater chairlift fix
Valley station:1'730 m. a.s.l.
Top station:1'776 m. a.s.l.
Altitude difference:46 m
Inclined length:288 m
Number of towers:4
Number of vehicles:32 (43)
Driving speed:1.5 m/s
Driving time:3 min. 2 sec.
Capacity:600 (800) Pers./h
Drive:19 kW
Rope:32 mm
Technical data CLF2 Babadağ 2
Type of lift:2-seater chairlift fix
Valley station:1'772 m. a.s.l.
Top station:1'967 m. a.s.l.
Altitude difference:195 m
Inclined length:1'076 m
Number of towers:13
Number of vehicles:80 (160)
Driving speed:1.5 m/s
Driving time:11 min. 57 sec.
Capacity:400 (800) Pers./h
Drive:70 kW
Rope:32 mm
Ilgaz: New development in the skiing area
In the "Ilgaz Yurduntepe Kayak Merkezi" ski area, two Bartholet installations were put into operation on 31.12.2019. The detachable 6-seater chairlift overcomes 352 meters in altitude and transports around 1,500 people per hour at a speed of 5 meters per second. The subsequent fixed 4-seater chairlift takes guests up to 2,328 meters above sea level. The 6-seater chairs in the "Design by Porsche Design Studio" are equipped with hoods to provide protection from wind and weather. The two lifts extend the ski area through the new development. The region has a very changeable climate. Moisture, hot and icy temperatures as well as strong gusts of wind are not uncommon. The leisure area in the Ilgaz Mountain National Park has a unique flora and fauna. Due to its natural beauty and its proximity to the city of Ankara, the area, which is located in northern Turkey, is very popular.
Technical data CLD6 Ilgaz
Type of lift:detachable 6-seater chairlift
Valley station:1'835 m.ü.M.
Top station:2'187 m.ü.M.
Altitude difference:352 m
Inclined length:2'098 m
Number of towers:16
Number of vehicles:61
Driving speed:5 m/s
Driving time:7 min.
Capacity:1'500 Pers./h
Drive:371 kW
Rope:46 mm
Technical data CLF4 Ilgaz
Type of lift:4-seater chairlift fix
Valley station:2'171 m. a.s.l.
Top station:2'328 m. a.s.l.
Altitude difference:157 m
Inclined length:1223 m
Number of towers:10
Number of vehicles:37
Driving speed:2.3 m/s
Driving time:8 min. 51 sec.
Capacity:500 Pers./h
Drive:51.6 kW
Rope:34 mm
Share This Article