Alternative To Traditional Ski Wax Hits The Market With New Kickstarter Campaign Launching On November 30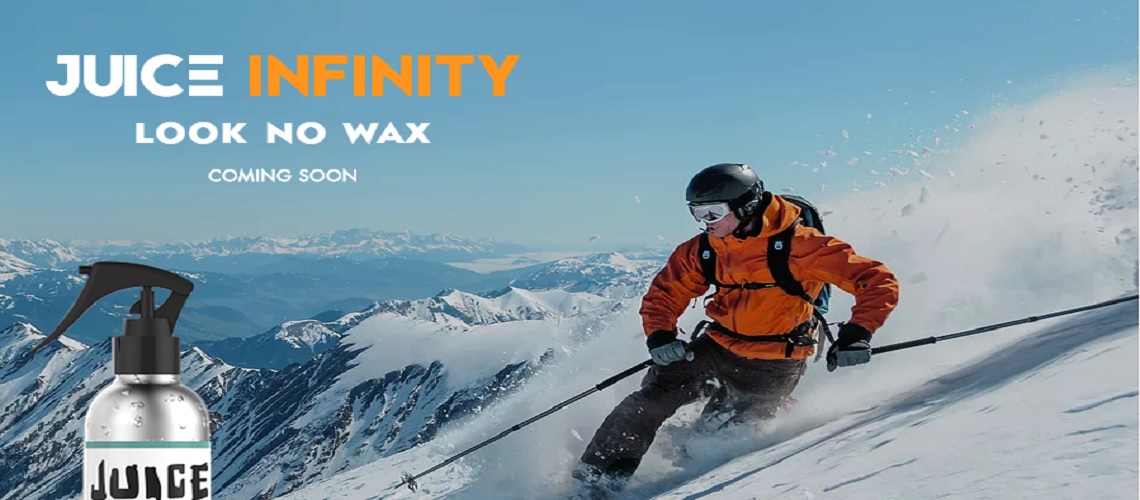 Looknowax's Juice, which claims to be the world's first alternative to ski and snowboard wax hits the market with new Kickstarter campaign launching on November 30, 2017.
British based company, Look No Wax, has launched a Kickstarter campaign to help promote its unique eco-friendly alternative to ski wax, 'Juice Infinity'.
Juice's patent-pending solution is a one-time spray application base-coating that forever eliminates the need for waxing skis and snowboards. Not only is it extremely easy to apply, but it also permanently improves skis and snowboard performance all year round, whilst being 100% environmentally friendly.
Look No Wax have been developing the product over the past 3 years and have tested it on a number of professional skiers and snowboarders on the slopes. The feedback has been great and they are now ready to offer this product to everyone.
The unique product will be available to purchase directly through the Kickstarter campaign, with big discounts available during the allocated time period only.
Founder and owner of Look No Wax, JD Price, comments: "There's a real and genuine issue with traditional ski waxes leaking chemicals into the snow that then filters through to the water table, effecting the environment in a negative way. Juice Infinity is 100% environmentally friendly but it's also proven to be better and more efficient than traditional ski wax too, so everyone is a winner".
Former British Olympic skier, Martin Bell, said: "I have tested Pocket Juice on glaciers in Austria and on manmade snow in Colorado. It has a very long lasting effect, and has been able to keep my skis running well for several weeks - much longer than would be achieved with traditional hydrocarbon wax".
The Kickstarter campaign starts on November 30 and will be launching with an exclusive $30 price point > www.juiceinfinity.com
About Look No Wax
* Juice Infinity simple spray formulation permeates deep into the surface of skis or snowboards providing a wax like glide lasting far longer than traditional wax.
* 100% eco-friendly and eradicates the need to use any wax.
* Easy to apply.
* Adds noticeable speed and performance to your skis or snowboard
* Makes your equipment more durable.
* It's as safe for your skin as washing up liquid.
JD Prince Owner / Engineer. JD is the man who started it all. He came up with the idea while he was working as a full-time ski instructor in Austria. For a few years he rigorously and continuously tested on his own skis and those of fellow instructors to test Juice in its various forms to get it into a working product. He's the man that can make our mountains clean.
Chris Norton – Owner / Business Operations JD and Chris met while Chris was racing on a dry slope in the UK. They found that they both shared similar business and ecological ideals and began working as a solid partnership. Together they have refined the product, the application processes and the business models so that everyone can enjoy being wax-free and fast!
Share This Article