New Lifts, A Sustainable Mountain Experience And Unbeatable Skiing: Skistar News For The 2022/23 Winter Season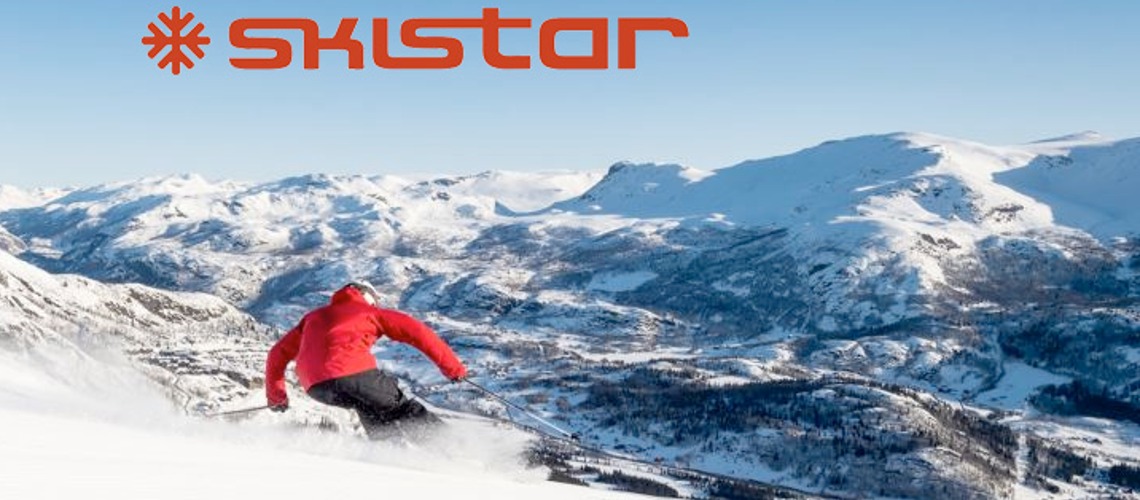 The winter season will soon be here again and there are lots of new developments at all of SkiStar's destinations for young and old alike. Besides improving snow production, we're also continuing to work on everything from hire and sale of used ski clothing and skis to providing more activities like snow parks and ski cross courses and increasing digitisation for a more carefree mountain experience. The new six-seater Stjärnliften lift will also open in Åre, which is an important step towards increasing capacity and guest satisfaction.
"As Scandinavia's leading holiday operator, we want to give our guests an even more enjoyable and memorable mountain experience this winter. We know that interest in winter holidays in the Scandinavian mountains is on the rise, so we're especially pleased to be able to offer lots of new attractions and facilities at all our destinations this season. If you can't wait until the cold weather arrives, you can always visit SummerSki at the new Stockholm Hammarbybacken centre during the autumn," says Stefan Sjöstrand, CEO and President of SkiStar.
In a round up of improvements at the ski resorts and new products they say:
"-In Åre, the old two-seater WC lift will be replaced by the new six-seater Stjärnliften, an express lift with the capacity for 2,600 people an hour in winter and 1,000 in summer. It's the first lift in Sweden that's open to guests in both summer and winter-opening.
"-We're adding a new SkiStar Snow Park, with the help of SkiStar's ambassador and Olympic medallist Jesper Tjäder, and a ski cross track in Åre Duved
"-In Sälen, we've built a new water reservoir in Hundfjället to increase the supply of water to snow cannons; this will triple the snow capacity in the ski area
"-Lindvallen, Sälen is getting a new button lift and a children's area at Timmerbyn, which will provide better ski-in ski-out facilities for all cabins in the area
"-The classic Turisten slope in Vemdalen has been widened and extended to the top of Hovde, so you can reach it easily and give your legs a rest on the Hovde Express on the way up. We're also installing lighting on the whole slope.
"-In Trysil, several slopes are being widened and the capacity of the Høgekspressen lift has been increased. Lighting is being installed at the Skarven lift at Fageråsen to improve the evening skiing experience, including the SkiStar Fun Ride. We're opening new childcare facilities at the Tourist Centre.
"-In Hemsedal, the Fjellheisen is being renovated and we're moving and developing the SkiStar Snow Parks for all levels of skier and several of the slopes; we're also providing more and better lighting and improved snow production."
A sustainable mountain experience:
Recycling and hire:
They're continuing to work on improving the sustainability of destinations and the great news is that SkiStar is starting to sell used skis from its own warehouse on skistarshop.com, and used clothing in collaboration with Circulate at the SkiStarshop Concept Store in Lindvallen. They're also testing ski clothing hire at the SkiStarshop at SkiStar Lodge Hundfjället and SkiStar's group and conference booking centre in Sälen Another development is unmanned SkiStarshops at the Swedish destinations, which will be open 24 hours a day, so you can walk in and buy a selection of essential products simply and easily with an app.
Sustainable travel:
For those travelling by electric car, mobile charging stations will be provided at strategic locations on the way to the destination during high season. Last year they installed over 150 new charging points for electric cars and this year they plan to double the capacity, mainly in SkiStar's car parks and at the building projects SkiStar is involved in, like Sadeln in Åre, Timmerbyn in Sälen and Fjellnest in Hemsedal. This year SkiStar will also be the first to use electric snowmobiles to reduce climate emissions. Much of the lighting in the ski areas has been replaced by LED lights.
A better digital experience:
The SkiStar app is being improved in a number of ways to make it easier to access customer services and pay for your SkiPass, for example.
Share This Article