ASPENX Beach Club With Gray Malin Returns To Aspen Mountain. Mountainside Pop-Up Reopens January 2023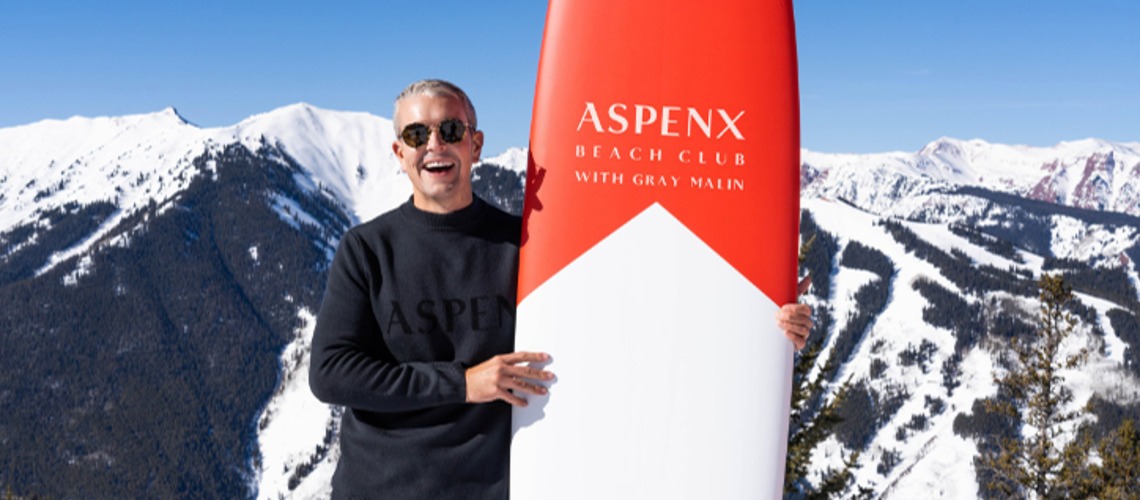 For twelve weekends this winter, ASPENX will revive the mountainside pop-up, ASPENX Beach Club with Gray Malin, at the top of Aspen Mountain, complete with music, food, drinks and 360-degree views of the surrounding slopes and peaks. The one-of-a-kind activation unites ASPENX's premium style, event expertise and dedicated service with fine art photographer Gray Malin's eye for artistry and design, infusing playful pops of color into the aesthetic.
Gray Malin is a modern-day fine art photographer and New York Times best-selling author based in Los Angeles. He has received commercial recognition for his aerial photography, shot over the world's most stunning beaches, and has also photographed collections at historic properties including The Little Nell, The Beverly Hills Hotel and The Breakers Palm Beach. Forging his work into a larger lifestyle with the philosophy to Make Every Day a Getaway®, Gray's photography has since expanded into a line of luxury products for home and travel. Gray has collaborated with global brands including Disney, Google, Ladurée, and Veuve Clicquot, engaging diverse audiences to experience his work in new and exciting ways. In recent years, Gray has created unique design projects that offer an experiential component of the brand for consumers, such as a redesign of a cabana at The Beverly Hills Hotel and the ASPENX Beach Club atop Aspen Mountain. For further information, please visit www.graymalin.com. Connect via Instagram: @graymalin.
Starting today, tickets are now available online. Dates of operation are January 27 to April 16 (Fridays through Sundays) from noon to 3 p.m. with a limited availability of up to 100 people per day. Guests must be 21+ to enter and a lift ticket is required to access the Beach Club via the Silver Queen Gondola.
Gathering the best of sand on the snow under signature striped cabanas, ASPENX Beach Club reservations include a three-course lunch complemented by champagne or rosé and specialty cocktails.
"We're thrilled to bring the beach back to the mountains this season and give our guests another incredible venue experience in the beauty of Aspen, "said Darcy Loeb, ASPENX COO.
"This immersive après-ski beach club is a dream aesthetic and combines my photography from Aspen with my aerial beach and ski images, as well as my vintage-styled series," said Gray Malin. "I've loved working with the ASPENX team to create an experience out of one of my photographs, complete with a DJ, games, a lifeguard tower, surfboards, and pillows," he continued.
Experiences are available at two-tiered pricing while a limited number of walk-in tickets will be offered. Private buyouts are also available, ideal for special events or corporate retreats.
Little Nell Culinary Director Matt Zubrod has crafted a menu to elevate the senses at ASPENX Beach Club with three courses as described below.
First course:
Valrhona chocolate-dipped strawberries

Black truffle potato chips
Main course:
Little Nell wagyu skewer

Baby portobello and vegetable brochette

Chimichurri dipping sauce


Alpine grilled cheese with prosciutto and tomato bisque
Dessert:
Stay tuned for news of special guest DJs and musical acts, collaborations, surprises and more - all coming this ski season. Secure your reservations today online.
Share This Article