Bentley Partners With Bomber Skis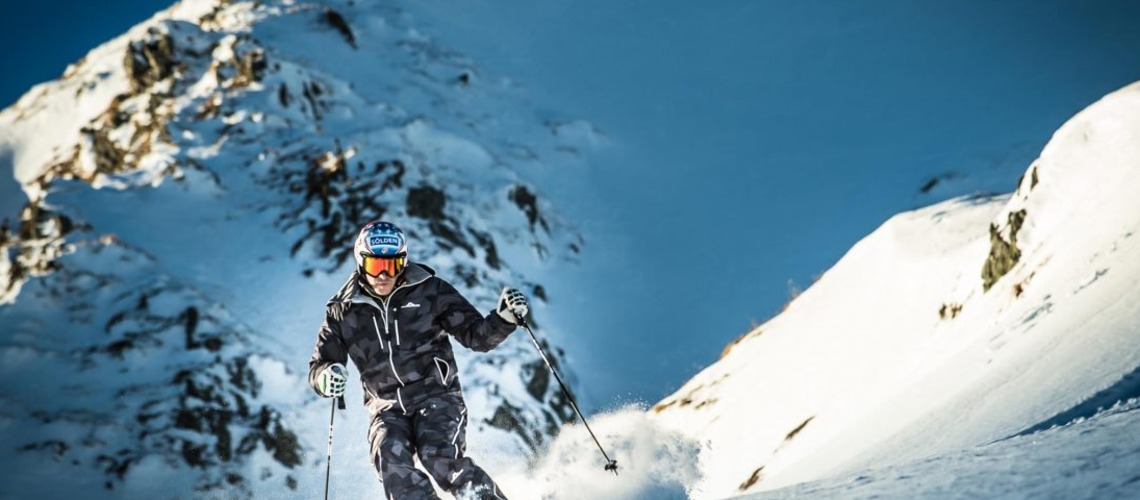 Bentley Motors is thrilled to announce the birth of an action-packed global partnership with Bomber Ski, in celebration of its centenary. To mark Bentley's historic 100 years the Centenary Edition ski, which is adorned with 24-karat gold plated diamond-shape inserts, not only enhances performance through cutting-edge design technology, but also adds a magical sparkle to skiers on the slopes.
Bentley celebrates winter through a global partnership with fellow luxury brand, Bomber Ski

Centenary Edition ski limited to just 100 pairs, adorned with 24-karat gold-plated inserts

Bode Miller, former Olympic ski racer and Bomber co-owner, collaborates in creating and testing ski designs

Two different designs for a total of 300 pairs of limited edition Bomber skis exclusively hand-made for Bentley

With best-in-class ski equipment and extraordinary experiences to delight and challenge Bentley's boldest customers
On- or off-piste this unique collaboration between two of the world's leading luxury brands promises an extraordinary introduction to the very finest ski equipment and an entrée into a range of snowscape experiences and après-ski enjoyment around the world.
With a shared passion for creating exceptional products using the finest materials and innovative techniques, the partnership between Bomber and Bentley has resulted in the creation of an outstanding ski: unparalleled in design and exceptional in quality, staying true to both brands' ethos of combining luxury and performance without compromise.
Bentley Lead Designer Chris Cooke worked closely with the Bomber teams in New York and Italy to bring the ski design from an initial sketch through to final production over the course of 18 months. The ski went through many rounds of intense testing to ensure absolute excellence on the slopes. The result has exceeded all expectations and the ski will match the needs of the world's best skiers and amateur enthusiasts alike.
'The project was a collaboration of experts who share our key values of next level craftsmanship and unrivalled design,' commented Cooke.
'The design was inspired by the visual language of Bentley's centenary concept car, the EXP 100 GT, and developed into a beautiful three-dimensional structure that actually enhances the performance of the ski.
'Everything we design has purpose, so the 3D geometry on the surface of the ski not only creates a dramatic aesthetic but is concentrated around the areas where support and response are needed most by the skier. This creates a design execution that has never been seen before and an experience for the user that surpasses all expectations.'
The design and development of the Bentley ski has also been heavily influenced by Bode Miller, legendary ski racer and co-owner of Bomber, who brought his skills and expertise to the entire process to ensure world-leading quality and, most importantly, the very best performance.
'On Bomber skis, one can actually feel the passion of the craftsmen that build them, an experience that no machine-made ski can reproduce. I'm thrilled to see this partnership with Bentley Motors so that we can enhance that 360-degree experience to even more enthusiasts throughout the world,' said Miller.
In honour of Bentley's 100th year, the Limited Edition Centenary Ski takes inspiration from the diamond motifs, textures and patterns found in the EXP 100 GT concept car launched in 2019. With just 100 pairs being made, and featuring 24-karat gold-plated diamond-shape inserts, this ski guarantees its presence will be seen on the slopes.
The Black Diamond Edition ski is finished in gloss black for a dynamic and powerful aesthetic. Again, the distinctive Bentley diamond motif weaves its way across the highly polished ski, seamlessly gliding from a negative to a relief design, adding a textural finish that is rare to find within the ski market. In the Black Diamond edition, the six diamonds are accentuated in a gloss black finish, the sharp surrounding lines are formed using a highly unique pressing process.
Within the boutique Bomber factory in Biella, Italy, each pair of skis takes about 32 hours of handcraftsmanship to ensure the perfect execution. The ski is made from a sandwich construction with a core of wood and fibres, covered by two layers of Titanal. The top layer intricately blends from negative to relief to add further texture and interest which has pushed both teams to innovate with tooling, processes and materials to execute such a detailed design.
The iconic Bentley wings logo lies proudly at the top of the skis with the Bomber Ski marque placed at the tail, both providing not only a visual reminder of this exciting collaboration but furthermore to add extra rigidity for a smoother experience on the slopes. Both are crafted in aluminium to recall the brushed aluminium of Bentley's Continental GT models.
Bentley Motors chairman and CEO Adrian Hallmark commented: 'We are delighted to be in such an exciting partnership with Bomber skis, based on our shared and complementary values of technological excellence, world-class craftsmanship and innovative design.
'Our customers are seeking extraordinary products and experiences, so our collaboration provides a unique opportunity to experience peerless levels of exhilaration and control while skiing or driving, using the best technologies in the world today.'
Bomber has been redefining the world of international luxury ski through its curation of Bomber Experiences, an exclusive programme of world-class skiing, dining and après-ski experiences at five-star destinations.
'Bomber fuses European aprés-ski culture with timeless, elegant, understated luxury to elevate the ski experience,' said Robert Siegel, Bomber Ski's primary owner. 'It's a spirit, a lifestyle, an attitude, that invites skiers to explore alpine experiences and create memories that they will treasure and relive infinitely throughout their lifetime. I believe creating unforgettable memories with loved ones is the ultimate luxury and I am pleased to have Bentley on board to further enhance Bomber Ski's experiences.'
After the launch of the skis, Bentley and Bomber will unite to deliver extraordinary customer experiences around the world, bringing together their like-minded communities to share in unparalleled ski and drive events in the world's best ski destinations.
As part of the ski events, customers will get behind the wheel of the Bentley product range on some of the most inviting mountain roads in the world, to truly experience the capability and luxury of the marque.
Only 100 pairs of the Centenary Edition skis and 200 pairs of the Black Diamond Edition have been manufactured and are available for sale at https://bomberski.com/shop-products/ and through Bomber retailers and distributors.
Share This Article