Whats New In Morzine, The 'Village With A Soul'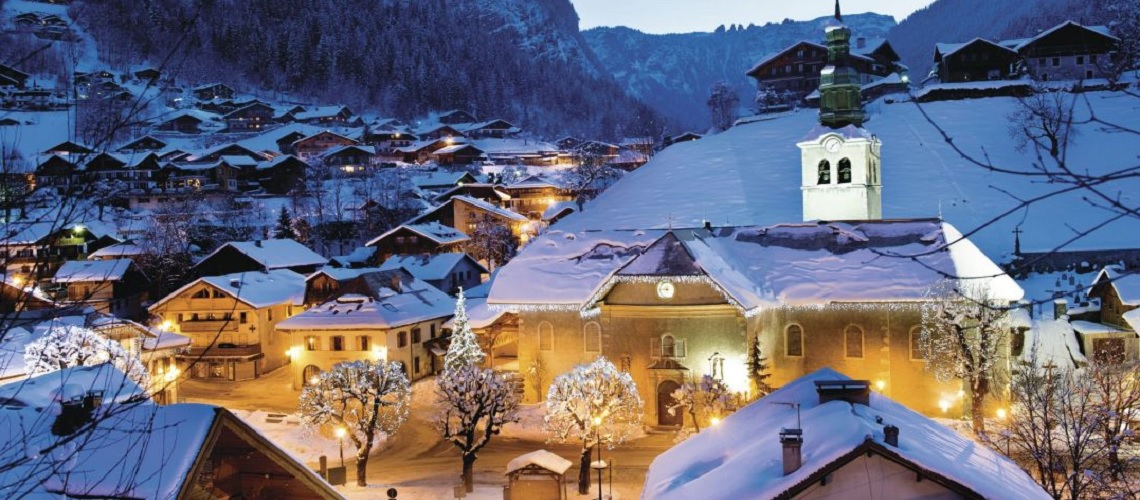 Morzine is a beautiful Alpine village at the heart of the Portes du Soleil region, offering visitors an authentic mountain experience and access to 600 km of skiing. Rich history, heritage, traditional architecture and boasting an enviable gastronomy scene, Morzine has all the necessary ingredients for the perfect holiday on skis or a snowboard.
Between Mont-Blanc and Lake Leman (lake Geneva), Morzine is also a cultural crossroads between France and Switzerland, two countries steeped in mountain tradition. And at around an hour's drive from Geneva, Morzine is incredibly easy to access, making it the perfect place for a winter getaway.
1,000 m : Village altitude

3,000 : Number of year round residents

1,934 : Opening of the Pléney gondola

25,000 : Tourist beds

50 : Restaurants

40 : Hotels
WHAT'S NEW: ACTION !
NEW: Escape Game
Escape games have increased in popularity over the last 10 years and have become increasingly sophisticated. After a day on skis find yourself transported into another world, that of the « Evil Villain's Lair » a unique experience in an incredibly realistic setting. The game consists of one hour of challenges with complex puzzles to solve in order to escape! Right in the heart of the village.
NEW: Torchlight snowshoe and aperitif
The mountain at night, it's another world, your feet in the snow, your head in the stars. With a flaming torch you can explore the forest before a break for mulled wine in what feels like the middle of nowhere, with nothing but trees and snowflakes... 2 options are on offer: aperitif and torchlight walk, or a full evening that includes a fondue dinner in a refuge, not to be missed!... Aperitif and torchlight walk
NEW: 2 new pistes for the Morzine Ski area
Nyon area: the red piste « l'aigle rouge » will be completely re-routed, from the Nyon peak at 2,019m down to the Nyon plateau at 1,413m. The work will take place over a 700m long area for a final piste that will be 2km long.
Pléney area: a new blue piste will be created from the top of Belvédère chairlift. This piste will be a new variante of the Grizzli, which can lead skiers to the Pléney ski area or Nyon.
NEW: 2 new chairlifts in the Portes du Soleil
2 new 6 place chairlifts will be brought into service for the new season, providing better and more comfortable access between Morzine-Avoriaz and the Swiss sector in Champéry - Les Crosets.
1 new red piste « Les Cases » : 2,500 metres and 445 mètres of descent.
NEW: European Cup for Women's Alpine skiing
Morzine has a long history of hosting prestigious ski competitions, and on the 29th & 30th of January 2020, the village will welcome some of the world's best women skiers. The contenders on the FIS circuit will compete on the Pléney piste for 2 giant slaloms, a real spectacle to watch. The finish line is in the heart of Morzine, allowing spectators to get up close and personal with all the action. The European Cup is the gateway to the World Cup, with established competitors racing alongside new talent alike.
NEW ACCOMMODATION
Traditional architecture with a special touch of design and luxury
NEW Chalet Zormine Simply Morzine
Chalet Zormine is practically next door to the Super Morzine lift, tucked away on a quiet side street. It benefits from majestic views over the Parc des Dérêches, the suspension bridge and the surrounding mountains. Sleeping 12-17 guests in 6 spacious ensuite bedrooms, this stunning new-build with an outdoor roof-terrace hot tub for relaxation, as well as a sauna and games room, raises the benchmark standard of catered chalet holidays in Morzine.
NEW Lodge des Nants by Hunter Chalets
Hervé Marullaz, an architect from Morzine, gave form to this magnificent chalet. With a pure mountain spirit style for the decor, this property offers guests a luxurious yet cosy stay: a home cinema, hammam, sauna and outdoor hot tub all add to the experience in this beautiful chalet with incredible views over Morzine and Avoriaz. The 7 ensuite rooms, can accommodate 14 clients. A chef is on hand to prepare all breakfasts and dinners and drinks are on an all-inclusive basis. A concierge and driver service are available 24 hours a day.
NEW Chalet Genepi by Hunter Chalets
A spectacular new chalet in the heart of Morzine. 6 double bedrooms are all carefully decorated to accommodate 12 guests. From the majestic lounge, visitors can enjoy an almost 360° view of the surrounding mountains, before relaxing in the outdoor hot tub, that's next to the bar and pool table.
NEW Chalet Tataali Boutique Chalet co
Luxury and modernity in a beautiful mountain setting, the perfect ski chalet! Chalet Tataali is situated in the Vallée de la Manche, 200 metres from the Nyon télépherique and snuggled in the forest next to a small river. The property offers guests a feeling of being alone in the mountains, while being just minutes from the centre of Morzine. The 7 ensuite rooms can accommodate 14 people in a very spacious 1000 m2 chalet. Refined, and innovative, a toboggan leaves from the entrance hall to descend into the games room two floors below, where clients will also find a cinema room, and there is even a climbing wall in the children's room. Chalet Tataali has an impressive well-being area with hammam, sauna, outdoor hot tub, pool with massage jets, water cascade and a counter-current system for swimming. To relax after skiing, guests will find a bar with pool table and a fitness room. Each evening, meals worthy of a top-end restaurant are prepared, with a menu worked out in advance with the guests to ensure it suits everyone's tastes. Staff, including an on-site barmen, are always on hand to help or to provide anything that is needed. The chalet also benefits from recharge points the garage for electric cars. With a 24 hour chauffeur service, the village centre is just 3 minutes away and the closest lift is 2 minutes away. li/
NEW Chalet Melodie & Chalet Harmonie Alikats
2 brand new luxury chalets are being built right in the centre of Morzine.
Chalet Melodie - sleeps 11 in 5 ensuite rooms and features an outdoor hot tub, superb open plan living space and stunning views.

Chalet Harmonie - sleeps 10 in 4 ensuite rooms with stylish interiors and an outdoor hot tub.
The heating and hot water for both chalets will be provided by an air exchange heat pump, which is the most environmentally friendly way of heating these buildings. From €13,500 for a catered week.
NEW Chalet Le Stade by More Mountain
A new catered chalet in the centre of town opposite the Pléney lift and at the base of the pistes. Right in the heart of the action for both skiing and après-ski! The chalet has 7 ensuite rooms for up to 15 people, as well as a spa with jacuzzi, a large lounge and TV room.
READY, SET, SKI!
Morzine ski area: Morzine has a great choice and variety for skiers of all levels, making sure no one will be bored. Right in the heart of the Portes du Soleil ski area with 600 km of very varied skiing (tree lined runs, easy wide pistes, steep Alpine descents, mogul fields, snowparks, fun areas for children…) Morzine is an incredible mountain playground with vistas that are just as diverse as the ski terrain: from views onto Mont-Blanc, to forests, to snowy Alpine meadows and chocolate box villages… Taking the Pléney lift from Morzine you can leave and arrive back to the village by ski. At the top of the lift you'll find its covered rolling carpet lift and easy runs for beginners, but also its mythical race piste right into the village. Chamossière, the highest point in the resort, will amaze experienced skiers! To get further afield there are easy links to Les Gets or Avoriaz, and even onto the Swiss resorts.
Opening / Closing
Saturday 14th December (partial) and Saturday 21st December 2019 (total) until 13th April 2020 (partial) and 19th April 2020 (total).
NEW: 2 new chairlifts in the Portes du Soleil
2 new 6 place chairlifts will be brought into service for the new season, providing better and more comfortable access between Morzine-Avoriaz and the Swiss sector in Champéry - Les Crosets.
1 new red piste « Les Cases » : 2,500 metres and 445 metres of descent.
Morzine – Les Gets area: 48 lifts, 71 pistes (9 blacks, 28 reds, 31 blues, 3 greens)
NEW: 2 new pistes on the Morzine Ski area
Nyon area: the red piste « l'aigle rouge » will be completely re-routed : from the Nyon peak at 2019m down to the Nyon plateau at 1,413m. The work will take place over a 700m long area for a final piste that will be 2km long.
Pléney area: a new blue piste will be created from the top of Belvédère chairlift. This piste will be a new variante of the Grizzli, which can lead skiers to the Pléney ski area or Nyon.
READY, SET, SKI!
NEW: ESF Off-piste ski and safety course (from 17 years, level 3 skiers)
Who hasn't dreamed of getting off the beaten track, away from the pistes, and on the mountain « Into the wild », on virgin snow fields and slaloming in between trees in a wild forest… ? The Morzine ESF have created a special « Freeride » package, which sees small groups with a pro! Two long mornings of discovery, fun and an emphasis on safety, are available every Thursday and Friday throughout the season, from 9am to 1pm. The necessary safety material is provided: ARVA, shovel, probe.
NEW: ESF Free ski courses for children 8 to 12 years and 13 to 17 years (Gold star level)
Designed for youngsters ready to leave behind the classic ski lessons of their childhood, who want to widen their playground and taste the liberty of skiing with other kids; this freeski course is the solution! Ski in safety on all terrain, with specialist instructors, with an emphasis on having fun while learning! They'll discover multiple aspects of skiing in a secure environment, from the most exhilarating to the most rigorous, the most technical to the most enjoyable. During school holidays from Monday to Wednesday, from 9am to midday.
NEW: Fun ski areas
The Nyon Snowpark is being completely remodelled!
« EAGLE PARK MORZINE Nyon », will be its new name! The Nyon snowpark will be redrawn with the aim of bringing more skiers and boarders to the Nyon plateau. Lots of exciting new plans are on their way, so follow the news throughout the season!
Chemin des Zouzous & Boarder Pingouin
So that younger skiers have a multitude of experiences and can learn to ski with as much fun as possible, Morzine ensures there are fun zones for all the family to ski! Amongst them: Le Chemin des Zouzous has new signage planned for winter 19-20, to make it easier to access. 2 km long, this piste on the Pléney area opens a gateway to the animal world, where the youngest skiers will love meeting the members of the penguin family in the « Boarder Pingouin » boardercross. With small rollovers, bermed turns and fun modules, it is the perfect environment for little ones to have fun as they learn to ski.
MINT « mini-shred » Snowboarding : Family snowboard camps!
Morzine based specialist snowboard school MINT, has an « all inclusive » offer for the whole family! Snowboard lessons for kids aged 3 years and up, for 2 hours per day over 3 days, quality accommodation in a fantastic catered chalet, and superb cuisine provided. Homemade cakes ready for your return from the slopes, sublime wines, and a team of staff to look after you! Each member of the family has their own « VIP » moment. From the 5th-12th of April 2020 and the 12th-19th of April 2020
MORZINE GOES GREEN
The impact of tourism on the environment is a major priority for the people and businesses of Morzine. As holidaymakers become more and more eco conscious, we work hard to ensure that the exceptional beauty of this Alpine area is enjoyed in a sustainable way and preserved for future generations.
Morzine-Avoriaz Town Hall
The communal buildings have been equipped with energy efficient collective wood fired heat systems and many vehicles used by the civic services are now electric. In addition, 2 recharge points have been put in place for electric cars (one near the tourist office and the other by the sports centre).
https://mairie-morzine-avoriaz.com/index.php/cadre-de-vie/les-grands-projets-de-la-mairie
NEW: « Montagne Verte » charity: Montagne Verte is a local not for profit, aiming to reduce the environmental impacts caused by residents, visitors and businesses in Morzine. The goal is to encourage everyone to get involved, by providing all the information needed to help people be more green and to make environmentally friendly options more accessible. This includes collaborating with local businesses in a drive to use environmentally friendly suppliers and engaging with the community through regular events and workshops.
Committed hoteliers :
Hôtel Le Dahu : this Morzinoise hotel has, for several years now, been on a green path. Through its own not for profit « franca nature », the hotel works to find efficient, environmentally friendly solutions that allow it to keep a high quality service for guests. Recharge points for electric cars are provided and instead of using single use slippers in the spa, they found a brand offering reusable slippers in hypo-allergenic rubber that can be washed and disinfected in between each use, which reduces waste. The doubleflux central heating enables cold air to be recycled into hot air, limiting energy loss, and linen is changed every 7 days to limit water consumption. All toiletries provided are in eco-recharge packaging and 42 KVC Airflow showers have been installed to save water (using 6 litres of water a minute as opposed to the standard 16 lives)
Other environmentally friendly hotels:
Les Hôtels Alpen Roc, Hôtel Tremplin, Hôtel Champs Fleuris
These 3 hotels all offer recharge points for electric cars, cleaning products are environmentally friendly and heating is provided by heat pumps. In the bars, guests are served drinks with washable, reusable bamboo straws instead of plastic, and to avoid energy wastage, corridors are equipped with light detectors and energy-friendly light bulbs are used.
Organic plates and local sourcing!
The Bec Jaune: A committed restaurateur and brewer with a love for artisanal beer. Their first environmentally friendly action was the decision to brew onsite, eliminating the need to transport the finished product and in turn reducing their emissions. All this in a pretty setting where visitors can also find dishes made from seasonal and local produce, including ingredients direct from the venue's mini garden. The farm at Mont Caly is their main provider of butter and milk, and homemade breads are produced from locally sourced flour. They make a divine homemade elderberry cordial and for responsible drinking, industrial fizzy drinks have been replaced with more environmentally friendly ones from fair trade or local suppliers. You'll also find local cider from Maison Lacroix in Cercier and their fruit juices! In addition, the wine list is made of organic varieties to reduce pesticides and straws have been banished, much to their clients are pleasing. The Bec Jaune is also host to an environmentally friendly event: « FIX IT » which is organised in collaboration with « Montagne Verte » so residents can repair damaged clothing and either exchange or give away clothing they no longer wear in order to raise money to plant trees.
MORZINE LOCALS : A traditional village shaped by the locals
Gérard Menu : A Morzine potter for 30 years
Born in Paris to a family from Evian, Gérard has aristocratic roots, boasting a 15th Century family coat of arms from the château d'Avully. He has had a life long love for pottery, and has kept traditional methods of production alive in Morzine for three decades. A self-taught artist, he learnt his trade from other regional potters and over time he has become one of the best. His pottery is sold from his workshop in central Morzine, where he also has his painting, sculptures and writings on display:
Thierry Thorens : Chef, sculptor and author, a multi-faceted mountain lover!
Coming from a family tradition of culinary specialists, Thierry Thorens inherited his love of cooking from his mother, who passed on all her secrets and recipes for mountain specialities. He then undertook apprenticeships working under some of France's greatest chefs (such as Paul Bocuse), and then knew that cooking would be his life! With his wife, Valérie, it was a natural decision to open the restaurant La Chamade in Morzine, where local cooking is reinvented each day! When Thierry is not in his kitchen, he sculpts, writes, and walks the trails of Morzine and the Chablais in search of edible flowers and herbs. A real food activist, he gives pride of place to quality local products that he combines with spices in his inventive recipes. After vegetables, rice, fruit, spices and flowers, Thierry Thorens published his latest volume focused on chicken and eggs. Over 300 original recipes, accompanied with his advice and savoir-faire.
Véronique Fillon passionate and enthralling!
She knows the local mountains like the back of her hand. With Véronique, a snowshoe outing promises surprising discoveries and fascinating encounters! Whatever the season, Véronique shares her mountain secrets with visitors: watching marmots, spotting chamois, searching for local plants, and learning about edible foliage. A very special experience that finishes in her Alpine chalet that's only accessible by foot. In the winter this can even be accessed at night after a walk using headtorches, for a magnificent evening with typical local dishes. Information: Half day 9 to 3pm with meal in her Alpine chalet. 12 people max.
Yohann Taberlet, an iron will, a steel mindset and a ski champion!
This pure bred Morzinois skier, 38 years old, has competed all his life and is one best! Following a serious parapente accident, that left him paraplegic, Yohann was determined to get back on his skis, and through hard work and tenacity became part of the French handisport Alpine ski team from 2005 to 2018. He has several French and European Champion titles and in 2011 in Sestrières became team world champion in giant slalom, vice world champion in slalom and took a bronze medal in the super combined! In 2018 he became the Director of the sports area : Parc de Dérêches / Palais de Sports in Morzine-Avoriaz, bringing the same energy and motivation to the job as he does to skiing.
Jules Gaillard, 2 very different professions on Morzine's mountains!
Jules alternates between his two passions, his goats and his love for ski. This 20 year old Morzinois goat herder, is now two years into his business of breeding goats with his partner and has constructed a building for his animals in Montriond, between Morzine and the Montriond lake. In the summer his herd can be found at the combe du Machon, and during winter the pastures he uses become ski pistes full of holidaymakers! Jules works on the Morzine lifts while his goats spend the colder months in their warm winter quarters!
LES « SAVOIR FAIRE »
La Fruitière – traditional cheesemaker
Since 1996, holidaymakers and residents have been enjoying cheese from La Fruitière. Nicolas Baud "loves working with good products, and helping others to discover them" such as the raclette or the vieux fromage de Nyon, with its unusual spicy taste. Delicious Abondance and reblochon & tomme are amongst the other cheeses made by him here. Free tours are organised to La Fruitière every Wednesday and Thursday at 9am, where visitors can learn about the cheese making process and how Nicolas Baud and his team work their "savoir-faire". Free unguided visits are also available in the afternoons from 3-7pm.
Au Délice Chocolaté
Owner Eric offers homemade creations in his little boutique in the heart of Morzine. For Eric, chocolate is first and foremost a shared family tradition as his father, a former Morzine chocolatier, shared and taught him his secret recipes. For this master chocolatier, quality is essential: working with small sustainable producers, all of his creations are homemade in his workshop, which is open onto the boutique.
The Farmhouse, Mas de la Couttetaz : The oldest building in Morzine !
Dorrien, Di & James welcome clients from around the world to The Farmhouse, also known as Mas de la Coutettaz. Built in 1771, this chalet is the oldest building in Morzine. The 11 bedrooms each have their own character and charm. In « The Atelier », you'll sleep in a former carpenter's workshop with beautiful wooden beams. The «India room » has been carefully decorated with finds brought back from a trip to the sub-continent. Spacious balconies and the garden offer pretty views over Morzine.
Horse-drawn heritage tours
Take the time to visit Morzine at a horse's pace with Rachel and Filou, comfortably seated, accompanied by the sound of hooves. Find out about the rich heritage of the area by exploring Morzine's historic centre, the old bridge (built in 1729), the church and more. A perfect trip for romantic couples, but also ideal for families and groups of friends. Prices start from €10 with the cost depending on the length of trip chosen.
Ibex, the Morzinois micro-brewery:
Ibex started brewing in Morzine in 2014, offering local beers with international influences. Themed meals are organised regularly in the brewery with a different world cuisine each time. Four beers are available all year round and each season different seasonal beers are created. The new shop on the brewery premises will open for the winter! And tours of the brewery will be organised, with a tasting session to round them off!
ALPSOLUTELY COCOONING »
Morzine Takes Care of You: a well-being week on9th to 14th march.
A week in Morzine to rest, recharge and reboot. The resort takes care of its holidaymakers with a special well-being week! Unique experiences to help guests find inner peace and vitality. On the programme: yoga, sophrology, workshops for making organic cosmetics, automassage… Serenity in the heart of the mountains!
NEW Flora Richard – Coaching Nomad with meditation option
A life coaching session whilst walking on a beautiful snowy path in the mountains (that's been groomed for easy walking). The experience allows participants to enjoy a moment of reflection, with a focus on reducing stress and detaching from the worries of modern life. Hour long sessions are available with the option to add a guided meditation session of 30 minutes.
Massages in the comfort of your own Morzine holiday home
Choose from deep tissue massage, relaxing massage, hot stone massage and reflexology. This mobile massage company offers a wide choice of treatments, with bookings available througout the day, so guests can organise a perfect moment of relaxation. The expert team bring their own massage bed and towels.
SPA Hôtel Le Dahu:
The Hôtel & Spa le Dahu 4* offers guests and other holidaymakers in Morzine access to it's beautiful Spa and well-being centre. Renowned for its massages, think essential oils, lomi-lomi, Californian and hot stones. A whole range of treatments are available including special offers for men and children!
Times: 10 am to 10pm for hotel guests / 10am to 4pm for other clients (only by reservation)
SPA Hôtel La Bergerie:
Set in the heart of Morzine, SPA Hôtel La Bergerie is a truly magical well-being space! The exterior hammam and sauna offer spectacular views of the mountain peaks, and with a heated outdoor pool, it is the perfect place to relax and unwind in an atmosphere of peace and serenity after a day on the slopes. Inside the hotel is a beautifully decorated treatment room: « Cocon au Pays des Flocons », for massages and beauty treatments.
MAIN WINTER DATES 2019/2020
17th to 19th December: les Micros d'Or, French sports media awards

21st December to 4th January: Morzine Enchanted Village

New – 29th & 30th January : European Women's Ski Cup
3rd March : Ladies Night

9th to 14th March: Morzine Takes Care of You

New 10th to 13th March : U14 French Ski Championships

15th to 21st March : Rock The Pistes
1st to 4th April : Morzine Kids Kingdom

5th April : Course des Champions
Share This Article