Tremblant Invests In New Infrastructure For The 2018-19 Winter Season Ready For Ski Le Gap Intake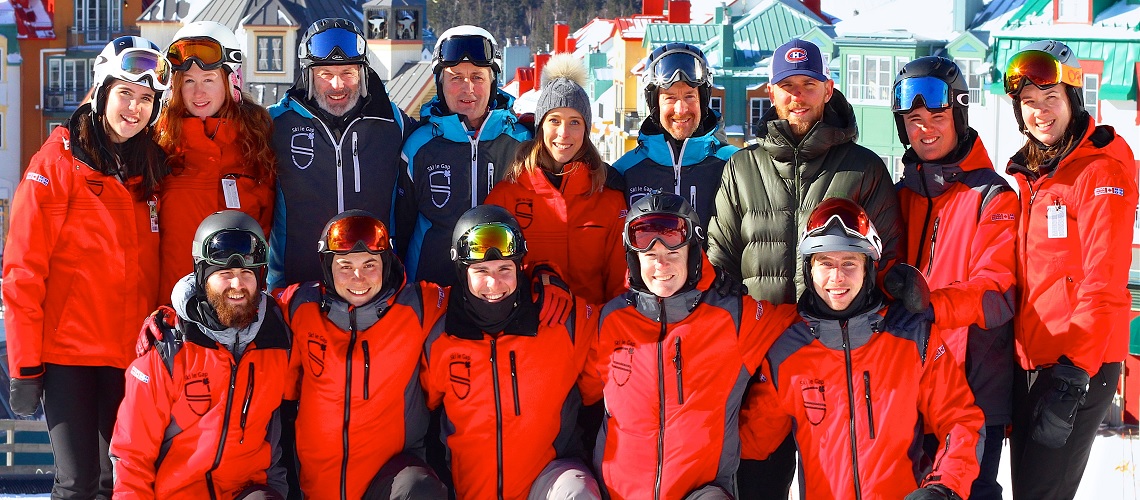 Mont-Tremblant – the largest ski resort on the East Coast of Canada, has invested heavily in new infrastructure for the 2018-19 season, cementing itself as the regions premier winter sports destination.

Voted #1 Ski Village in Eastern North America 19 times by SKI Magazine readers, it's also the location of choice since 1994 for the UK's original GAP ski instructor program – Ski Le Gap – who continue to operate solely in the resort to ensure they can offer a high level of service and consistency. The resort has spent 17 million Canadian Dollars (approximately £10 million) in a new detachable quad lift, boosting capacity by 600 skiers per hour. Station Mont Tremblant will continue increasing its snowmaking capacity with the acquisition of 31 high-efficiency snow guns. Also, 5 new glades covering a 50-acre area will extend Tremblant's skiable terrain to 101 trails across 715 acres.
About Mont-Tremblant's new investments:
High-speed quad lift ‒ On the North Side, the Lowell Thomas Express now boosts lift capacity to 600 skiers/hour.
New trail + 5 new glades ‒ The North Side and Edge faces offer 90 acres of fresh skiable terrain.
Expansion and renovation of le Grand Manitou ‒ The main summit chalet seats an extra 400 skiers and riders, with a complete makeover of its foodservice area.
Upgrades to la Fourchette du Diable ‒ The North Side base chalet now has a permanent structure at the north end of the building, and increased user comforts.
The Ikon Pass offers access to a number of iconic ski destinations around the globe ‒ In addition to Tremblant, ski Alta Ski Area, Aspen Snowmass, Jackson Hole Mountain Resort, Killington, Mammoth Mountain, Niseko United, Revelstoke Mountain Resort, SkiBig3, Steamboat, Stratton, Sugarbush Resort, Sugarloaf, Taos Ski Valley and Winter Park Resort, among others.
What's New in the Pedestrian Village:
Tour des Voyageurs Upgrades ‒ $3.7M investment on guestrooms and common areas.
Elevation, a new LGBTQ ski event held January 30 to February 3: Ski all day, then share lively après skis and festive evenings with renowned DJs.
Ski le Gap Course Director, Charlotte Dawson, says: "Besides being astoundingly beautiful, Tremblant has always provided the very best facilities for our GAP course students but the continuous improvements the resort is making ensures we can continue to offer a world class product. We have been bringing Gap Year students exclusively to Tremblant for over 20 years and both the ski area and the village have always proved to be an ideal location for anyone looking to gain their first ski instructor qualifications".
Ski le Gap run a 10 week Ultimate Experience course commencing on January 6, 2019 in the resort of Tremblant, Canada.Dates: 6
th
January – 16
th
March, 2019
Further information about Ski le Gap:
The 'Ultimate Experience Course' runs for 10 weeks with a cost of £8,875 pp
There's also an Intensive Training Course that runs for 4 weeks (January 6 – February 2, 2019) and costs £4,550 pp with a Level 1 qualification outcome and a chance to work for the ski school at the end of the course
Ski le Gap was founded over 20 years ago and operates exclusively in Mont-Tremblant
It's the original ski GAP course company, designed specifically for gap year students
Courses are all-inclusive and students are joined by Ski le Gap staff throughout the program in Tremblant
Ski le Gap coaches are all the highest qualified (CSIA Level 4), employed directly and not just a branch of a general ski school
Share This Article