Thule Roundtrip Luggage Continues Success With Expended Collection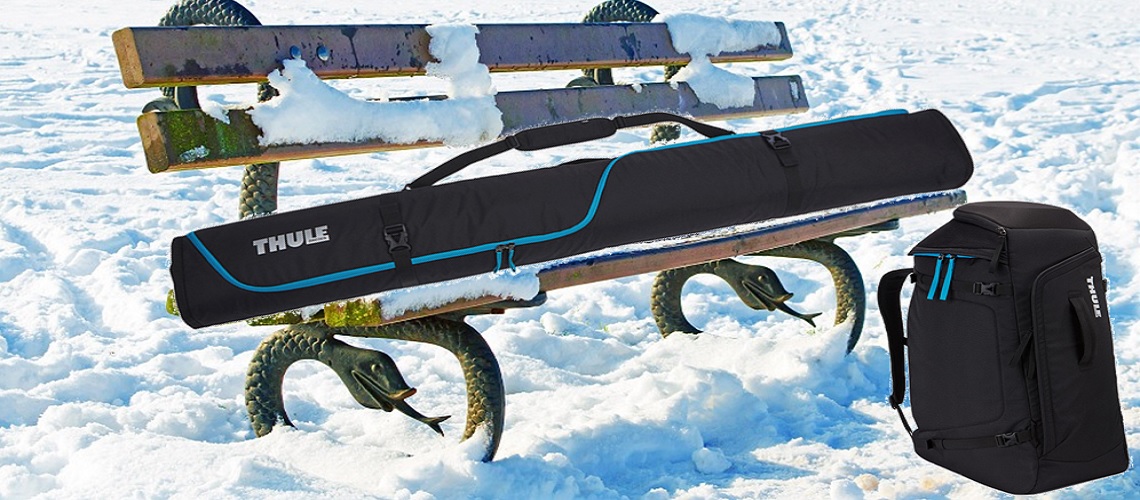 Protection and convenience rolled into one, Thule RoundTrip bags and cases make travelling with your bike and ski gear easy and safe. Thule's roundtrip luggage collection has always been at the luxury end of the ski travel market. Two key models in this year's collection are the RoundTrip Boot Backpack and the RoundTrip Boot Skibag
The Thule RoundTrip Boot Backpack is a snowsport backpack designed to keep your feet dry, your goggles safe and your gear organised.
The backpack stores boots safely with a rear-loading compartment, so you can easily change on the go. Extra access at the top/front of the bag lets you reach your other gear around the boots, whilst a SafeZone compartment keeps goggles and sunglasses protected. Water fro your boots escapes through grommets in boot compartment
Store and transport boots in rear-loading compartment and you can conveniently change in and out of boots in any location and keep feet dry by flipping down backpanel door for use as a standing mat
You can efficiently pack and access your snowsport gear with two-way access into the top or front of bag and protect your precious goggles, sunglasses, iPhone or other fragile gear in large, crush-proof SafeZone compartment
The 60l capacity lets you store outerwear, gloves and accessories in two spacious side pockets Deter theft with lockable zippers (lock sold separately).
It's comfortable and easy to transport with padded shoulder straps and multiple grab handles.
The pack will quickly connect pack to any Thule RoundTrip Ski or Snowboard Bag using built-in attachment loops.
A great optionto attach the pack to is the Thule RoundTrip Ski Bag, a spacious ski bag with padded, cinch-top ski sleeves to ensure your gear travels safely to each destination. It will fit a single pair of alpine skis or two pairs of nordic skis up to 192 cm in length plus poles. The RoundTipski bag has added protection for poles with a dedicated internal pole compartment and keeps gear from shifting with external compression straps. It's easy to protect your skis and outerwear and stay organized with the padded, cinch top ski sleeves.
If you have a lot to lug then try the beautifully engineered wheeled version.
Thule RoundTrip Ski Bag Technical specifications
Dimensions 205 x 36 x 16 cm
Weight1.42 kg
Colour Black
Material 600D polyester
Thule RoundTrip Boot Backpack 60L Technical specifications
Dimensions 36 x 36 x 58 cm
Weight1.25 kg
Volume 60 L
Colour Black
Material 600D polyester
Share This Article