Faction Skis, Dragon Alliance Team Up With Japanese Artist Kengo Kimura For A Limited Edition Collaboration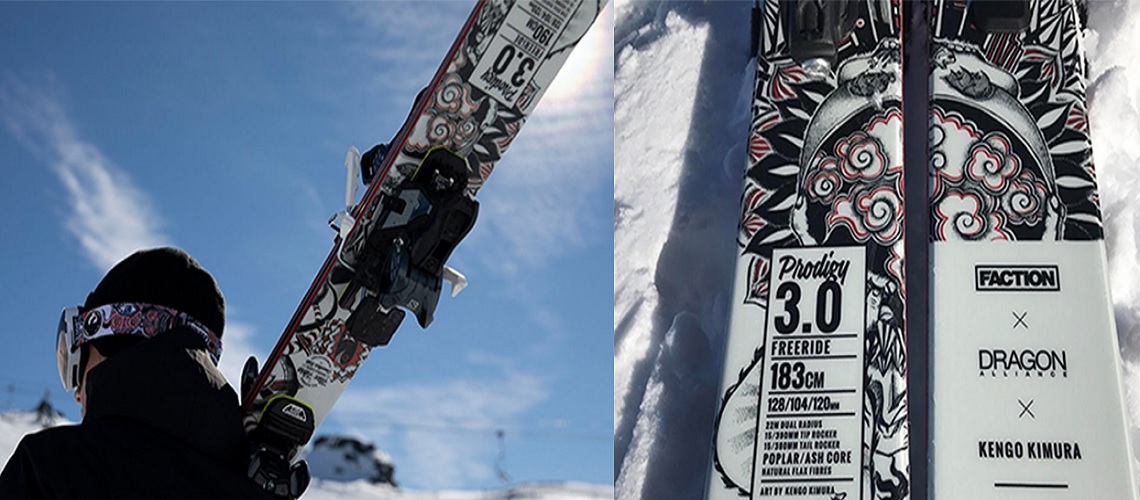 Faction Skis, designer and manufacturer of performance skis, and Dragon Alliance, leading eyewear and accessories brand have teamed up with sensational Japanese artist Kengo Kimura to produce a collaborative capsule collection featuring the Faction Prodigy 3.0 and Dragon X2 goggles.
The Prodigy 3.0 is Faction Ski's most versatile freeride twin tip. Redesigned for Winter 2019, the all new progressive shape adds freestyle flair to downhill performance. The Poplar/Ash core breaths life and pop into a ski that will take on all the snow types, terrains and descents available in a day's work.
This is a ski with a thirst for freedom and expression – a blank canvas left waiting for Kengo Kimura's artistry in collaboration with Dragon Alliance.
They say "We teamed up with Dragon Alliance for a Limited Edition capsule collection bringing together the Faction Prodigy 3.0 and Dragon X2 goggles – united by the hypnotising art of Kengo Kimura. Using skateboards, snowboards and skis as his canvasses, Kengo's art is detailed and mesmerising, inspired by the mystical spirit and wild, snowy mountains of his native Niigata, Japan"
Kimura, the artist behind the collaboration, has stated that the culture of "Yokonori" (riding sideways) inspired him to pick up his brush. Coming from Niigata, Japan, the natural forms and lines Kimura makes riding powder in the surrounding forests are transferred to his canvases: skateboards, snowboards and skis. Kimura's curiosity for the mystical spirits that live in these mountains brings hypnotic figures and elemental detail into his artwork that will leave you mesmerised for hours at a time.
Working with Kimura is one of many examples in which Faction are engaging with Winter Sports Culture in Japan. This season, Faction products will be stocked in more than 50 premium retail stores across the country. Reception has been warm and demand is ever increasing. These Japanese ties were strengthened again last season, with Faction supporting Freeride World Tour Skier and national hero, Taisuke Kusunoki, as one of their premiere athletes.
Collaborative work with artists such as Kimura and many more are prime examples of what sets Faction aside from the rest. Reimagining skis not just as tools, but as art in motion that is built to last. This is just one of many reasons why skiers align themselves to The Faction Collective.
The design driven Kengo Kimura capsule allows fans the opportunity to represent these designs from head to toe with the ski / goggle combination. Limited pairs of both The Faction Prodigy 3.0 Collab and Dragon Alliance X2 goggle are available, so don't miss this opportunity to secure these limited edition products before they are gone forever.
Share This Article