Shiffrin Breaks Women's World Cup Record With 83rd Win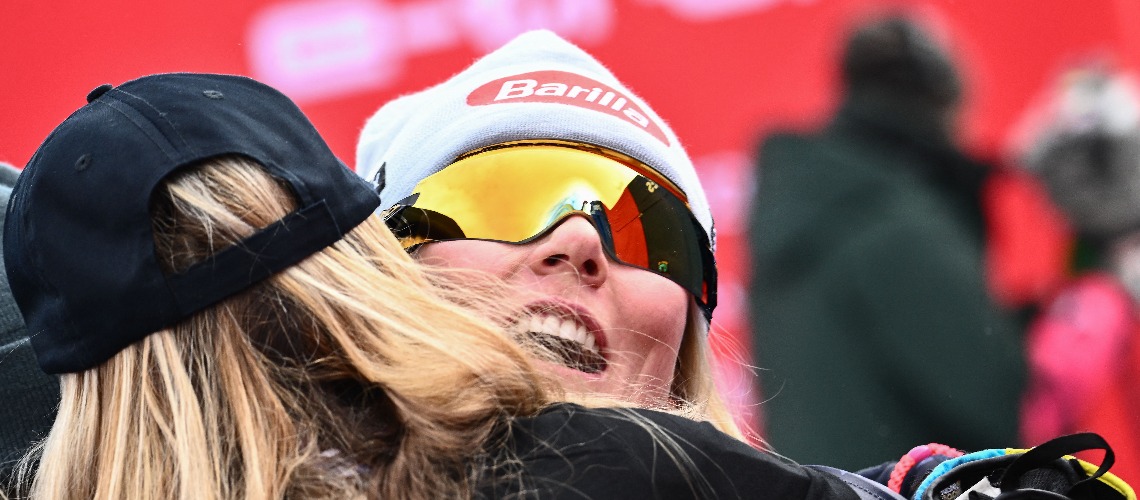 U.S. Alpine Ski Team athlete Mikaela Shiffrin secured her 83rd FIS World Cup win in Kronplatz, Italy to become the winningest woman skier of all time.
"I was a bit nervous for the second run but mostly I hate waiting," said Shiffrin. "Finally when it was time to go, everything went quiet and I just pushed as hard as I could every turn. It was pretty amazing to come to the finish and see that I was quite fast. I could hear that the other athletes were skiing well… I was like I could lose this, so I'm going to try to ski a very good run, and it was. It's still hard for me to believe that I have the mental focus again to be strong on the second run. It's something I don't take for granted."
"It's still incredible to see my name mentioned alongside the greats of our sport," said Shiffrin. "Moments like this are important to appreciate so I just want to take a second and soak it all in. There's too many people to mention but it truly takes a team to achieve this and I'm incredibly thankful for mine. I've had so many people stick by my side through thick and thin, something I feel truly lucky for. I'm thrilled to have reached this point, but the journey doesn't stop here."
Shiffrin surpassed the previous record holder, fellow American skier Lindsey Vonn, who held a record of 82 World Cup wins. Shiffrin tied Vonn's record in Kranjska Gora, Slovenia just 16 days ago. Shiffrin is now just four World Cup wins away from Ingemar Stenmark's all-time record of 86 World Cup wins.
"Reaching this milestone is an incredible accomplishment, one that I hope Mikaela is able to savor," said Vonn. "Picabo Street inspired me to become an Olympian and I remember vividly how much of an impact she made on me. Throughout my career I always tried to be the role model for kids that Picabo was for me, and now it is Mikaela's turn to carry that torch. As Americans, we have been able to produce incredible athletes, and I am excited to see who Mikaela will inspire to continue to push the limits of our sport. Congratulations on raising the bar for all skiers to come."
It has been a fast and furious rise to history for Shiffrin, starting with her first World Cup in December 2012 just a decade ago. At the age of 17, Shiffrin won the slalom in Åre, Sweden and became the second-youngest American to win an alpine World Cup. Her second win came two weeks later in Zagreb, Croatia. From there, she continued her streak, becoming the first ski racer in history in 2019 to win in every discipline: downhill, super-G, giant slalom, slalom, alpine combined and parallel.
She took her first giant slalom win in 2015 at the season-opener in Soelden. Her first super-G win was in Lake Louise, Canada in 2019, where she also won her first downhill in 2018. She won an alpine combined in Crans-Montana, Switzerland in 2017 and her first parallel at a city event in Stockholm, Sweden in 2017. Shiffrin's win rate is an incredible 35%, which means that when she starts a race, she will win more than one-third of all races. Her podium percentage is more than half at 55%.
Shiffrin also holds 12 World Cup crystal globes in three different disciplines, including four overall titles, as well as nine World Championships medals—including six golds—and three Olympic medals. And that just scratches the phenom's resume.
"Mikaela Shiffrin is now not only the best woman alpine skier of all time, but she is also a great person, teammate and role model for the sport of alpine skiing," said Sophie Goldschmidt, CEO of U.S. Ski & Snowboard. "As an organization, we are so proud of her accomplishments and cannot wait to see how she further transforms the sport and the history books next."
Shiffrin now turns toward Stenmark's record as the season continues, as she eyes becoming the most dominant alpine skier in history.
Share This Article