#sheisoutdoors Women's Gear Award Winter 2023: The Award Winners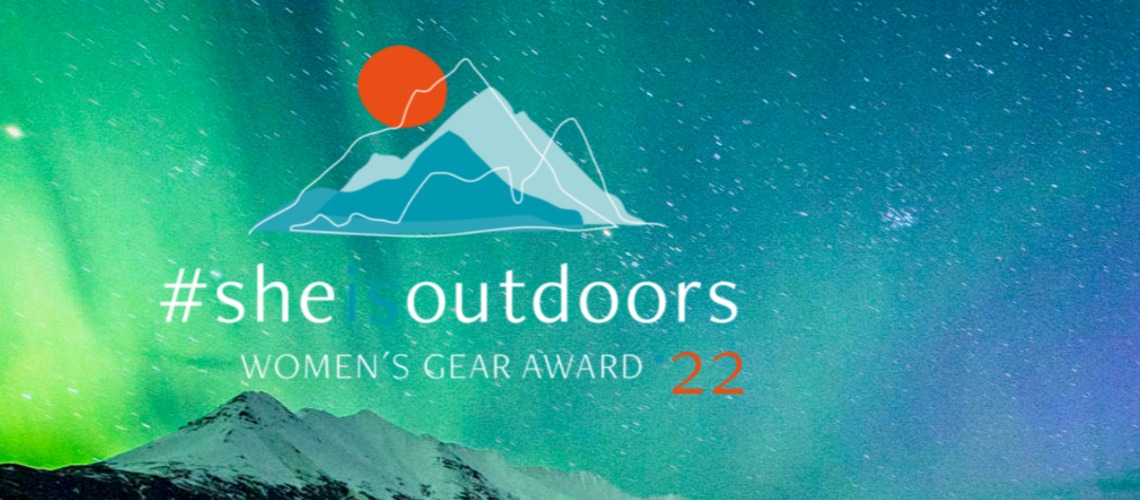 #she is outdoors – the first European award dedicated to women's sport outdoor products – has announced the winners of the awards. For the first time ever, the award ceremony took place in front of an audience and the press during the Sport & Outdoor Media Day in Munich at the Isarpost.
Some of the leading outdoor clothing brands took part in the contest, competing in seven categories in an overall award. The international jury of experts and outdoor enthusiasts has thoroughly evaluated products that deserve nothing less than a perfect rating in terms of claim and performance. This year, Honourable Mentions were also awarded to those brands that have committed to sustainability criteria by making their products PFAS- and PTFE-free.
Below is the Overall Winner and the list of the Honorable Mentions, including jury statements for each one of them.
Rab | Mythic G Jacket OVERALL WINNER

The Women's Rab Mythic G jacket has excited the jury. Extremely light and warm, it demonstrates a shift towards ecodesign. Trims are reduced to a minimum producing a garment that is effortlessly functional and feels like a cloud. The high-end pattern-making provides a flattering silhouette for every female body shape. The jury honours the effort the RAB team has put in to producing a truly futureproof garment.
Tecnica | Agate Mid S GTX HONORABLE MENTION
Perfectly adapted to the female anatomy: The Tecnica Fast Hiking model convinces with a perfect fit and cool design. In addition, despite its lightness, the shoe offers a lot of stability in the places where it is necessary. A special construction increases, for example, the lateral strength of the shoe when it goes quickly downhill and provides more stability on uneven terrain, twisting is thus prevented. A great model for women!
Ortovox | Swisswool Hybrid Short Pants HONORABLE MENTION

The product's intention is not new. Fabric, function and processing are – Ortovox-like - of high-quality. What surprised us is the fit. The pants adapt well to the very different shapes of the jury members.
LaMunt | Irmi Reversible Insulated Jacket HONORABLE MENTION

The LaMunt Irmi Reversible Insulated Jacket is a multifunctional reversible insulated, cozy jacket that stands out for its feminine design - especially the structured outer material with a waffle look. It is worth highlighting the intelligent use of different materials, such as the padding made from post-industrial polyester waste from the production of Pomoca ski skins.
Gregory | Women's Targhee 30 HONORABLE MENTION

The Gregory Women ́s Targhee 30 is a highly functional and comfortable solution for carrying ski touring equipment. Using recycled and also long-lasting materials, Gregory developed a great ski touring backpack that provides comfort and multiple options to carry gear and safety devices. The openings are well-solved so that the equipment is easily accessible in any situation. Unfortunately, the straps do not fit perfectly on all jury members.
Devolds | Expedition Arctic Pro HONORABLE MENTION

Devolds Expedition Arctic Pro is a multifunctional baselayer shirt that convinces with good body mapping and features like sleeves with thumb holes, a warming collar, and a hood - made from 100% fair merino wool, which is biodegradable without pollutants or microplastic.
"Women have come a long and difficult way in the Outdoor industry. We have snuck out of the house and climbed steep peaks wearing long skirts - no one has talked about it publicly. We had idols, like Lynn Hill, the first person to free climb "the nose" in 1993. Today, many girls and women are free to enjoy outdoor adventure as men have always done" explains Jana Erb.
Women's gear has also evolved, from floral prints on rain jackets to specifically tailored women's products. Women have come a long way - but they are not there yet. It is time to stop 'adapting' men's products and start designing them specifically for women and their interests and needs, without compromises. That's why Jana decided to create this Award.
The goal is to push the technical aspects of outdoor products designed for women beyond floral prints and 'pink it and shrink it'.
Share This Article