Robert Holmes - The Journey To Milan Cortina 2026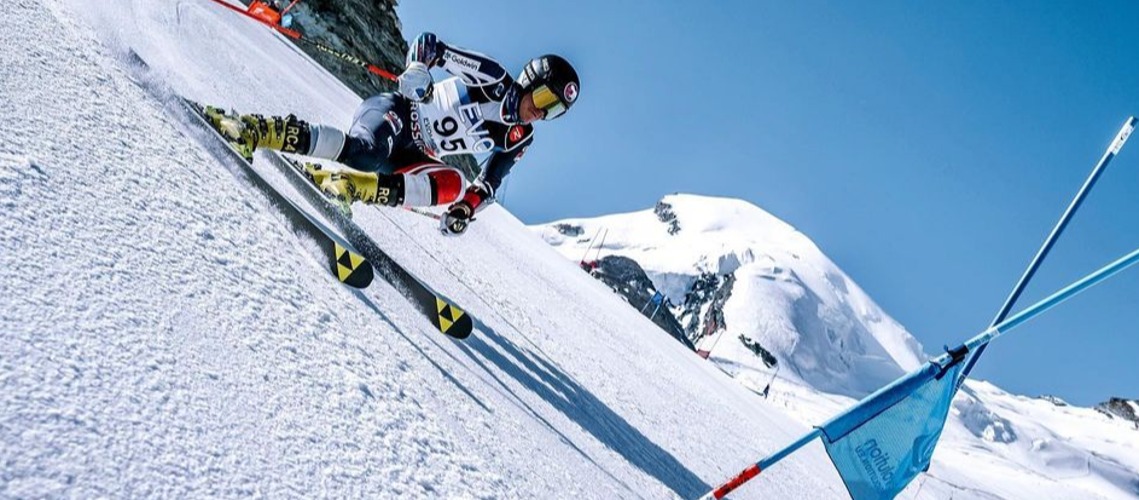 British skier Robert Holmes is seeking to represent GB at the Milan Winter Olympics.
At age 15 Robert was crowned British Slalom Under 16 Champion and overall British Alpine Champion. Achieving these titles led to his selection to the British FIS squad.
Earlier this year Robert was selected as part of the 3 man Great Britain alpine team heading to the World Junior Championships in British Columbia, Canada. Over the week Robert raced in 3 different events. His biggest achievement was finishing 31st in the slalom in a field of around 100. Robert will be targeting next year's championships in Austria and is hoping to produce a top 10 position in Slalom.
2020 January he was selected for Team GB for the Winter Youth Olympics in Switzerland, one of two male athletes selected.
Robert was selected to represent Great Britain at the 2022 World Junior Championships in British Columbia, Canada. Robert's results indicate he is on the pathway to Milano Cortina 2026, however Robert needs your help and support.
Despite his exceptional potential, there is no centralised funding available to him. This means that support from sponsors is absolutely crucial to maintain Roberts' rigorous training program based in Austria.
Robert is looking for partners who will support him in his journey to Milano Cortina 2026 in return for a range of sponsorship opportunities.
Unlike many athletes seeking sponsorship Robert is a bright young man who realises that a sponsorship is really both a partnership and an investment and that both parties need to see some value. He has outlined some ways in which he can work with supporters to add value:
Promote your company– Using Roberts' strong social media presence to promote your company and products.
Learn to ski – Personal ski experiences with Robert either on dryslope or indoor ski. Or group ski experiences for employees.
Make content – Use Robert to create unique, compelling video and photographic content for social media. Including beautiful alpine scenery and outdoor life.
Meet/visit – Robert can meet your staff, clients and give talks about his journey to be an Olympic champion.
Kit Branding – Robert can wear and promote brands using social media .Items of kit can be worn and photographed during skiing on the mountain, or gym work or any other sports related activity eg cycling.
Reasons to support Robert
One of Britain's young talented alpine skiers for potential Winter 2026 Olympics.
Ability to communicate to audience about his skiing journey.
Proven desire and strong work ethic, with history of national titles and Winter Youth Olympic 2020 selection
Started skiing grass roots level at Pendle Ski Club to working his way to become the 2018 Under 16 Alpine British Overall Champion aged 15, after skiing on snow full time for 2 years.
Training to become an alpine coach alongside his skiing commitments.
Volunteer Ski Instuctor and Race Coach at Pendle Ski Club.
Snowsport England Dryslope ambassador– promoting dryslope skiing.
Willingness to promote & support associates interests to gain publicity and sponsorship.
Studying German Language through Open University
Team Evolution Racing– Athletes Team Representative three years in a row, voted by team mates.
Telling his story he says:
"At the age of 3 years old, I experienced skiing with my family whilst on annual winter ski holiday in Schladming, Austria. From this point, my passion for skiing began attending Pendle ski club on a weekly basis, spending many hours skiing in the public ski lessons and progressing through various classes. At the age of 7 I was invited to join the race squad at Pendle, for whom I represented at many competitions around the country, collecting national titles and awards.
"My skiing was developing rapidly, and in 2013 I started training at the Castleford indoor snowdome to develop my skiing skills on snow. I soon began to race at the indoor snowdomes gaining valuable experience on a different surface, and year after year my results steadily improved.
"The lure of a "real" mountain environment was calling me and in 2015 I competed in my first British alpine race in the Cairngorms, Scotland. I caught the bug of competing in an outdoor mountain environment, travelling to France, to compete at the 2015 Anglo Scottish Championships. My performance here was equally as good and I found myself again on the podium against tough competition in only my 3rd ever alpine race.
"In 2016, after progressing in the UK grassroots skiing pathway on dryslope and snowdomes , I was scouted and asked to join a Alpine Ski Race Academy called Team Evolution, owned by Paul Telling , Director. The Team Evolution training set-up is designed for athletes looking to train within a professional structure that is dedicated to their development both on and off the slopes. Team Evolution provides successful and progressive alpine training opportunities for committed young athletes looking to pursue their athletic and educational goals, "In Pursuit of Excellence."
"Team Evolution runs the academy with 28 athletes aged 12-21 yrs with 10 staff including ski coaches, teachers and pastoral staff. A typical day at Team Evolution academy ;
6am –1pm Ski training
2;30pm– 6pm Fitness & Ski Preparation"
Recognising the importance of education he adds:
"As part of the Team Evolution Programme I was able to continue my academic studies in Austria, with support from Park High School, Colne. Team Evolution enabled me to find a balance between skiing and my education. I gained 9 GCSE's and have since completed A level Graphics Grade A and a BTEC National Sports Diploma gaining Distinction with Loughborough College via distance learning.
"To continue my skiing development, I need to train and compete in Europe in the mountains. I spend time training away from home from June to April in Austria. At present there is very limited funding available to Snowsports from the governing bodies, in this country. My costs at present are 90% funded by my parents. I have secured some small avenues of funding and have gained employment during my time back at home to help with costs. However the financial strains are great."
Costings per winter season for 35 weeks

Coaching

£12,500.00

Food & Accommodation

£11,000.00

Total Academy Costs

£23,500.00

Skis

£3,000.00

Lift Pass

£1,000.00

Races & World Junior Championships

£7,600.00

Travel

£1,500.00

Total Basic Costs

£32,600.00

Additional optional weeks available for Summer training

£4,000.00

Grand total

£ 41,600.00
He concludes:
"Every success in life is important, although not all of these successes are easily measurable. From my first children's fun race through to competing at the World Junior Championships in Canada this year, the importance of enjoying "the moment" has been exactly the same. The feeling of skiing well and triumphing is the same today as it was when I clipped into my skis for the first time. To list all of my successes over the years would be very difficult, and to rank them in importance to me even more so. However, the following hold a special place as highlights of my career to date
World Junior Championship 2022 Selection
4 X Selection British U21 Ski Team
2022 2nd Slalom at British Championships
2022 English Championships Overall Male Champion
2020 Youth Olympian, Lausanne
Top 20 Placing Giant Slalom Youth Olympics 2020
English U18 Giant Slalom Winner
Youngest GBR Male To Start A European Cup Race
British Dryslope Champion
English Dryslope Champion
2X Selection World Schools Games"
It's not easy trying to be the best; if you want to support Robert on his journey to Milan – Cortina then why not contact him
Mobile +44 [0] 7534 163957
Share This Article