Mowinckel Wins Cortina super-G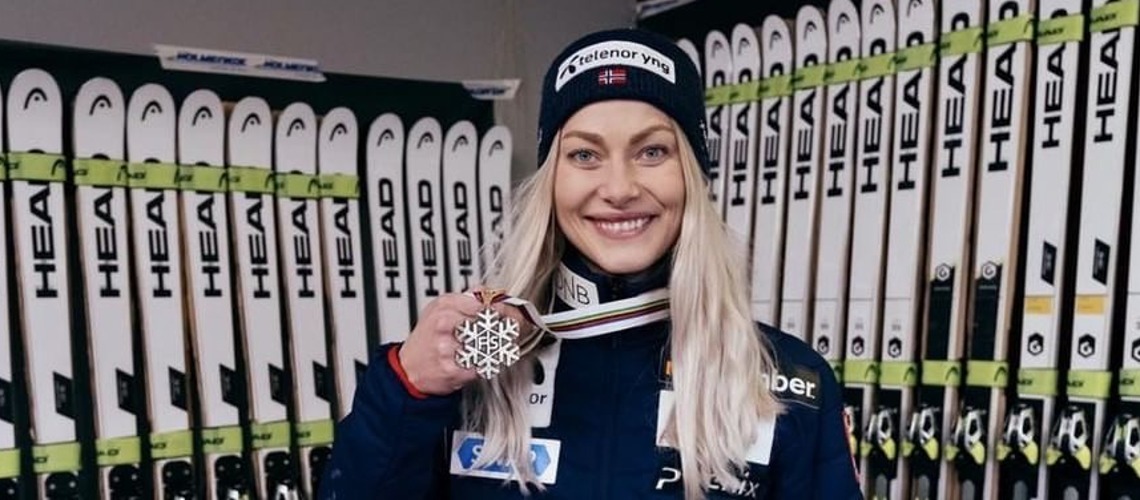 When she finished 12th in the super-G at the world championships in Cortina d'Ampezzo two years ago as part of her long comeback from a knee injury, Norway's Ragnhild Mowinckel said that if she trusted the process, the results would come. That prophecy came true on Sunday at the same venue, as Mowinckel won the super-G in the Italian Dolomites for her third World Cup victory and second since she tore her ACL nearly four years ago. On a difficult course set on the Olimpia delle Tofane piste, Mowinckel's all-around abilities allowed her to triumph ahead of Austria's Cornelia Huetter (+0.30s) and Italy's Marta Bassino (+0.47s).
The 30-year-old Norwegian used her giant slalom and downhill skills to master both the technical middle section and the quicker lower section of the course, but she still wasn't sure that it was a winning run.
"It's a bit weird 'cause I didn't feel as fast," Mowinckel said. "I was genuinely surprised when I saw the time in the finish because I know it's a tight race, so I was super excited."
In a reversal of Saturday's scene when Mowinckel mobbed teammate Kajsa Vickhoff Lie after she finished second in the downhill, Lie was the first person out onto the snow to congratulate Mowinckel at the bottom of the course.
"It's so nice," Mowinckel said of the spirit in the Norwegian team. "Yesterday Kajsa's podium felt like my podium and also today the same goes for her."
Mowinckel, who spent 21 months off the World Cup circuit after suffering her knee injury in March 2019, was unable to regain top form immediately after returning to the tour.
"I know that if you look at all the other people that have come back from a severe injury, it takes time," she said at the 2021 world championships. "Some people can do it straight away but I'm not one of those people, I need a bit more time."
It took a further year for her to return to the top step of the podium by winning the super-G at the World Cup finals in Meribel last March. And this season, the two-time Olympic silver medallist from 2018 appears to be back to her best, finishing equal fourth in Saturday's downhill and now becoming the first Norwegian woman to win multiple World Cup super-G races. While Mowinckel and other giant slalom skiers including Bassino seemed to be favoured by Sunday's course set by Swiss coach Roland Platzer, speed specialist Huetter registered a surprise podium from outside the top 15 seeds.
The Austrian managed to stay in touch in the technical middle section and then made up time on the quicker lower section to finish second and push Switzerland's Lara Gut-Behrami off the podium into fourth.
"It was a tough race," Huetter said. "The last part the gates are coming so fast to me so I have to move my body and keep everything forward."
Giant slalom specialist Bassino, who took the early lead with bib No. 4 after an impressive technical section, looked on her way to what would have been her first World Cup super-G victory until Mowinckel dislodged her from the leader's chair.
Bassino was then pushed into third by Huetter, but the Italian was delighted after never finishing higher than 20th in 10 previous World Cup speed races in Cortina.
"It's amazing because I really like this slope and I really enjoy it, but I never ski very well actually in the past years," Bassino said.
Bassino's teammate Soffia Goggia did not race on Sunday due to minor right knee soreness resulting from her crash in Saturday's downhill, while American star Mikaela Shiffrin completed a solid speed weekend in which she recorded three top-seven finishes.
Shiffrin skied a superb first three-quarters of the race on Sunday to be ahead of provisional leader Bassino's pace, but she drifted wide near the end of the course, crossing the line in second and ultimately finishing seventh.
"I made a little error with my timing on the last turn on the course, and of course it's quite flat down here so you lose some speed, but it was quite a strong run I think," Shiffrin said.
While her 83rd World Cup win did not come in Cortina, Shiffrin will have four chances to break the women's victory record in her preferred technical disciplines over the next week, starting with two giant slalom races in Kronplatz on Tuesday and Wednesday.
Share This Article