Kitz' Honors Pinturault With Gondola & Hahnenkamm Diamond Pin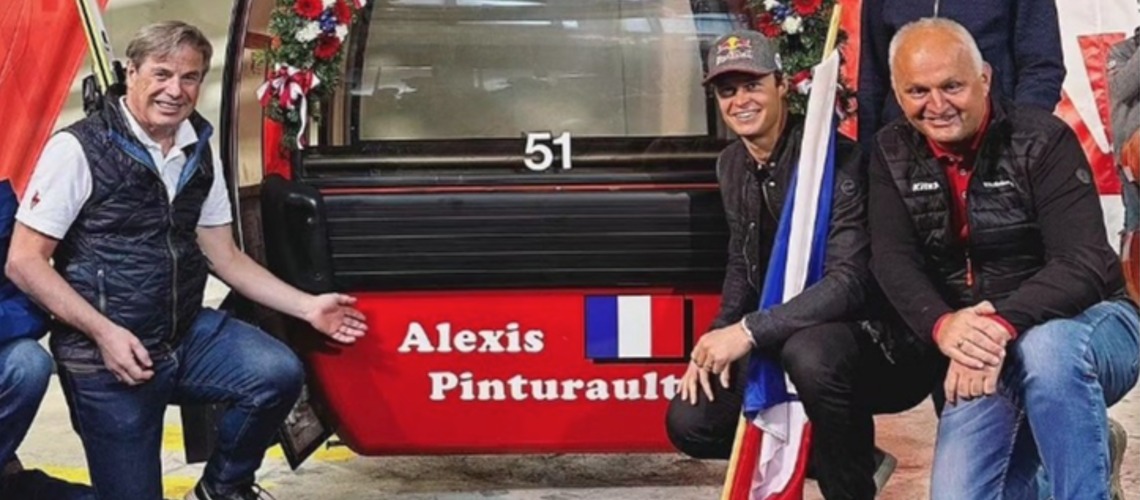 Between 2014 and 2016, Alexis Pinturault clinched an unbelievable three successive Combined victories at the Hahnenkamm Races. In acknowledgement and commemoration of this extraordinary feat, the Frenchman has been presented with a personalised gondola and decorative pin in Kitzbühel.
There are athletes. And there are exceptional athletes. Alexis Pinturault belongs undoubtedly to the latter. Since the Frenchman entered the World Cup stage in 2009, he has fascinated ski fans with his consistency, aesthetics, versatility and success. He has now been presented with a special honour in Kitzbühel for his achievements on the Streif and Ganslernhang slopes: Alexis Pinturault received not only a personalised gondola in recognition of his incredible hat-trick in the Combined event in 2014, 2015 and 2016, but also the Hahnenkamm diamond pin. Only ten athletes have been awarded this honour since the beginning of race history in Kitzbühel, including legends such as Anderl Molterer, Jean-Claude Killy, Kjetil André Aamodt and Ivica Kostelic (for three or more victories in the Combined).
Alexis Pinturault, who interrupted forthcoming season preparations to travel to Kitzbühel for this special occasion, enjoyed the buzz surrounding him. "Today is a very special day. Because we normally only come to Kitzbühel to battle against our contemporaries and deliver our best performance. Today, I am relaxed and very proud of what I have achieved here." He celebrated his World Cup premiere in Kitzbühel in 2011 and won his first European Cup race the same year - a Giant Slalom in Kirchberg: "It's also funny that I skied my very first World Cup downhill on the Streif in 2013. Looking back, it was an advantage that I realised right at the beginning of my career how exhausting and challenging a downhill can be." In addition to the three Combined wins in Kitzbühel, the 32-year-old has since gone on to record 18 victories in the Giant Slalom, three in the Slalom and one in the Super-G disciplines. Moreover, he is a two-time Combined World Champion and took silver once and bronze twice at the Olympic Games.
"You are one of the most perfect all-rounders," said Michael Huber, OC Chief of the Hahenkamm Races, in tribute to Alexis Pinturault. For Chief of Race, Mario Mittermayer-Weinhandl, it is "always an incredible pleasure when I get to see a race where you are at the start. It's simply a feast for the eyes to watch you compete." Viktoria Veider-Walser, Managing Director of Kitzbühel Tourism, considers the Frenchman to be "the prototype of a consummate skier. He is not only fast, but also technically skilled – a combination of attributes that only few athletes share." As "landlord" of Hahnenkamm Cable Car Co., Anton Bodner, expressed his wish that the red cabin with the number 51 would be a lasting legacy for the athlete: "May the gondola also be an enduring memory of these great performances in 2014, 2015 and 2016. I hope that you will always carry these moments in your heart," said the CEO of Bergbahn AG Kitzbühel.
Even though Alexis Pinturault has competed in Kitzbühel a total of 26 times since 2011, he will also be embarking on another new chapter next January - when the Team Combined event celebrates its World Cup premiere. In this new discipline, a downhill skier and a slalom skier (from the same nation) form a team to compete for victory. Hopefully, I can participate in the Downhill. I'm not a favourite for the start, but it's my wish and ultimate goal", says Alexis Pinturault, who is hoping to secure his fourth Combined triumph in Kitzbühel in January.
Share This Article