Kaunertal Gets New Cable Car For 2019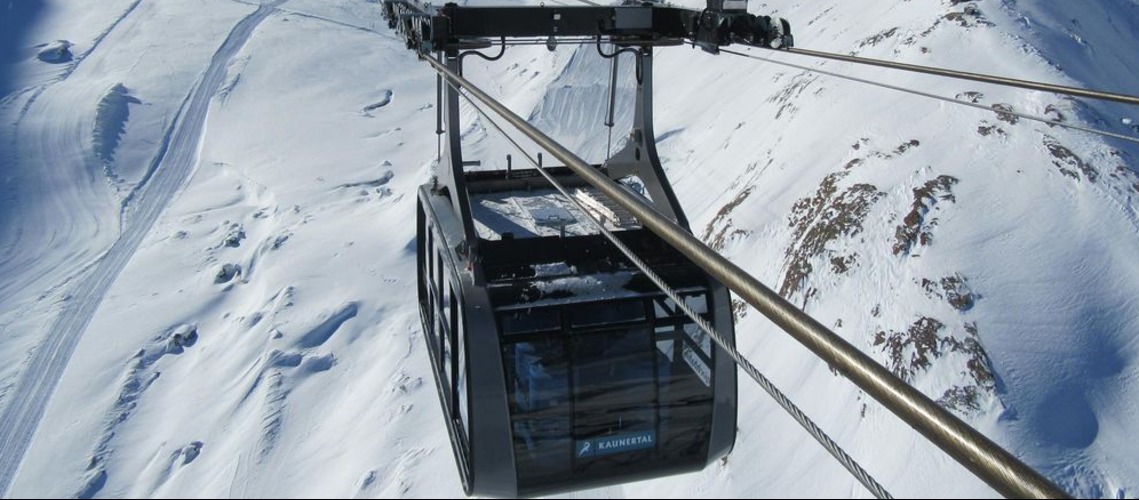 The new cable-car will start at the glacier restaurant at 2,750 m and ends at the Falginjoch at 3113m and will be pretty much a direct replacement of the old twin t-bars. The new cableway runs along the former drag lift tracks of the Weißseeferner lifts I + II. The aging Weißseeferner drag lifts were dismantled at the end of the 2018/19 ski season so that they can now be replaced by a unique lift.
Due to the shifting of the glacier, the engineers needed to come up with a new solution, so the new Falginjoch lift has only two supports on the entire 2,000 meter long span between the valley and top stations, whereas the two old tow lifts required a total of 32 supports. Although the cable-car only needs 2 lift stands, it is currently the most wind-stable system on the market. Due to the large track width of 4.6 m and the size of the cabin (25 m²), the cable-car can be put into operation even at higher wind speeds.
There is a full 1,500 m free span between the two supports. This alone makes the train journey an experience. From autumn 2019, you will literally float across the glacier landscape.
The modern design of the Falginjochbahn also gives visitors a look behind the scenes. The station buildings were built as a "cable car" - large glass fronts allow an insight into the technology of the new cable car.
In addition, the Falginjochbahn was designed to be sustainable
Starting with small and compact station buildings, which adapt to the mountains in an environmentally friendly way, up to energy recovery. Heating costs are saved with the new lift - the waste heat from the drive units is reused and heats the waiting room in the station building.
Separate access for people with disabilities - in the valley station and in the mountain station area, monoskiers and wheelchair users have their own access area. This is designed in such a way that people with disabilities can get on the train independently and without help .
Technical details
2 lift columns - in between there are 1,500 m free span
Length of the rope = 8 km
Power supply via the suspension cable (1 m cable has a weight of 23 kg)
4.6 m track width of the cabin
Speed ​​of the cabin:
12 m / s in the free span
8 m / s when driving over the support
Journey time: 3,9 min (every 10 minutes the train will start again at the valley station)
Share This Article