Scandinavian Mountains Airport Opens, World's Most Convenient Ski Airport?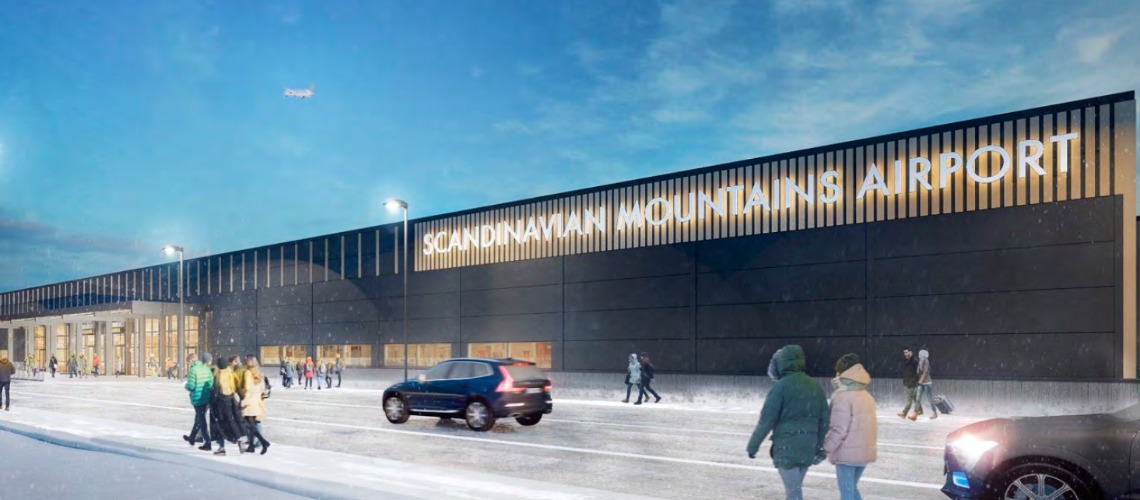 Scandinavian Mountains Airport (IATA: SCR), also referred to as Sälen Trysil Airport, is an airport in Dalarna, Sweden, close to the Norwegian border. It opened on December 22, 2019. It is the first airport in the world designed to be operated from the outset with a virtual tower rather than a conventional air traffic control tower. The terminal building has been designed to handle four flights simultaneously. It also contains a café, duty-free and retail shop. Outside the terminal you will find transfer buses, taxis and rental cars. Scandinavian Mountains Airport has been initiated and is owned by the local business community.
The airport is intended for both scheduled and chartered services, primarily aimed at bringing tourists to the winter sport resorts of Sälen, Idre and Trysil. It was constructed on the site of an existing small sports airfield at Mobergskölen, near Rörbäcksnäs, in Malung-Sälen, 7 km (4.3 mi) from the border and is the first new airport in Sweden since Pajala opened in 1999.[4] Before opening the nearest airports to the area were the local Mora Airport (113 km from Sälen/168 km from Trysil) and the large Oslo Airport (213 km from Sälen/171 km from Trysil).
The airport company Scandinavia Mountains Airport AB is owned by local companies, such as ski resort owners like SkiStar AB and municipal tourist promotion companies in both countries. In addition, in 2014, the Swedish government supported SEK 250 million, and the local counties and municipalities have also supported money. Construction started in August 2017 with the runway paved in October 2018.
There are bus transfers to the ski resorts in connection with flights. You will find Sweden's largest alpine ski resort Sälen and Norway's largest alpine ski resort Trysil just around the corner of the airport. The region offers four ski resorts with over 100,000 beds in hotels, apartments and cottages. Here you will find 250 slopes and a wide variety of restaurants, entertainment, shopping, adventures and activities.
The distance to the nearest one, Hundfjället is 10 km (6 mi) and the farthest in the Sälen area, Kläppen, 45 km (28 mi). The distance to Trysil ski resort (the largest in the area) is 43 km (27 mi) and to Idre ski resort 121 km (75 mi).Transfers to Sälen by dog sled or snowmobile is also available.
Share This Article