Goggia Dominates In St. Anton Downhill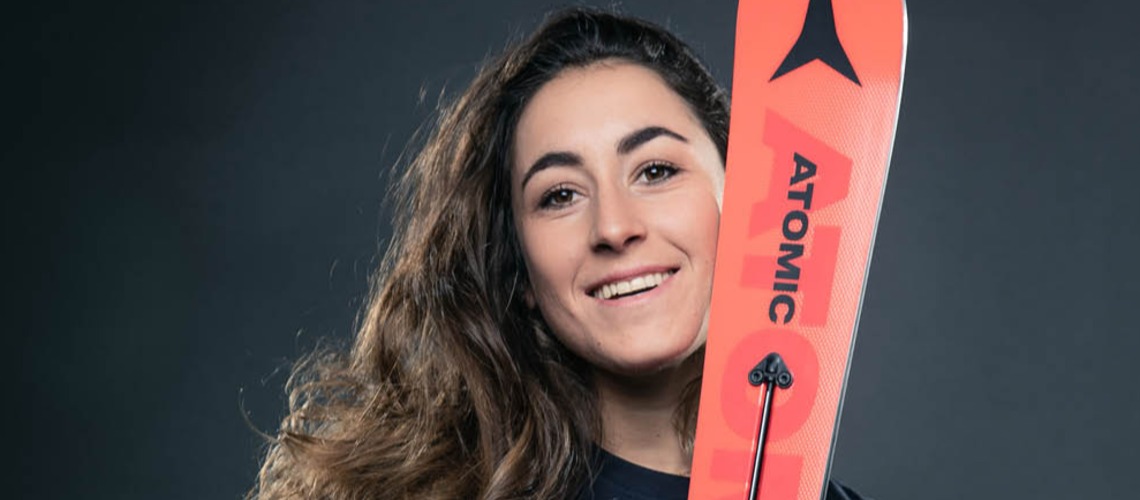 It was the Sofia Goggia show at today's Audi FIS women's downhill World Cup race in St. Anton (AUT) as the Italian put on a performance that will not soon be forgotten.
It was a pedal-to-the-metal—or shall we say "medal"—run for Goggia with her signature wild skiing that keeps fans on the edge of their seats and Goggia on the top of the podium. She was pushing it to the absolute limit, and no one could catch her, as she took the victory by 96 hundredths of a second. Austria's Tamara Tippler finished just ahead of Johnson in second, while Johnson rounded out the podium in third—a mere eight hundredths off of Tippler's pace. The fastest skier in yesterday's training, Ester Ledecka finished just shy of the podium in fourth place 1.16 behind.
Coming down with bib #5, Goggia attacked the course and left no doubt that her time of 1:24:06 would withstand anyone's chance to take the victory.
"Today, I knew I had to attack the course, and especially on the lower half, I could feel I was fast," said Goggia after the race. "Although I felt good on the lower half of the course, I wasn't entirely sure until I saw my time and then I thought to myself, 'today I am unbeatable'."
Goggia's inner thoughts proved to be correct. As the race wore on, the biggest question became who would earn the other two podium places up for grabs.
The second-place finish for Tippler was her first career World Cup downhill podium and came after she turned in the fastest time in the first training earlier this week.
For Breezy Johnson, it was her third, third-place downhill finish of the season and her third podium of her entire career. Johnson took third place at both downhill races in Val d'Isere in December.
Of Goggia's performance, Johnson said, "I think that Sofia's run was incredible...she skied with a lot of courage and she sometimes isn't so good at always pulling that off, but she did an amazing job today and skied really spectacularly. Hats off to her."
With a bulletproof surface, blue skies, and all of the positive vibes (including a text exchange from former teammate Lindsey Vonn, who said "Try to keep St. Anton in America's hands, ok?"), Johnson sent it down the technical—though classic, true—Arlberg Kandahar Rennen downhill to ski into third—her third third-place in a row in downhill. Following the race, Johnson credited Official Training Site Copper Mountain, Colorado, for the solid prep period in November that set the speed team up for success coming into Europe.
"We struggled to get training in the spring, but our coaches worked really hard to find good training opportunities...we went to Saas-Fee (Switzerland), and then we were the only team besides the German men who went to Copper Mountain," noted Johnson. "We worked really hard there, we had great conditions, we trained with our men's team...and had a lot of really good training there. That was great to get full-length downhill training in November—I honestly don't know if anyone else got that, but it was really amazing to have. I think that helped a lot in order to get ready, because you come to Val d'Isere and here (at St. Anton), and it almost feels a little bit slow."
The U.S. Alpine Ski Team continues to show its depth, with first-year U.S. Ski Teamer Isabella "Bella" Wright scoring her career-first World Cup points. After a competitor had a bad crash in the finish and Bella was "iced" (long hold) in the start, Bella calmed her mind and focused on the task at hand, moving from bib 45 to 27th and grabbing her first World Cup points. In the finish, she was greeted by teammates and hugs and was overcome with emotion as she shed some happy tears.
Olympian and speed veteran Laurenne Ross, who sustained back-to-back knee injuries that kept her sidelined for the entire 2019-20 season, returned to the start gate in a courageous fashion on Saturday. After watching her partner Tommy Ford's horrible crash in Adelboden, Switzerland, just before her race, Ross found the courage to step into the World Cup start gate for the first time in a massive 704-day break. Ross finished in 39th.
Olympian Alice McKennis, who won at St. Anton in 2013 and recently broke her ankle said of teammate Ross, "I don't think I've ever watched a women's speed race from home, injured. But seeing her finish was worth it."
Share This Article