FIS World Cup Tour Hops The Pond To Europe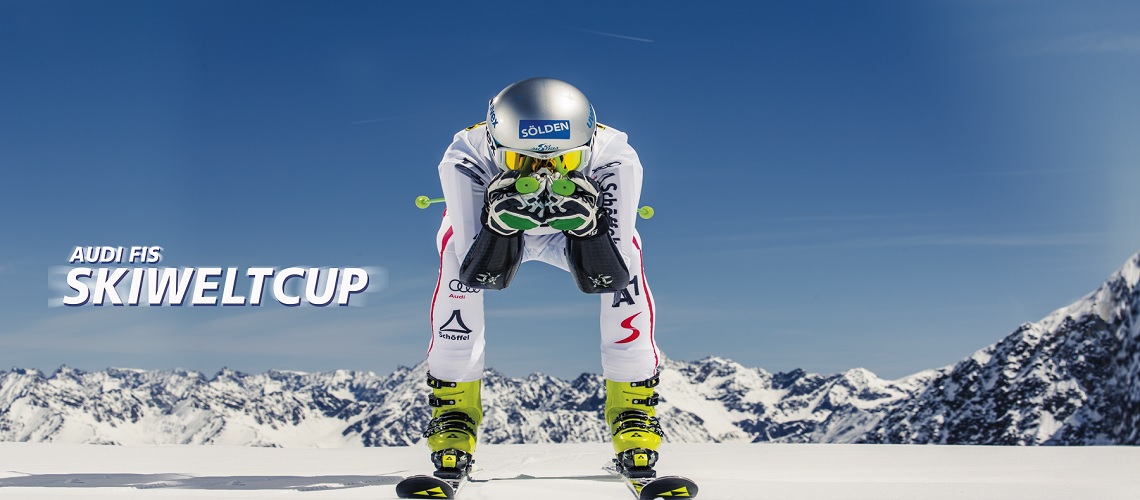 Though our jaws are all still on the floor from Tommy Ford's incredible inaugural visit to the podium—and the top step, no less—it is time for the FIS Ski World Cup Tour to travel across the pond to Europe. First stop: Val d'Isere, France with a giant slalom and slalom for the tech men and St. Moritz, Switzerland for the rare tech and speed combo of super-G and parallel for the women. What kind of tricks does the Land Rover U.S. Alpine Ski Team have up their sleeves this weekend? Buckle up, because it's bound to be exciting.
Humble and hardworking, Tommy will be donning a new color when he steps into the start gate this weekend: red. Yes, as in the red leader bib. Here's something cool - no male giant slalom skier has had a second date on the podium yet this year. Six different men have graced the podium. How cool is that?! In a giant slalom field that feels exciting and fresh and up-for-grabs, the men will take on the infamous "La Face De Bellevarde" in Val d'Isere, France. "La Face" is a tricky one for athletes, with an average gradient of 39.69%, reaching 70% in its steepest section. It's steep, technical and the light can be tricky. Google it and you'll find that it is widely regarded as one of the most challenging pistes in Europe. Let's hope it's not "La Face De Bellevarde of Broken Dreams" this weekend.
Let's talk about the Americans, shall we?! Well, first there was Soelden, Austria, where the Americans stacked three into the top 11. That was the best team result in Soelden in...well, a long time. Then, there was Beaver, Creek—what a show on home snow. Three in the top 25, with Tommy leading the way, Ted in 11th and Ryan Cochran-Siegle in 23rd. Fun Fact: "RCS" was the only athlete—across all nations—to score points in all three events at Birds of Prey. Last year in Val d'Isere, Tommy had earned what—at the time—was a career-best sixth place on "La Face."
The last American male skier to win successive World Cup giant slaloms was none other than Ted, in February-March 2014 (he had three in a row). Tommy can become the fifth skier in U.S. history to win multiple men's World Cup giant slalom events, after Ted (24), Bode Miller (9), and brothers Phil Mahre (7) and Steve Mahre (2). The last American male to win in Val d'Isere on La Face was Ted, on December 11, 2010. But let's not get ahead of ourselves, shall we - as mentioned, it's a stacked giant slalom field and the athletes are hungry for the podium. Something worth noting is that Frenchman Mathieu Faivre won his only career World Cup giant slalom race in Val d'Isère on December 4, 2016. He was second in Soelden and sixth in Beaver Creek. Got a hunch the hometown crowd will give Mathieu an extra push. Podium-hunting, commence.
Brian McLaughlin and River Radamus round out the giant slalom roster for the men, and after a frustrating giant slalom on home soil, these two are looking to find the top-30 once again.
On the men's slalom side, Luke Winters will look to carry on where he left off in the third split of Levi, Finland, where he was on pace to finish in the top-five before going out. His skiing is there, his coach Ryan Wilson is proud of the mentality Luke is bringing in to race day, and he will be looking to grab his first-career World Cup points this weekend in what will be a slightly modified schedule, due to incoming weather. The men will kick off the weekend with slalom on Saturday, followed by giant slalom on Sunday.
The women kick off their European tour at St. Moritz, Switzerland, headlined by 2019 super-G world champion and 2019 super-G titleholder Mikaela Shiffrin. Mikaela swept the St. Moritz super-G and parallel series last year. She has won 62 World Cup races, equal to Annemarie Moser-Pröll (62) in second place on the all-time women's list. Mikaela won her first World Cup super-G in Lake Louise last season, and has won an unfathomable four of the last six major super-G races she participated in: Lake Louise, St. Moritz and Cortina d'Ampezzo, Italy and at the world championships in Åre, Sweden. She struggled a bit last weekend in Lake Louise, so keep an eye on her as she's already got that fire in her eyes and race day T-minus two days away. Mikaela can become the third woman to win successive St. Moritz super-G races in the World Cup after Lindsey (2010, 2012) and Karen Putzer (1999, 2001). St. Moritz is a special spot for Mikaela, as she has won three World Cup races in St. Moritz across all disciplines. Her personal record in a ski resort is four victories, achieved in seven different resorts. She'll have to fend off a deep field of super-G skiers, including Germany's Viktoria Rebensburg, sho skied a smokin'-hot super-G run up in Lake Louise last weekend.
Alice McKennis returned from injury with a bang in Lake Louise, scoring points all three days and landing in the top-10 in the second downhill as well as a career-best 13th-place finish in the super-G. Keep an eye on this "gator" and teammate Jackie Wiles, who also returned from an injury that had her sidelined for half of the 2017-18 season and all of the 2018-19 season. Alice Merryweather—who also scored points in all three events and a career-best 23rd in super-G in the opening weekend at Lake Louise—will be starting in both the super-G and the parallel event, while Nina O'Brien will be starting in the parallel.
The women will kick off the weekend with a super-G on Saturday and a parallel on Sunday. Though a weather pattern is coming in, FIS together with the local organizing committee, decided to keep the schedule as is.
See below for all of the details on who and how to watch.
MEN'S STARTERS
Ryan Cochran-Siegle
Tommy Ford
Ted Ligety
Brian McLaughlin
River Radamus
Luke Winters
WOMEN'S STARTERS
Alice McKennis
Alice Merryweather
Nina O'Brien
Mikaela Shiffrin
Jackie Wiles
Share This Article