Eureka Entertainment To Release Arnold Fanck's The Holy Mountain Remastered, Arguably the First Ever Ski Movie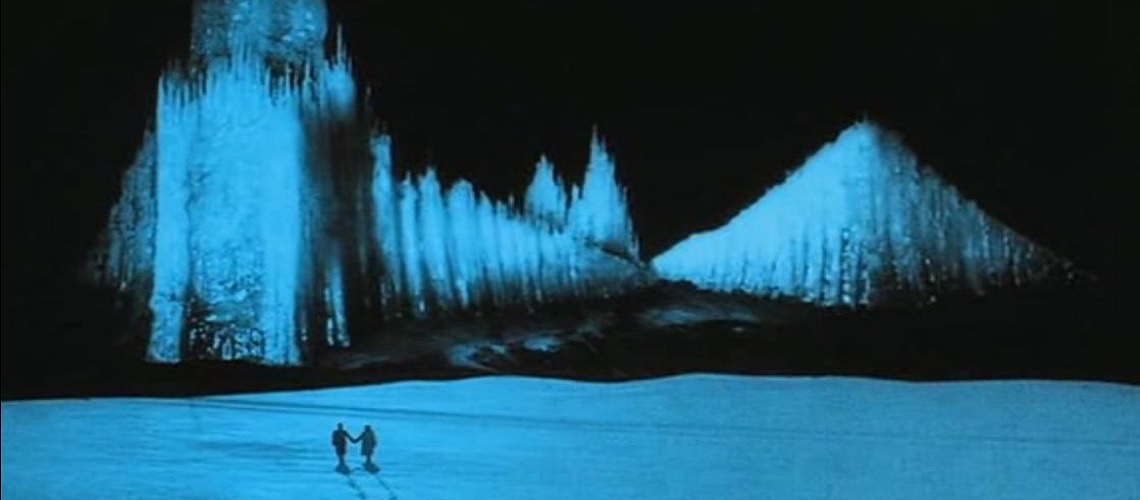 Eureka Entertainment is set to release Arnold Fanck's THE HOLY MOUNTAIN, the greatest of the German 'mountain films' and the film which launched the career of Leni Riefenstahl, digitally restored in 2K and presented on Blu-ray for the first time in the UK as a part of The Masters of Cinemas Series from 17 June 2019.
The film is regarded by many as the first ever 'ski movie' and features Hannes Schneider. In addition many of Schneider's ski school instructors appear in this and other films by Fanck.
German filmmaker Arnold Fanck made this beautifully photographed Bergfilm, or 'mountain film', in 1926. Written in three days and nights – especially for Leni Riefenstahl – The Holy Mountain took over a year to film in the Alps with an entourage of expert skiers and climbers.
Ostensibly a love triangle romance – between Riefenstahl's young dancer and the two explorers she encounters – Fanck relishes the glorious Alpine landscape by filming death-defying climbing, avalanche dodging, and frenetic downhill ski racing.
Digitally restored in 2K, The Holy Mountain is a visual feast – and a fascinating look at the origin of a genre. The Masters of Cinema Series is very proud to present this landmark film in its UK debut on Blu-ray.
Fanck is best known for the extraordinary alpine footage he captured in such films as The Holy Mountain (1926), The White Hell of Pitz Palu (1929), Storm over Mont Blanc (1930), Der weisse Rausch (1931), and S.O.S. Eisberg (1933). Fanck was also instrumental in launching the careers of several filmmakers during the Weimar years in Germany, including Leni Riefenstahl, Luis Trenker, and cinematographers Sepp Allgeier, Richard Angst, Hans Schneeberger, and Walter Riml.
It's fair to say that Riefenstahl made what might be politely described as unfortunate friendships after her time in the mountains. As much as you are able, try and set her later politics to one side and just enjoy the film that took us from the Arlberg, via Dick Barrymore, Warren Miller and Greg Stump to the great ski movies we see today.
DETAILS
LENI RIEFENSTAHL | LUIS TRENKER | ERNST PETERSEN
1926 | 105 minutes | 1.33:1 OAR | GERMANY | Silent / Drama | Tinted | 17 June 2019
Certificate U | Director ARNOLD FANCK | Language GERMAN (Intertitles) | Subtitles ENGLISH (Optional)
Blu-ray Cat. No. EKA70341 | Blu-ray Barcode 5060000703412 | Blu-ray RRP £16.99
BLU-RAY SPECIAL FEATURES
1080p presentation on Blu-ray, from a 2014 2K digital restoration | Score by Aljoscha Zimmerman, available in both LPCM 2.0 and DTS-HD MA 5.1 | Original German intertitles with optional English subtitles | The Wonderful, Horrible Life of Leni Riefenstahl [180 mins] – Ray Müller's definitive documentary on the life and career of Leni Reifenstahl. | Feature Length Audio Commentary by film historian Travis Crawford | PLUS: a collector's booklet featuring a new essay by critic and film historian Kat Ellinger, and a 2004 essay by Doug Cummings from the original Masters of Cinema DVD release
Share This Article