Elliot Brown Watches Expand Presence In Snowsports Market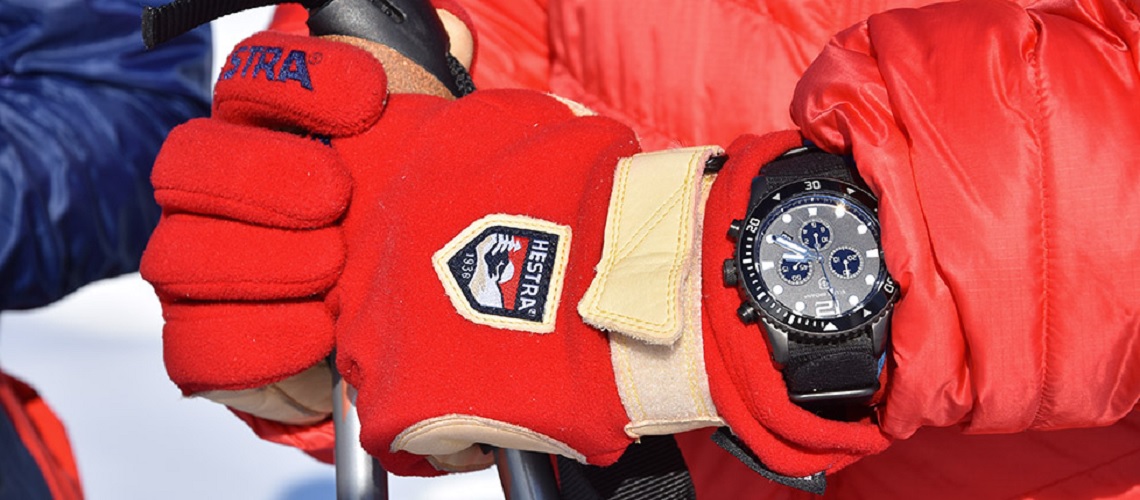 Elliot Brown, a British watch brand well established in the watersports market are increasing their presence in snowsports. The company has already appointed British Ski and Snowboard's Head of Coaching Pat Sharples as a brand ambassador.
Pat (known affectionately as Uncle Sharpie) has been involved in the British ski industry for many years, competing at the highest level, as well as coaching, and was appointed the first ever official full time British freeski coach. His drive and passion to develop athletes from grass roots to world-class competitors has resulted in him being crowned 'Coach of the Year' twice and honored in the past for his positive influence in UK freeskiing.
Sharples commented: "I'm delighted to be selected as an ambassador for Elliot Brown watches and to show my support for this home-grown watch brand. The watches are designed to be worn every day, even in harsh conditions and can cope with just about any situation on and off the slopes, as well as water-based activities. As a keen skier, snowboarder, scuba diver and general outdoor enthusiast I'm looking forward to putting my Bloxworth 929-007 to the test."
The snowsports environment is one which can test even the best known watches to destruction. This SIN staffer discovered that an offering from a prestiege Swiss brand did not respond well to the rigors of a day of pole planting on steep terrain [really]. That would not be an issue for an Elliot Brown watch. To make sure that you can tell the time at the end of the run or the day, all Elliot Brown watches have their movement secured inside a custom shock-absorbing steel housing that's unique to the company. The caseback is also bolted down, not threaded, because it's the best way of holding the shock-absorbing movement housing accurately inside the case.
Every Elliot Brown is the result of 1000's of hours spent obsessing over the smallest details; refining, improving, inventing, and testing. These award-winning watches shrug off harsh elements and are relied upon for ocean crossings, mountain rescues, and just about any kind of extreme or arduous adventure.The cases are machined from solid 316L marine grade stainless steel which is pressure tested to 150m twice during construction, then placed in a water-filled pressure vessel at 200m. They're fitted with a domed and hardened anti-reflective mineral crystal that delivers clear vision in all conditions. Unusually the crown relies on a triple seal for water resistance so that even if you forget to close it you'll never see the condensation that spells death to watch movements.
Each watch must pass a rigorous testing regime including immersion in water at 200m or 300m. It's typical of the lengths this British brand goes to, in making sure each one is ready for duty in the office or on your next adventure.
Founder Ian Elliot said "They're built to last for years, not fashion seasons. There's something comforting, putting on a watch that's collected a few scrapes and scars, each with its own story to tell."
As co-founder of Animal watches back in 1988 Elliot has an impeccable pedigree in developing watches built for the outdoors. His business partner Alex Brown turned down a job at Cartier because it sounded more interesting to establish Animal's watch department.
In addition to their work with Pat Sharples and snowboarder Harry Waite, Elliot Brown watches can be seen in some leading snowsports outdoor retailers in the UK.
Share This Article