Competition To Design Johnson's Olympic Helmet Art Artwork Launched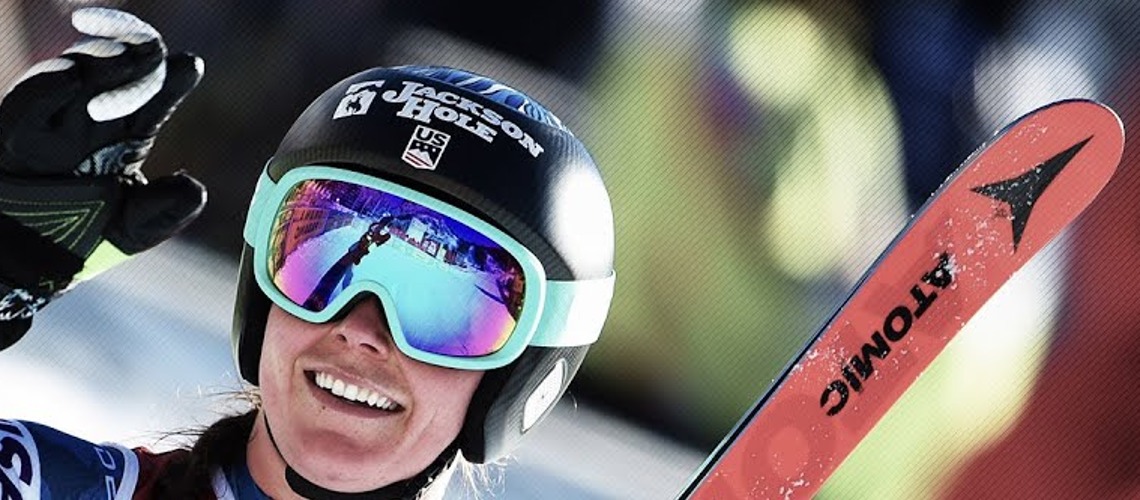 Have you ever wanted to see your artwork worn by an Olympian as she goes speeding down a slope for millions of people to see? Now is your chance!
Artists are invited to submit a photographed image of their artwork in any still medium—pencil, ink, chalk, digital art, oil, or watercolor.
Submissions must be based on the theme "Winter in Jackson Hole" (e.g., skiing, ski racing, wildlife, Town of Jackson, Teton Village).
Artwork must be created on an 8.5x11" or 11x17" piece of paper. If artwork is chosen, the original artwork must be provided to Jackson Hole Mountain Resort for a hi-res scan. If your artwork is digital, the entry must be submitted at 300 dpi.
Submissions are due by 11:59 p.m. MST on January 15, 2022.
A Message from Breezy Johnson:
"When I was 13 years old and just getting serious about ski racing I remember avidly following along in the lead-up to the 2010 Olympic Games. Lindsey Vonn was the favorite for gold in five disciplines, Bode was crushing, Julia Mancuso was dazzling. I got serious about ski racing at its height in the US. I remember watching results to see if Alice McKennis would make her first games (she did). But when Lindsey Vonn announced her helmet competition prior to the 2010 games I was enthralled. It was an overlapping point between two major parts of who I was, artistic but also fiercely athletic. I drew helmet after helmet to design the coolest one. I wanted a cool snow leopard for some reason. While ultimately I was not chosen to be on her head I remember thinking that the winner brought so much of what it is to be American to Lindsey at that Games.

And then she won.

Over the years since I forgot about the helmet a bit, though seeing the footage of that run from over a decade ago still brings it back. But no one ever did a contest, or even unique artwork, since then.

Last season was the first time I had any custom paint on my helmet and I thought back to the contest so many years ago. Were custom paint jobs still allowed? Would it even be possible? Was I cool enough to follow in one of my heroes footsteps and do the same?

While watching the Tokyo games, the lack of fans, friends, and family solidified my resolve. If Americans couldn't come to my Games maybe I could bring a bit of home with me. Maybe I could keep Americans involved in something in perhaps the most foreign Games to have ever taken place?

The logistics would be hard but I immediately thought of Jackson Hole, my home mountain and sponsor as the ideal collaborator. I am American and Jackson embodies so much of what I love about this country. Jackson is home. And so I wanted to partner with them, my home mountain, to do the contest.

I want something that embodies home on this helmet. I want something that allows me to take Jackson, and the whole US, with me. I will be selecting finalists based on what reminds me of home. So think of what pieces of this amazing country, and the amazing place of Jackson Hole, I might want to take with me. Something that reminds me of everyone, and everything, at home supporting me. Though if you want to submit a cool snow leopard you can do that too.

I also thought. What makes America America? And the answer to that is voting, democracy. So once the applications are complete Jackson Hole and I will be selecting a few finalists. And then everyone, artistic or not, old or young, can choose what goes on in my head. I hope you guys are excited because I sure as hell am."
Grand Prize
Artwork Placed on Johnson's Olympic Helmet
A Half-Day of Skiing with Johnson
A Pair of Skis or Snowboard
Helmet with Art
Johnson will choose finalists, and a group of judges and the winner will be selected by public voting on Instagram at @jacksonhole and announced in January.
Share This Article