Christy Sports Releases Exclusive Nordica Unleashed Outreach Ski To Help Underrepresented Kids Step Outside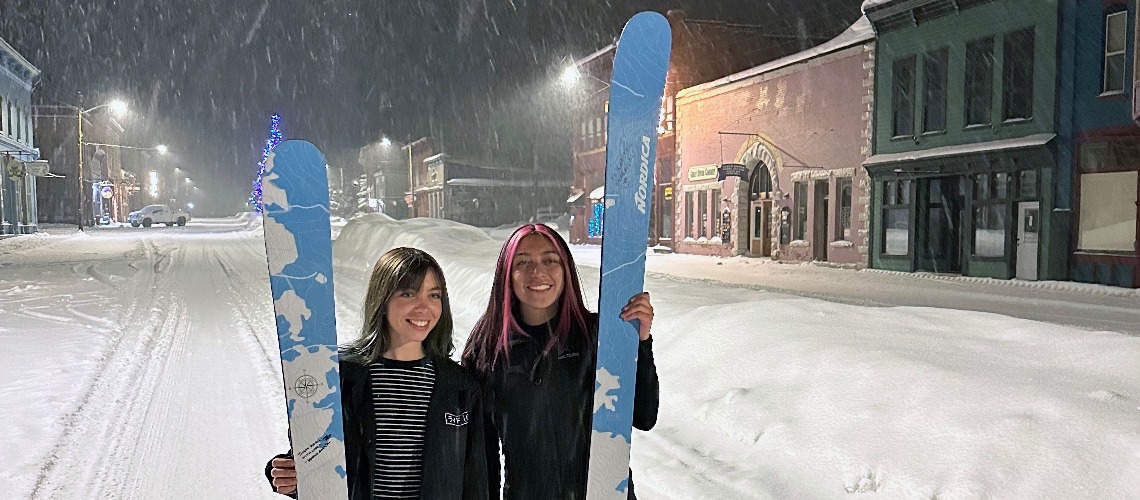 Christy Sports in partnership with Nordica and SOS Outreach, has announced the release of the limited-edition Nordica Unleashed Outreach Ski. All proceeds from the sales will go directly to SOS Outreach to support their ongoing mission to help underrepresented kids thrive through outdoor experiences and adult mentorship.
The collaboration among SOS Outreach, Nordica and Christy Sports started in 2022 with the goal of enabling a cohort of four young women from around the country — Frida, Heidy, Veronica, and Delaney, all SOS Outreach alumnae — to design a custom ski and bring it to market. The program gave the women the opportunity to learn about and contribute to the end-to-end commercial process of creating a product and bringing it to market. By telling their story and promoting the custom ski, the program will generate funds for SOS Outreach to continue its mission of supporting underrepresented youth by stepping outside together.
"We are honored to collaborate with Nordica and Christy Sports on this amazing opportunity for these four young women," says Seth Ehrlich, SOS Outreach Executive Director. "The SOS alumnae came together as a team to design this one-of-a-kind ski that represents their relationship with the mountains. All proceeds from the sales will directly benefit 3,200 kids this year alone across SOS Outreach programs. We will continue to provide life-changing opportunities for youth like we have for the last 30 years."
The four women, who are from different regions of the country including Seattle, Salt Lake City, Truckee and Denver worked closely with the product development and design teams at Nordica to create the Nordica Unleashed Outreach ski. The ski is built on the Nordica Unleashed 108, but with custom graphics conceptualized and designed by the women. Only 50 pairs were produced in the Nordica factory in Austria. The ski design is based on a topographical map of Silverton, Colorado, where the ski was unveiled over Martin Luther King Weekend this year. The event was the underlying inspiration that also includes a compass with all four of the cohort's names, the peak of Silverton Mountain as well as the streets in the town of Silverton. Nordica and SOS logos were incorporated in the design along with "Christy Creek," a nod to Christy Sports.
"Adding the SOS logo to the ski was important," says Delaney Muro, one of four cohorts on the project. "I hope folks who purchase this ski walk away with a deeper connection to SOS. This was something that was designed with intention and so much love and passion. We really want people to know about all the good this program does."
"It is a privilege for Nordica to partner with our friends at SOS Outreach and Christy Sports on the Nordica Unleashed Outreach ski," says Chris Licata President & CEO, Tecnica Group North America. "This collaboration has been a unique opportunity to work closely with Christy Sports in a way that reflects our shared values and deepens the relationship between our brands. The Nordica team found the days working with Heidi, Veronica, Frida, and Delaney inspiring, and we hope this project can be formative as they take the next steps in their education and careers — maybe into our industry someday."
The limited-edition Nordica Unleashed Outreach Ski is exclusively available at www.christysports.com. As one of the key partners in the program, Christy Sports is focused on supporting the four women of the project and providing direction to bring the product to market. Christy Sports' digital transformation over the last two years also enables them to leverage their online platform to promote and sell the ski to people who want to support SOS Outreach. Christy Sports will donate 100% of the sales to SOS Outreach.
"Christy Sports' involvement in this project really resonates with one of our core values — Be Good Humans," says Randy England, Brand Marketing Director at Christy Sports. "It has been a privilege to watch these amazing women come through the process and the outstanding work that they did. We are proud and excited for guests to have an opportunity to purchase this rare ski and support helping kids step outside with SOS Outreach.
For more information about Nordica SOS Unleashed Outreach Ski, visit https://www.christysports.com/nordica-sos-outreach-unleashed-108/1044571.html
Share This Article