Camelback Resort Marks 60th Anniversary With Upgrades For 2023-2024 Ski Season!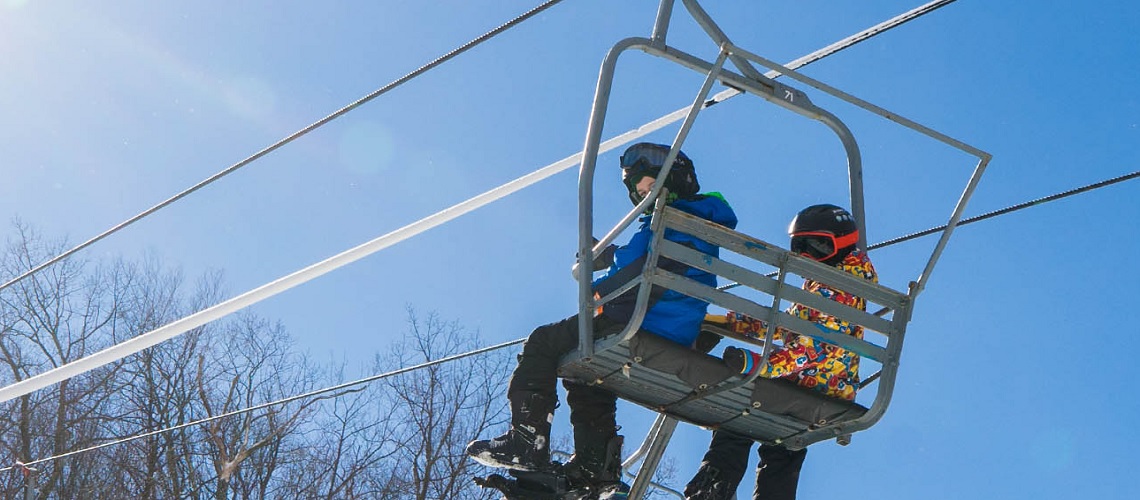 Celebrating its 60th anniversary with an exciting mix of new technology and forward-thinking, sustainable enhancements, Camelback Resort, the award-winning 560-acre Pocono Mountains resort known for its stellar lineup of snow sports, is ushering in its 2023-2024 ski season with a nod to the past and an eye on the future.
The perfect getaway for snow enthusiasts, boarders and skiers of all levels, the resort is located 90 minutes from New York City and two hours from Philadelphia –– offering 39 trails spanning 166 acres, along with plenty of exhilarating family-friendly fun, such as snow tubing and terrain parks.
Highlights of the 2023-24 anniversary season include:
New High-Tech Perks
The resort's 60th winter season gets underway with an array of high-tech perks, including integration of Amazon's Just Walk Out technology that gives guests an effortless shopping experience at the resort's Big Pocono On The Go providing a collection of grab-and-go offerings. Notably, Camelback is the nation's first ski resort to offer Just Walk Out technology. The guest enters Big Pocono On The Go using their credit card or Camelback app at the entry gate. The technology detects what they take from or return to the shelves and creates a virtual shopping session. When the guest completes the shopping experience, they can leave the store without waiting in line. Their credit card gets charged for the items taken. Just Walk Out technology is made possible by artificial intelligence like computer vision and deep learning techniques, including generative AI, to accurately determine who took what in virtually any retail environment. All guests are encouraged to download the Camelback app to access the Just Walk Out technology-enabled store.
SkiLynx is also available on the resort app, enabling guests to live-track their total trails, miles and vertical feet, as well as find friends and view real-time lift wait times.
A Homage to History
A year-round adventure hub rising 2,100 feet above sea level, Camelback is celebrating 60 years of world-class skiing. The resort debuted its ski programs in 1963 and has made significant upgrades over the years. In celebration, Camelback will debut an expansive 60 x 8-foot mural created by Pennsylvania artist Evan Hughes – known for his bold, often surreal, cartoon-like, flat-color artwork – in the Thirsty Camel lounge.
Sustainable Upgrades
The resort's current focus is sustainability as evidenced by new, cutting-edge snow depth technology that allows staff to easily determine if and where they need to make snow, in turn reducing the amount of water and hours of snowmaking. Camelback has also installed low-energy snowmaking equipment to reduce its energy usage by 25% and has incorporated a snowmaking system that returns melted snow to its source, Pocono Creek. Additionally, over the last five years, Camelback has upgraded all its grooming machines to Tier 4 emission engines, further limiting its carbon footprint.
Camelback Ski & Ride Academy
Expert ski and snowboard instruction is back at Camelback Resort at its Ski & Ride Academy for learners starting at age 4 and levels from beginner to advanced. Children's Lessons for ages 4 to 12 will begin at Adventure Base Camp and run for 90 minutes. During the Family & Friends Beginner Lessons, beginner skiers ages 4 and up go to The Learning Center for one hour of lessons on the snow. Ski rentals are included in both the Children's Lessons and Family & Friends Beginner Lessons when selecting the rental and lesson package
New this year is the Multiweek Program for kids who have been on the snow at least once and want more time with an instructor to advance their skills. This four-week program includes three-hour sessions with a snack break. Students are grouped by age and ability and may switch groups as they progress. Lift tickets and rentals are not included with this program. Private lessons are also available.
New High-Speed Lift
Last year, the resort debuted Black Bear 6 – a new high-speed six-person, enclosed lift – replacing the smaller Sullivan Express. The new lift soars 667 vertical feet with an uphill capacity of 3,000 passengers per hour, an increase of 600 passengers per hour over the previous lift. The top drive lift has a fully enclosed storage facility for its 50 carriers. The resort's next most recent lift – Sunbowl Express – was built in 2020.
Expanded Terrain Park
The terrain park is now located at Upper Moore's Ramble, Oak Grove, Lower Moore's Ramble and Rhododendron Glen and is serviced by the Glen lift. Recent enhancements include automations, new designs and a next-gen PistenBully Park Pro 400 for creating precise and uniform park builds. The park will open earlier in the season and be maintained, rebuilt and refreshed regularly throughout the winter.
Camelback's Snow Tubing Park
Boasting one of the country's largest snow tubing parks, Camelback offers more than 40 snow tubing lanes, day and night. The all-lit nighttime, after-dark experience, Galactic Tubing, is back and complete with music, disco lighting, up to 44 lightning-fast lanes and two magic carpet lifts. Snow tubing is complimentary Monday through Friday on non-holidays with purchase of an Unlimited or Value Season Pass.
So Much to Eat and Drink
Camelback Resort introduces two new eateries this year: Chuck's Spud Shack serving all things French fries including Tex-Mex Loaded Fries, Philly Cheesesteak Fries, Truffle Parmesan Fries, and Crab Fries and Rakuda Ramen. Rise & Grind Coffee by La Colombe is also a new addition on the mountain.
Other delicious dining options include the recently renovated Thirsty Camel Bar & Grille, an indoor/outdoor restaurant featuring local breweries and pub-style menu. Several food trucks are parked strategically for hungry snow buffs, including Tacos & Beer Truck offering street tacos and draft and Tap Bar for a refreshing beverage.
For a more upscale experience Berrelli's Italian Chophouse, an Italian steakhouse, features an extensive wine list in a fine dining ambiance
Camelback Lodge houses Café & Bar La Colombe, a brasserie-style restaurant with coffee, pastries, sandwiches and salads to-go; Hemispheres, a family friendly breakfast buffet eatery; Trails End Pub & Grille, a ski-in/ski-out American brew pub open daily; Graffiti Pizza, a New York graffiti-themed pizza spot; and Sugar Shack, a new venue that features a playful, colorful abstract wall mural and plenty of pleasing sweet candies and confectioneries. Mountain Market is open daily and situated just off the main lobby, serving Ellis Coffee Company, grab-and-go breakfast, assorted pastries, beverages and snacks.
Share This Article