Berit Svendsen Announced Manager Of Nordic World Champs Trondheim 2025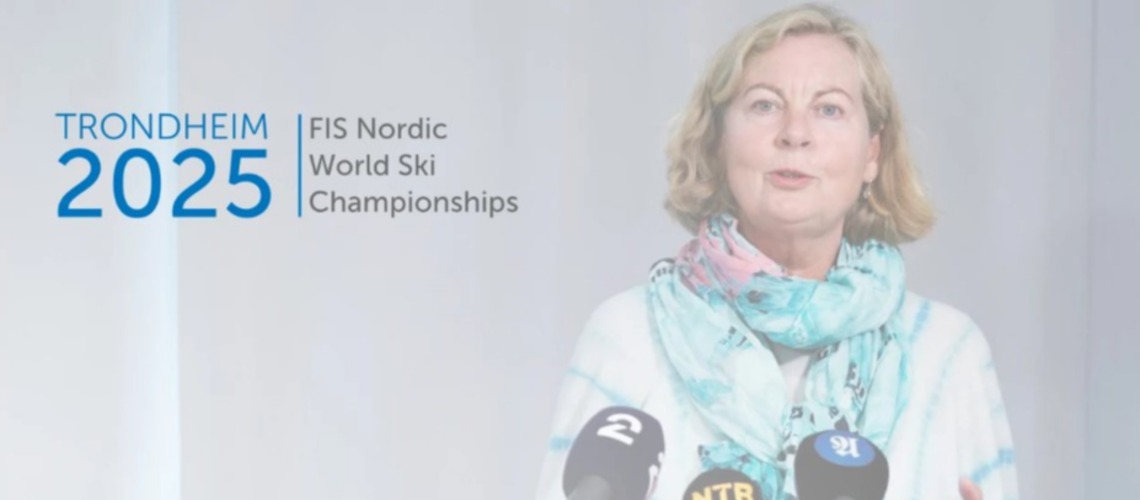 On Monday, 23rd August, the Norwegian Ski Federation announced the appointment of Berit Svendsen (58) as head of the FIS Nordic World Ski Championships 2025 in Trondheim (NOR).
Svendsen has broad and long experience as a top manager, both nationally and internationally.
She comes from the position as head of Vipps International and before that she led Telenor in Norway and Scandinavia. In addition, Svendsen also has board experience from a number of large non-profit and commercial companies, and has been responsible for social assignments. She sits on the board of the WWF (World Wide Fund for Nature) and chaired the so-called "Svendsen Committee", which assessed the Armed Forces' ability to recruit, retain, develop and phase out competence.
Berit Svendsen said "This is a fantastic opportunity to create a new folk festival where we show the world what the Trondheim region, Trøndelag and Norway stand for in a future-oriented event. We must offer the public both in the arenas and at home exciting sustainable and technological solutions. We will deliver this in an organization with enthusiastic, voluntary employees."
"We are very happy that Berit Svendsen accepted the job as manager of the FIS Nordic World Ski Championships. Berit is a very experienced leader with a long career in heavy leadership positions. She has broad commercial experience as a leader and has built strong leadership teams in rapidly evolving organizations. She has good expertise in large projects and digitization. That experience will also be worth its weight in gold for the FIS WSC organization," says chairman of the board of the WSC company, Bård Benum.
The process of finding a manager has been extensive, and Norwegian and international candidates have been considered. It has been a good, balanced representation of both genders.
Experience from and involvement in organizations, work with different types of partners, complex projects and digital development have been central to the survey. Interest in developing experiences with a large number of people is also emphasized.
"The FIS Nordic World Ski Championships 2025 is a large project with high complexity. Major championships today must satisfy completely different requirements than before related to sustainability in a broad sense, digital dissemination and the ability to create new business concepts. Based on strong environments in Trøndelag and Norway, there are great opportunities around this," says Benum.
The core of the project is a well-conducted sporting event and good cultural experiences both for those who are physically present, and those who follow the event in other ways. Many employees will be involved, and a large part of these will be volunteers. Norway and Trøndelag have good and broad expertise in such projects.
Berit Svendsen currently lives in Oslo, but will now establish herself with an apartment in Trondheim.
"I studied in my time at NTNU in Trondheim, and have very good memories from the city. Now I look forward to coming back and working with many talented people to deliver the championship of all time. We will leave lasting values ​​for society," says the newly hired FIS Nordic World Ski Championships manager.
Svendsen is now, together with the board, in the process of hiring other leaders in the WSC management team, and the announcement of these will come in the near future. The management team will consist of broad and strong expertise related to the operational World Cup event, sustainability, market, business development, finance and communication.
Share This Article