Are & Vemdalen: New Express Lift, Improved Snowmaking System And Fantastic Skiing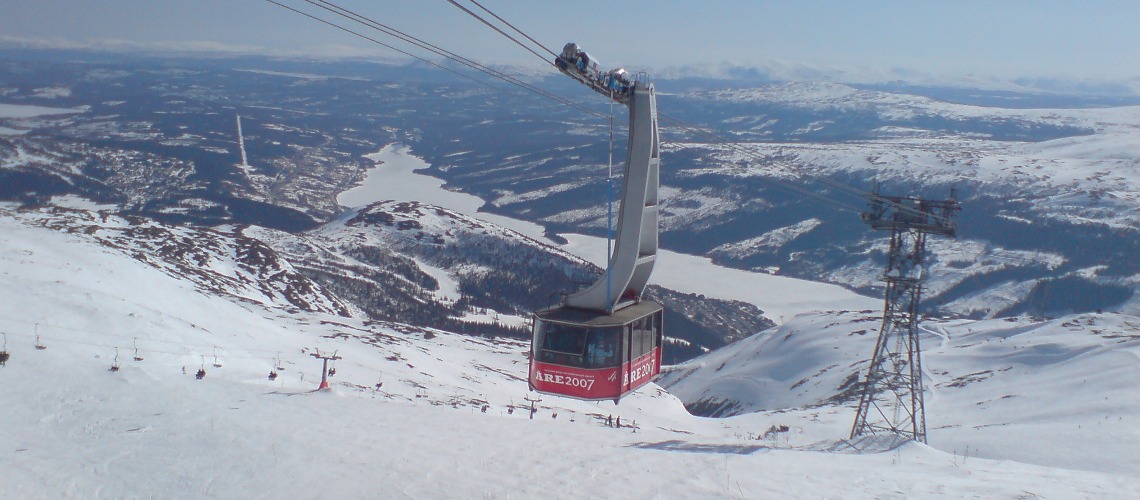 Lots of developments at Skistar's Are and Vemdalen. They say:
There are lots of exciting developments in the 2022/23 winter season in Åre and Vemdalen, from improved snow production, longer opening hours and expansion of the Skalet Turisten parade slope to a brand new SkiStar Snow Park in Duved developed in collaboration with SkiStar ambassador and Olympic medallist Jesper Tjäder. The new six-seater Stjärnliften lift will also open in Åre.
-This winter, it's great to finally be able to improve the capacity of central Åre with our new state-of-the-art Stjärnliften express lift, which is an important step towards weather- and wind-proofing Åre's ski system. This year, guests can not only enjoy an early morning turn, "eight at eight" in Åre village; they can also enjoy morning skiing at 8 am in Duved. We hope there will be something for everyone in all our ski areas, no matter what their age or level," says Sebastian Thomasson, Destination Manager for SkiStar Åre.
A round-up of improvements and new developments in SkiStar Åre's ski areas:
•A new express lift, Stjärnliften, is being built in central Åre to replace the World Cup lift. The new 6-chair lift has a capacity of 2,600 people an hour in winter and 1,000 an hour in the summer season, making it the first lift in Sweden built to transport people both in summer and winter.
•A new SkiStar Snow Park is being built in Duved with our ambassador Jesper Tjäder.
•A new skicross track is planned in Duved.
•The Mini Tege button lift is being replaced by a more reliable, modern lift with a slightly higher capacity.
•Duved's cable car will be open for longer with morning skiing from 8 am every day and evening skiing, with one extra evening in both Duved and VM8 all season. We will also continue the extended opening hours during holiday periods.
•Improvements to the surface of SkiStar Snow Park Bräcke, where the jumps in the red and black runs become mounds of earth during the bare earth period, allowing us to open the park earlier in the season. This is also important for sustainability as it uses less snow.
•We're improving the snow system in Duved and central Åre to ensure snow at more locations and with better range across the ski areas.
SkiStar Vemdalen:
•The classic Turisten in Vemdalen slope has been widened and extended to the top of the Hovde Express, so you can easily ski down the Turisten and give your legs a rest in the Hovde Express on the way up. The new slope will be illuminated.
•The intermediate lift is slightly shortened to create space for the widening of the Tourist. The upper part will be excavated in order to create an easier descent.
•The snow system has been reinforced with artificial snow at Torgbacken and Björnvallen's lift tracks in Björnrike and at the new part of Turisten.
•Cross-country skiing: SkiStar Cross Country Arena has moved to Björnrike. The arena has 7.5 km of track in all, divided into four loops, 3 km of which will have electric lighting. There are toilets, a ski wax room and a heated cabin next to the arena.
-We're working hard on improving the central Turisten slope at Skalet, which we know many guests enjoy. This winter you can carve even more turns and enjoy an entirely new skiing experience on the piste. We're sure this winter's new developments will provide an even more memorable mountain experience for guests visiting our mountain gems," says Anders Lundqvist, Destination Manager for SkiStar Vemdalen.
SkiStarshop:
•The new SkiStarshop Concept Store in Åre Björnen is opening in the old SkiStarshop premises.
•The SkiStarshop Concept Store at Vemdalsskalet in Vemdalen has been freshened up and renovated inside.
•Guests who hire their ski equipment in advance via skistar.com can choose to have it delivered directly to their accommodation. Applies to selected accommodation.
•Another development is unmanned SkiStarshops at the Swedish destinations, which will be open 24 hours a day, so you can walk in and buy a selection of essential products simply and easily with an app.
A sustainable mountain experience:
Recycling:
We're continuing to work on improving the sustainability of our destinations, and the great news is that SkiStar is starting to sell used skis from its own warehouse via skistarshop.com.
Sustainable travel:
For those travelling by electric car, mobile charging stations will be provided at strategic locations on the way to Åre and Vemdalen during high season. Last year we installed over 150 new charging points for electric cars at SkiStar's destinations and this year we plan to double the capacity, mainly in SkiStar's car parks and at the building projects SkiStar is involved in, like Sadeln in Åre. This year SkiStar will also be the first to use electric snowmobiles to reduce climate emissions.
A better digital experience:
The SkiStar app is being improved in a number of ways to make it easier to access customer services and pay for your SkiPass, for example.
Share This Article