Odermatt Breaks Season Points Total Record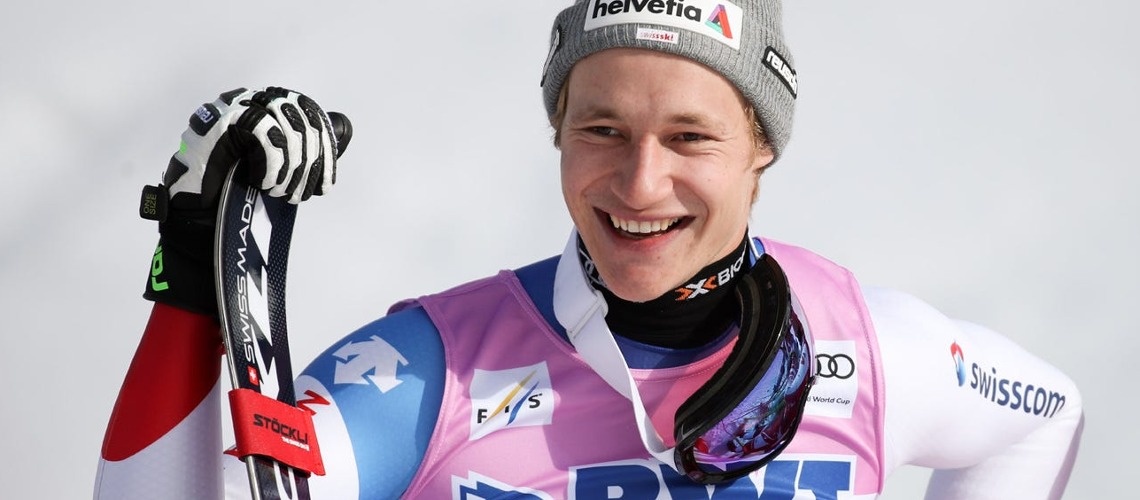 Marco Odermatt signed off the greatest men's World Cup season in history in the style he, and the watching world, have become irresistably accustomed to.
The Swiss maestro has barely left the top step of the podium all season and he was not about to change the habit in his final race, the men's giant slalom at the World Cup Finals in Soldeu.
Leading after the first run, Odermatt produced a flawless second run to finish a seismic 2.11 seconds ahead of Henrik Kristoffersen, with in the in-form Marco Schwarz in third.
Incredibly it was Odermatt's seventh GS victory in 10 races, but even more importantly it pushed his season points total up to a barely believable 2,042 points.
Back at the beginning of the century, the great Hermann Maier became the first skier to ever reach 2000 World Cup points. It was a record that many thought would never be broken.
But they had not reckoned on the 25-year-old Odermatt and a truly dream season. The stats do not tell the whole story but they do help: 25 races: nine podiums and 12 victories heading in to his final effort.
It left Odermatt knowing he needed a top-three finish in his final race to go past Maier's record - but victory never seemed in doubt.
Even if the great man himself insisited he was not quite so sure.
"I have no idea how I won, I was so tired. We partied hard on Thursday," Odermatt laughed. "Today wasn't easy because of those damn 2,000 points. I really wanted the podium today. So, another victory, two seconds ahead, I don't know what to say.
"It means a lot. The past days I said it was not so important, just numbers. The important things are Globes, but now I felt the pressure today. So I knew it was more important than I said, so I am happy I got it."
The 13th win had even more significance: putting the Swiss man alongside legendary trio Ingemar Stenmark, Marcel Hirscher and Maier as the only men to ever win 13 times in a single season.

An exhausted Marco Odermatt tops another podium in his final race of the season (Agence Zoom).
The numbers keep coming with Odermatt remarkably having a worst finish of third in his past 16 GS races. The GS Globe was long since secured, as was the super-G Globe and the overall title, but how will he celebrate going past the great Maier?
"I would be ready to party, but I don't know any more if I have the energy because I am really, really empty. The important thing was the race so I will see how much energy I have for the party," laughed Odermatt.
Kristoffersen showed off his giant slalom skills once again. The second-place finisher in the giant slalom season standings put down two solid runs.
"Of course, I would have liked a win in GS, it is a little bit of a shame with all the second places. It was five or something. I don't know. Seven podiums in GS is still good but we need to take this last step. So when we are second, we need to be first. If we take this last step maybe we can challenge for the globe," said Kristoffersen.
Kristoffersen compiled 11 podiums this season including the world championships. He will try to add one more in the final slalom race on Sunday.
Meanwhile, Schwarz put together a great second run and navigated the messier conditions on the bottom of the course to finish in third place.
"Third place today is really good. We were lucky with the visibility. I am pretty happy with the whole season. We worked hard and the big thing was my first victory in GS in Palisades so I am really happy with the season," said Schwarz.
Rising star Lucas Braathen (NOR), who has his eye on tomorrow's slalom and the chance of a first ever Crystal Globe, used a speedy first run to propel him to fourth place.
Alexis Pinturault (FRA) sat in second after the first run, but could not complete a clean second run, finishing eighth.
Little known Joan Verdu (AND) created one of the biggest cheers of the day, tholding the lead for a while in front of home fans after a brilliant second run. And the crowd even got the rare spectacle of Norwegian speed star Aleksander Aamodt Kilde (NOR) competing in giant slalom. The overall downhill champion finished 17th.
Share This Article