Ski Utah Joins Utah Avalanche Center For Backcountry Education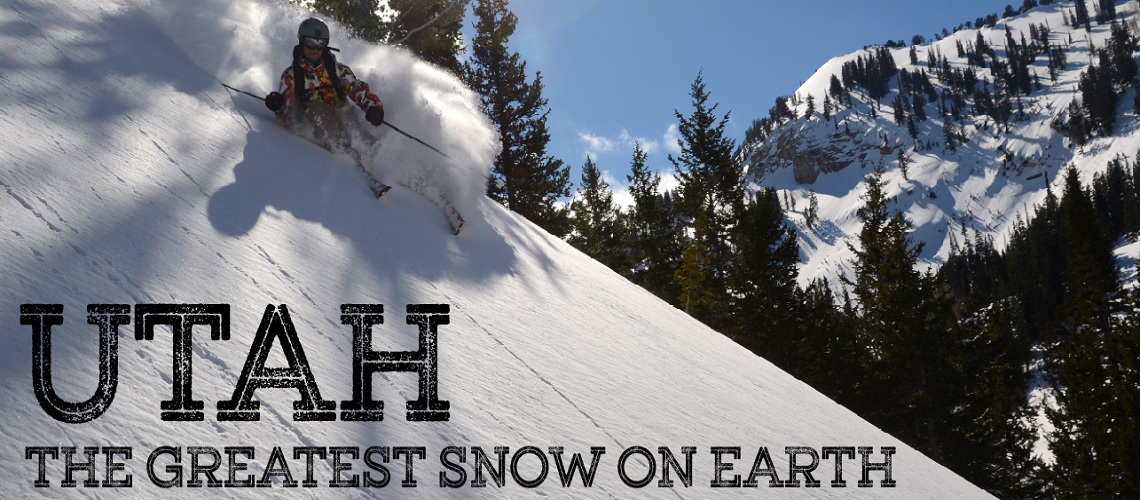 Ski Utah is all about The Greatest Snow on Earth® and the Utah Avalanche Center (UAC) is devoted to keeping people on top of that wonderful powder. So, it was only natural for the UAC to hold a Backcountry 101 Class for Ski Utah Members in the backcountry terrain surrounding Brighton Resort where a mutual obsession with snow could merge with education about how to venture beyond the ropes and travel through backcountry terrain in a safe, responsible way.
Ski Utah has long supported the UAC—a non-profit in collaboration with the US Forest Service that provides avalanche forecasting, education and awareness throughout Utah—so spending the day on snow with an enthusiastic crew of experienced skiers and snowboarders from Ski Utah was a welcome opportunity for everyone involved.
Five people from Ski Utah joined a group of UAC instructors headlined by the legend with the top knot, Craig Gordon (see Instagram video below for a small sampling of Gordon's stoke). Other instructors were professional skier and Wasatch local Carston Oliver, Park City Mountain Ski Patroller Allie Fredbo, and the author, a guy who just won't quit finding ways to justify being a ski bum. Brighton graciously hosted the day, providing lift bumps so the class could spend more time learning in high elevation backcountry terrain.
UAC Backcountry 101 courses are introductory lessons to traveling in avalanche terrain that consist of an evening classroom session and a full day in the field. The group met in a Ski Utah conference room for a discussion about the basics of avalanches, how to use the UAC's avalanche forecasting and observation tools, NOAA's weather forecasts and various online mapping tools to plan backcountry tours. Everyone left excited to get out on snow and check out a couple of the many avalanches that had recently occurred in the Wasatch backcountry due to instability in the early season snowpack.
The field day started at the base of Brighton where students practiced the basics of avalanche rescue with the requisite gear: beacon, shovel and probe. Once that was finished the group headed to the top of the Crest Chairlift where they were greeted at the backcountry access gate by Brighton Snow Safety Director Peter Tucker.
Tucker explained how Brighton maintains open resort boundaries regardless of snow safety conditions unless there is an active rescue operation involving Wasatch Backcountry Rescue (WBR) and Brighton Ski Patrol. With Peak 10321 serving as a backdrop, Tucker illustrated that despite its proximity to the ski resort, "sidecountry" terrain is true backcountry terrain that does not undergo avalanche mitigation.
After another lift bump up Snake Creek, the class put on skins and headed towards Caribou Basin. Gordon, who has at least as much energy in person as you've seen on the internet and television, explained how slope aspects, angles and terrain characteristics impact avalanche hazard. "When snowpack stability is the question, terrain is always the answer," Gordon says. It didn't hurt that Gordon cut his avalanche teeth in the terrain around Brighton as a patroller a few decades ago, providing him with plenty of stories to elucidate his points.
If you're interested in learning more about avalanche education and backcountry skiing and snowboarding, visit the Utah Avalanche Center's website for daily forecasts, free online education and the possibility to sign up for a class before you head beyond the ropes. Another great backcountry introduction is by taking a Ski Utah Interconnect Tour where you'll be guided through backcountry terrain between several of Utah's famous resorts. Ski Utah also has some useful backcountry resources you can check out on this website. In the meantime, keep praying for some more of The Greatest Snow on Earth®. It not only provides incredible turns, but it also helps build a healthy, safe snowpack in the backcountry.
Share This Article