World Pro Ski Tour Aspen - Cone & Kammerlander Take Mens' Honors, Norbye Wins First Womens' Pro Race For 20 Years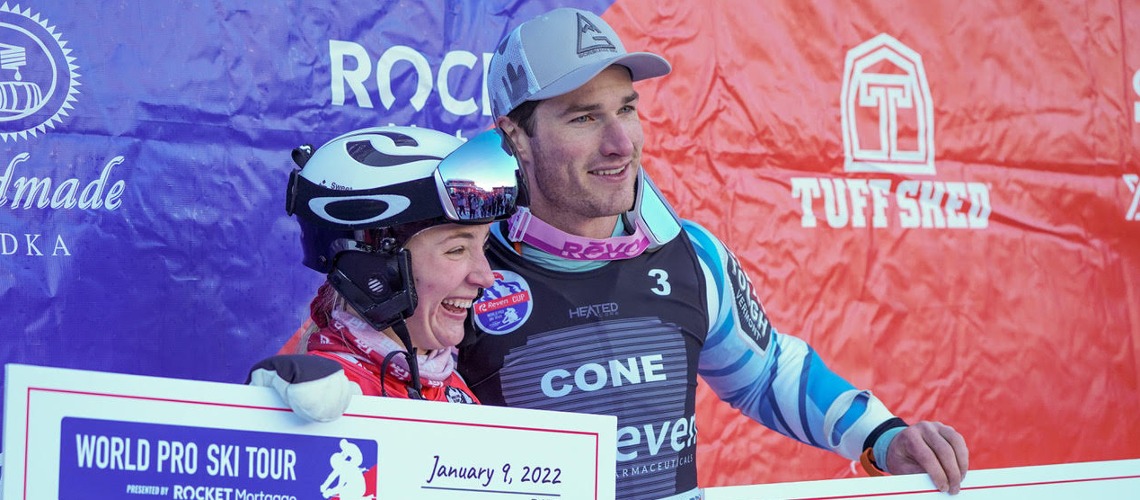 Thw World Pro Ski Tour has just wrapped an amazing weekend in Aspen with three races on the Little Nell run, site of historic Pro Tour races and in celebration of 75 Years of Aspen. The weekend really had it all: 3 races, incredible competitors (both ladies and gentlemen), all types of weather, serious race action and enthusiastic crowds.
Simon Breitfuss-Kammerlander had been waiting three years to win a World Pro Ski Tour race, and on Saturday, he made it happen.
As a wet, heavy snow fell all day on Aspen Mountain, where the dual slalom action took place on the Little Nell trail, Breitfuss-Kammerlander came out with something to prove, throwing down the fastest qualifying run to start the day. The 29-year-old who has dual citizenship in Austria and Bolivia then proceeded to knock out one opponent after another, finding a gear he didn't know he had, especially in the challenging snow conditions.
"Normally I don't like conditions like today," Breitfuss-Kammerlander said after the race. "I like hard, icy slopes where I can go for my line, where I know everything works good."
Breitfuss-Kammerlander started Saturday's round of 16 by handily beating local WPST rookie Tanner Perkins before taking down Norway's Mathias Tefre in the quarterfinals. In the semifinals, he came up against rookie sensation Drew Duffy, winner of the previous WPST race last month at Granby Ranch. Duffy, who's revealing a true knack for building speed on the course, edged Breitfuss-Kammerlander by a little more than a tenth of a second in the first run, but the Olympian's starting prowess shined in the second run as he launched out of the gate and sped to victory.
In the final heat, he faced two-time WPST tour champion Rob Cone and it turned out to be a showdown like none other. Both racers nailed their starts in the first run, matching turn for turn until Cone, racing on the red course, which racers agreed was the slightly faster of the two, pulled ahead for a 0.14-second lead. Although Cone capitalized on this margin in the second run, Breitfuss-Kammerlander dug deep to build speed and fired passed Cone by 0.03 seconds for the first WPST victory of his career.
"Everybody knew the red course was a little faster. I had to push and caught him just before the finish," Breitfuss-Kammerlander said. "Of course, everybody wants to beat Rob. Rob is a great ski racer, especially in conditions like this. With the long legs, he's always pushing the outside leg so far out of the ruts to build speed.
Cone, who fought through a couple of close heats in the quarter- and semifinals and also made an athletic recovery after a near-crash over a jump, said that working with — and not against — the new snow on the course was the secret to success on Saturday.
"I started feeling the course," Cone said. "Even though there were ruts and the snow was soft, you could really flex the ski at the top of the turn and release onto the flats. That was the difference maker on some of the rounds where I had tough matchups. Simon was running fast all day. He was just on it. The few turns I saw, he was doing exactly what I was trying to do – find energy in the powder and work through it."
Having raced in every WPST event since the tour re-started in 2018, Breitfuss-Kammerlander has always been a contender. He pulled off a couple of podiums over the last two seasons and has plenty of international racing experience under his belt. He has competed in a handful of World Cup races and represented Bolivia in all disciplines at the 2018 Pyeongchang Olympics. He'll be competing in the Olympic super G and downhill events next month at the Beijing Games.
"I did all of the races on the Pro Tour and I was two times on the podium, but never on top. We worked so hard for it and I can't believe I finally made it happen," he said. "I'm so grateful."
Saturday's small final also proved to be a nail-biter, with Duffy going up against seasoned dual slalom racer Michael Ankeny, who fought back from a violent face plant early in the day to make up the 0.75-second maximum deficit and conquer Argentina's Manu Martinez. He then dominated his quarterfinal round against local former World Cup racer Wiley Maple before Cone took him down in the finals. Ankeny led the small final, beating Duffy by two tenths of a second in the first run and taking a big lead out of the gate until Duffy made up lost time in the last run to round out the podium in third.
Cone had his revenge on Sunday. There had been a few whispers during the first few races of this season's World Pro Ski Tour that two-time defending champion Rob Cone wasn't quite looking like himself. On Sunday, the Vermont racer put any such gossip to bed, reasserting his dominance and finding his first victory of the 2021-22 circuit.
"I'm thrilled to be back on top, but I've tried to be consistent through all of these weeks," Cone said. "Patience pays off. I've tried to let the skiing be consistent, let the results work. It just took a couple of weeks, a couple of rounds with all of these guys to be on the top step. I've been going as hard as ever and still been on all the podiums of the Pro Tour this year."
Having handily clinched the WPST titles in 2020 and 2021, Cone was riding a five-race winning streak coming into the season when veteran Nolan Kasper squeaked by him in the opening race in Granby Ranch and rookie Drew Duffy took victory with Kasper second and Cone third in race No. 2.
Opening this weekend's series in Aspen for race No. 3 on Saturday, Cone came out swinging, but was pushed to the second step of the podium by first-time winner Simon Breifuss-Hammerlander, who shot past Cone at the finish by 0.03 hundredths.
As opposed to Saturday's stormy day of grey skies and heavy snowfall, the sun shined brightly and temperatures were crisp Sunday, although the snow remained relatively soft, which accounted for some issues for certain athletes.
Cone, however, remained cool and swift through every heat. He led the quarterfinal round against Kasper and faced fellow veteran Michael Ankeny in the semifinals, leading there and then conquering as Ankeny caught a rut and missed a gate. Cone then faced WPST rookie Joachim Lindstol of Norway in the final round. Lindstol charged into his first season racing for the University of Vermont with numerous giant slalom and slalom podiums in 2020 and gave Cone a run for his money in the finals.
"I have nothing to lose and he has everything to lose," Lindstol said before matching turn for turn with Cone for both runs of the final heat, Cone pulling ahead by a couple of tenths on each the red and blue course to claim victory.
"Today the blue course was running really fast in the middle," Cone said. "As long as you knew that and took advantage of releasing the ski cruising onto the flats, you could catch up to anyone on the red."
Ankeny edged Saturday's winner Breitfuss-Kammerlander in a tightly contested small final to take third place. Breitfuss-Kammerlander recovered from a bobble over a jump in his semi-final round against Lindstol after beating Sandy Vietze in the first run of the quarterfinals and crossing the line alone when Vietze hit a rut and lost a ski in his second quarterfinal run.
The biggest gasp of the day, however, was delivered by Duffy, who somersaulted onto the course straight out of the gate in the round of 16 and somehow rotated right back onto his feet and nearly caught up to Vietze.
"I thought what was going on with all the crashes and inconsistencies with other racers was the snow," Cone said. "There were big time ruts and trenches. The snow would crumble away. Even when you were mid-turn pushing on it, it would just chunk out on you. I tried to be more balanced and two-footed. I think other guys did, too. It worked for me. But for the other guys, it was tough, even though it's friendly, soft, Colorado snow."
Comparing the field to his previous two seasons dominating the tour, Cone said the competition, albeit many of the same athletes, has become noticeably stiffer.
"I think the veterans are becoming hardened. They're figuring out that the start matters a ton and they're all simplifying the course. I think that's the key to victory for me is simplifying it. It's a 25-second course. You're not thinking about too much in that time. It's the same faces, it's just hard competition. They're all doing it."
Perhaps the biggest news was the return of women to the World Pro Ski Tour with the The Rocket Mortgage Women's Tour
Tuva Norbye thought her race days were behind her. The 25-year-old Norwegian had retired last season following a couple of years competing on the Europa Cup circuit after graduating from the University of Denver in 2019.
Friday was the first she'd heard about Sunday's World Pro Ski Tour race in Aspen, which happened to be the first women's race of the tour in more than 20 years. On a whim, she decided to try it, making the trip from Salt Lake City, where she is currently pursuing a Masters degree.
With 11 women competing on Sunday, including several current college athletes, a couple of pre-university rippers and fellow retirees, Norbye surprised herself from the get-go. She began the day by throwing down the fastest start time in qualifying and then proceeded to dominate every single head-to-head run. She took down fellow University of Utah student Katie Vesterstein in the quarterfinals, then squeaked by University of Colorado's Kaitlyn Harsch in two tight runs of the semis before facing Caroline Jones from the University of Vermont in the finals. Jones came into Sunday's race fresh off of a FIS giant slalom podium in Vail and had the Norwegian pulling out every ounce of her reserve energy.
Norbye actually slid onto her hip near the end of the first final run, miraculously recovering to make the gate and take the lead. She charged so hard through exhaustion in the final run that she hooked a hand on the final gate, spun and crashed over the finish line for the win.
"Oh my God, I was so tired at the end," Norbye said. "I used to be a lot stronger than I am right now. I can tell I'm still really competitive. Even if I'm really tired, I still want to reach the finish line, even if I just reach it."
Norbye notched numerous podiums and a handful of victories in giant slalom and slalom as a university racer and also landed several podiums on the NorAm circuit, although her only NorAm victory – as well as her only Europa Cup podium – happened to be in parallel slalom.
"I haven't done it too much," she said of the discipline. "I don't think many girls have done it a lot here in the U.S., but I remember doing a NorAm like three years ago and I actually won that one, so I guess I just like the parallel. I like seeing someone on the side of me because it really gets me going and the competitiveness is just coming. I think it's awesome. I hadn't skied much this winter, so it's awesome to get the opportunity to do something like this."
Norbye walked away with a $10,000 prize purse for her efforts.
"I never actually thought I'd win the $10,000," she said, adding that she wasn't quite sure yet how she'd spend it. "I'm in my Masters right now, so it helps paying for that. I have to do something fun, I just don't know what yet."
When asked if she would be competing in the next women's WPST in Steamboat Springs next month, Norbye said it's definitely on her radar after Sunday's success.
"I want to now, yeah, for sure," she said.
It was an exciting day of racing with a couple of other athletes contributing to the harrowing side of the action. Local racer Galena Wardle was charging so hard in her semi-final run against Jones that she caught an edge just before a jump and flew over it sideways, but recovered enough to put on a strong performance in the small final against Harsch, who ended up charging ahead by a couple of tenths to beat her and round out the podium as Wardle took fourth.
Thanks to World Pro Ski Tour/Ski Racing Media
Share This Article