"Amirsoy" Mountain Resort To Become The First Mountain Resort In Uzbekistan That Meets Latest International Standards Of Quality, Comfort And Safety.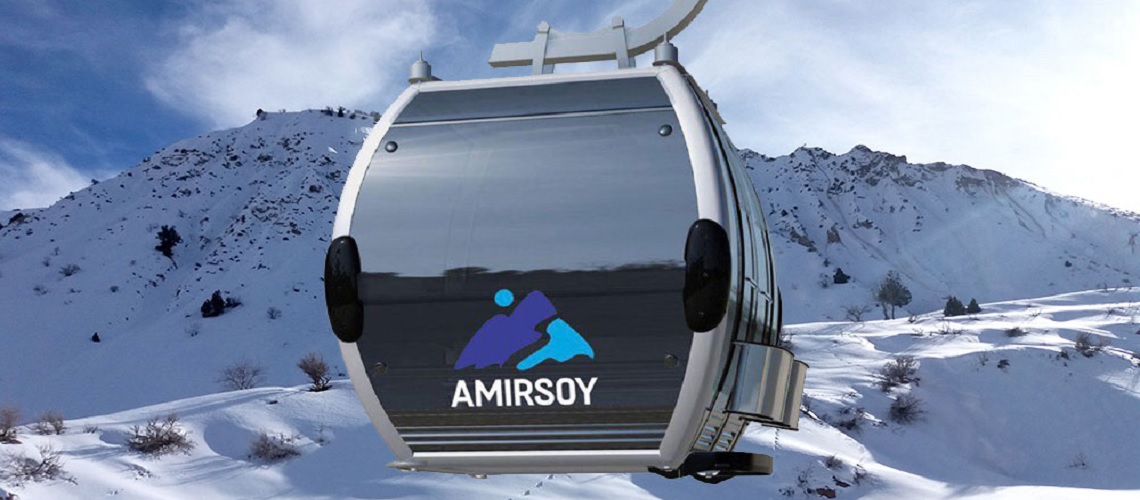 "Amirsoy" Mountain Resort is to become the first mountain resort in Uzbekistan that meets latest international standards of quality, comfort and safety.
The Resort occupies a vast territory of 2,224 acres in one of the most beautiful and picturesque areas of Tashkent Region, and is situated on the northern slopes of the Maygashkan Mountain of Beldersay tract, Bostanlyk district.
Unique charm of the place is in its breathtaking landscapes of mountain peaks, emerald valleys disappearing over the horizon, endless coniferous and fruit thickets, murmuring singing of its marble springs, and colorful views of surrounding villages.
First phase of the Resort construction has started in 2018, and is expected to be completed by winter season of 2018-2019. Upon full completion in 2022, "Amirsoy" Resort will truly become the"Mountain Pearl" of Charvak Free Tourist Zone, that was established upon the decree of the President of the Republic of Uzbekistan Shavkat Mirziyoyev.
"Amirsoy" is targeting creation of unique and one of a kind infrastructure that provides first-class service and meets visitors' needs all year round. To ensure the highest international standards, the project management has been assigned to PGI Management (Andorra) - the world's leader in the ski resort management industry. The Company has an impressive portfolio of successful projects delivered in France, Spain, India, Argentina, Turkey, Oman, Slovenia, Azerbaijan, Kazakhstan and others.
Throughout the year, a wide range of activities catering to every taste, will be provided to the guests of «Amirsoy» resort. The resort's infrastructure and services will accommodate each and every visitor - from professional sportsmen and extreme sports enthusiasts to the youngest conquerors of mountain peaks.
Slopes
During winter season, skiers and snowboarders will enjoy 28 relief slopes of various difficulty levels, totaling 21.3 km in length, as well as Multifunctional Center where ski equipment rental points are available and ticketing and access control systems are provided by Axess Company (Austria).
"Amirsoy" Resort slopes will partially be equipped with customized lighting systems for those who fancy skiing at night. Visitors will also be able to experience sledges and winter tube riding.
7 gondolas, chair and conveyor lifts will be produced and installed along the slopes by Doppelmayr (Austria) and SunKid (Austria).
Modern artificial snowmaking system by TechnoAlpin (Italy) and snow grooming machines from PistenBully (Germany) will provide the Resort with high quality slopes.
Ski School for Children and Beginners
"Amirsoy" Resort will pay special attention to the beginners who have just embarked upon skiing adventure and parents with children that can experience snowy slopes at specially designated areas to the fullest. In addition, they will be able to practice skiing simulators to improve their skiing techniques.
A kindergarten (center) is also planned on the resort territory, where little ones will always be cared for and supervised, and elder children will receive their first skiing lessons from specially trained and experienced instructors.
Summer Recreation
As the snow melts in spring and until late autumn, the beautiful mountain slopes of "Amirsoy" will be open for a range of summer recreation: trekking and horse riding, cycling and zip lining, summer tubing, paintball and photo tours. Children will enjoy rope parks, playgrounds, kids' schools and fun contests.
Accommodation and Leisure
The resort's broad selection of cozy hotel suites and cottages will satisfy every visitor's need and create a warm atmosphere of a real Home.
Visitors will also be welcomed to the Spa Bath, experiencing which will become a luxury conclusion of the day spent in the mountains.
Open Areas of the Resort are ideal for entertainment, concerts and exhibitions.
«Amirsoy» will pleasantly surprise genuine Gourmands with a variety of restaurants, cafes and bars where real Gourmet tours, which are so treasured in Uzbekistan, will be taking place.
Picnic enthusiasts will be accommodated at specially designated areas where it will be possible to rent pavilions with all the necessary cooking equipment.
"Amirsoy" Team
First and foremost, "Amirsoy" is a diverse team of unique professionals who are united in their target to create the first Mountain Resort of international level in Uzbekistan, and committed to the nationwide goals of tourism industry development and creation of proper recreational infrastructure for the people and guests of the Republic.
Share This Article