ZipFit & Fischer Sports Develop Award Winning RC4 Pro Ski Boot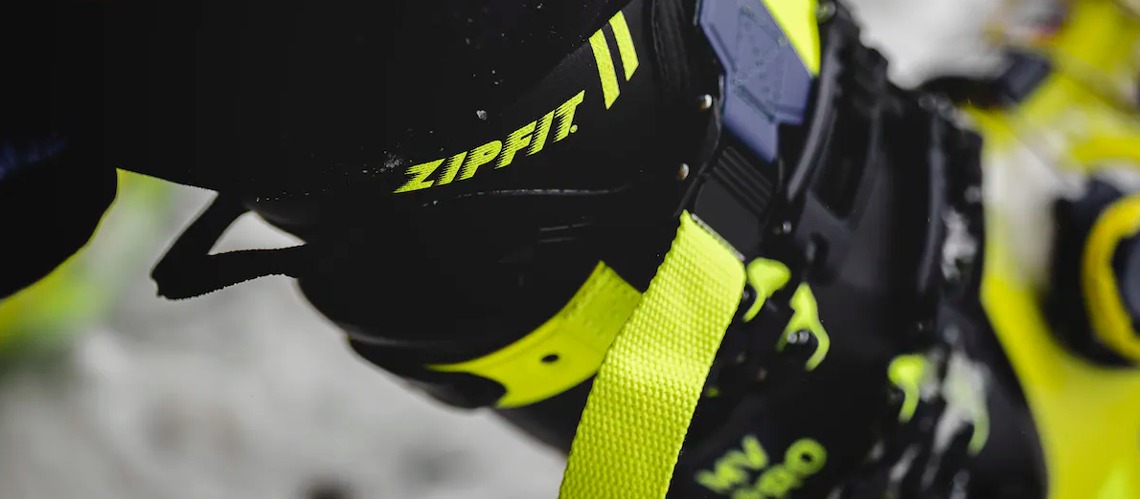 ZipFit, manufacturer of the highest quality ski boot liners, today celebrated their first major partnership as the original equipment manufacturer for the Fischer RC4 Pro boot. ZipFit and Fischer Sports are both family owned businesses committed to making the best performing ski equipment. The Fischer RC4 Pro boot, equipped with a custom cork ZipFit innerboot is the ultimate selection for skiers seeking lasting performance and a customizable fit.
The RC4 PRO boot, winner of the Outside Magazine and Ski Magazine Editor's Choice Awards for winter 2023/24, is available in MV (medium volume) and LV (low volume) options and each is paired with a specially designed ZipFit innerboot. The RC4 PRO LV comes with a lower volume ZipFit innerboot while the MV option comes with a mid volume ZipFit innerboot. The volume of the innerboot refers to the amount of cork composite fill through the ankles and tongues. These innerboots are customizable with access ports to add or remove cork composite so skiers can dial in their perfect fit. Additionally, Fischer brings their fit solutions to this innerboot including a cuff volume reducer, performance spoiler, and speed lock laces.
ZipFit chose to work with Fischer because of the brand's commitment to develop a ski boot shell in conjunction with the innerboot. The RC4 Pro comes packed with the latest ski boot technologies. The RC4 Pro uses TPU (thermoshape polyurethane) and a CARBONFUSED cuff to maximize power transfer and control. Both the RC4 Pro MV and RC4 Pro LV have flex ratings of 140 and provide competition-level performance for skiers looking to charge hard every day on snow.
Founded by Sven Coomer in 1989, ZipFit crafts the best performing ski boot liner incorporating decades of research and design. ZipFit's legacy reflects that of founder Sven Coomer, who has dedicated more than 60 years of his life to perfecting the connection between foot and ski. Instead of foam, ZipFit uses a proprietary cork composite that retains its shape and transfers energy from the leg to the ski more effectively. ZipFit is built on the tenets of performance, durability, and comfort, which come together in a ski boot liner that can last hundreds of days on the slopes without breaking down or losing its volume. ZipFit is designed in Aspen and handmade in Italy.
Chris Dominick, Managing Director at ZipFit notes, "Sven Coomer's inspiration for starting ZipFit was the collective misunderstanding around what elements of the ski boot are important. The innerboot is the contact point between the foot and the ski, it needs to fit properly and maintain that fit. The shell itself connects the innerboot to the ski and aids in power transfer. The RC4 Pro is the complete package. This partnership is a celebration of Sven's work coming full circle. Fischer was the first brand willing to give the innerboot the attention it deserves and commit to the uncompromising performance and quality that ZipFits offer."
ZipFit has a history of success in the North American market and with premium boot fitters. This partnership with Fischer and the awards from Outside Magazine and Ski Magazine help boost ZipFit's recognition beyond a word of mouth brand and position ZipFit innerboots in shops throughout Europe and globally.
Fischer's vision is to be the winter athlete's brand of choice through outstanding products, created for everlasting moments and new levels of individual performance. The privately held company employs nearly 2000 individuals who all share a passion for and dedication to winter sports. Fischer Sports GmbH was founded in 1924 in Ried im Innkreis, Austria, where the global headquarters is still located. Manufacturing takes place there and in Ukraine.
Share This Article