VERTICAL PRO To Showcase Rope Access Technology, Rescue From Heights, Bouldering, Sport Climbing & High Ropes Courses From November 24 – 25th,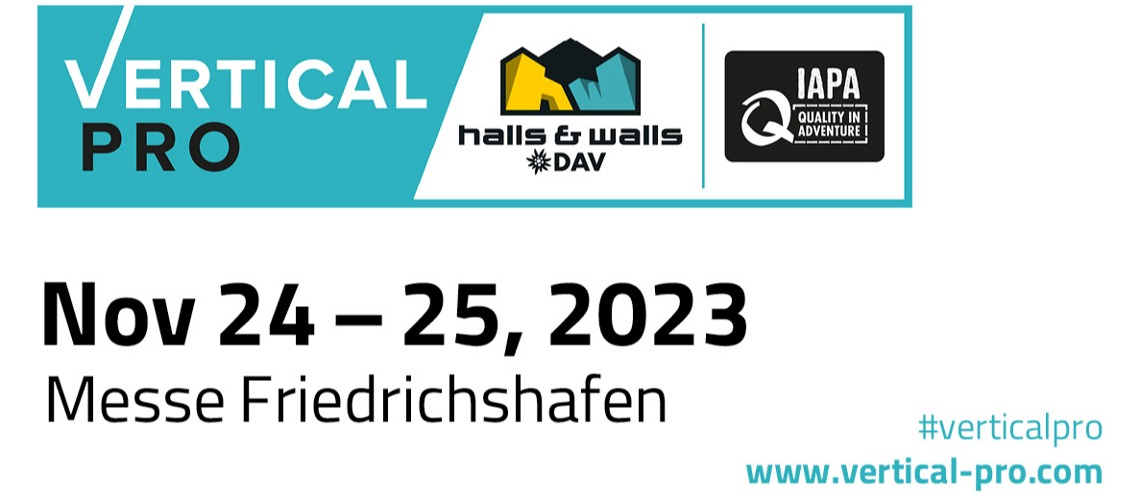 This year's VERTICAL PRO promises to showcase all of the subtle synergy between the areas of rope access technology, rescue from heights, bouldering, sport climbing, and high ropes courses from November 24 – 25th, 2023. Along with a diverse range of opportunities for testing and tryouts, a comprehensive program of conferences will take center stage at this two-day professional event.
In addition to the German Alpine Club (DAV), the International Adventure Park Association (IAPA), and the DRK Mountain Rescue Württemberg, the Professional and Interest Association for Rope-supported Work Techniques (FISAT) will once again be a partner in the program of events.
The online ticket shop is already open for you! Save up to 25 % in advance compared to the box office and purchase your ticket online today. You can find all information and ticket types in the ticket store.
Why you should attend VERTICAL PRO once again?
Pioneers meets experienced companies: the new START-UP AREA at VERTICAL PRO offers trends, new developments and innovations!
Immerse yourself in the DEMO + TEST AREA where you can see, touch, and experience the products of our exhibitors live.
Feel free to test and try them out at no cost.
Additionally, the Science + Research Hub provides a platform for all enthusiasts of research, development, and science.
From route setting to workforce shortages: VERTICAL PRO and partners to provide expertise

Programme 2023

Route Setting: Creative and Functional
What does it take to create lastingly attractive routes and boulders in artificial climbing facilities? This is the question that the DAV's panel discussion will seek to answer while shedding light on the central tasks and concerns of climbing and bouldering halls – from organization to equipment. The DAV program's other presentations will also revolve around sport and fun on the wall, with experts on hand to provide insights and inspiration for creative route setting and to address the role of social media, too. The panels will also explore the topic of inclusion and the requirements for target group-specific route setting for people with and without disabilities. The goal, of course, is affording climbing fun to all.
Adventure Parks, Climbing Gardens & More: IAPA Event Program
The shortage of skilled labor is affecting the outdoor sports and adventure industry, too. This November, speakers from the IAPA will talk about possible solutions to this challenge. Presentations on inspection and maintenance will also be on the program. From zip lines and safety harnesses to IT solutions, the prestigious IAPA Innovation Award, which will be presented at Vertical Pro this year, will highlight the industry's ingenuity.
Safety First: FISAT and DRK Mountain Rescue
Whether at work or in leisure time, safety and hazard prevention on and around ropes will be of paramount importance at Vertical Pro. The program of events will showcase the professional expertise of FISAT and others in the context of commercial applications and that of DRK Mountain Rescue Württemberg in matters related to rescuing at height or in rugged terrain. Together with co-exhibitor Tyromont, the mountain rescue service's supplier of technical equipment, these high-altitude professionals will provide skillful demonstrations of operations and rescue scenarios at the container tower and obstacle course.
More details here
Exchange ideas with industry professionals and experts.
Expand your knowledge with our extensive supporting program and top-class lectures.
Check out the current list of exhibitors.
Become an exhibitor

Be part of the exhibition as an exhibitor and join us for the third edition of VERTICAL PRO from November 24 – 25, 2023, where everything revolves around fall protection, rope access technology, rescue and aid organisations, tree care, rock climbing, climbing and bouldering gyms as well as high ropes courses!
PARTICIPATION OPPORTUNITIES & PRICES 2023
You can register here or feel free to contact the organiser personally for further assistance.

READ MORE
Share This Article