Utah Ski Resorts Gear Up For The 2020–21 Season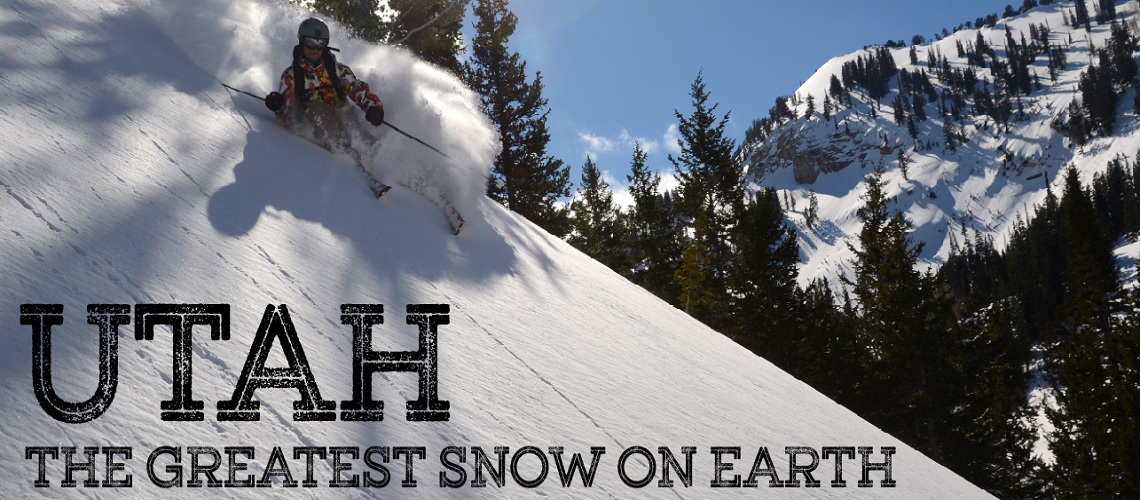 After the Covid-19 pandemic upended the 2019–20 ski season with early closures in March, Utah's ski resorts and Utah skiers and riders are more ready than ever for winter to return to Utah's mountains. With a fresh coat of deep snow on the slopes and ski season just around the corner, Utah ski resorts are gearing up for an unusual winter and are updating their technology, services, and operations like never before.

For specific information about what Utah ski resorts have done to create streamlined operations, employ consistent safety guidelines and offer unparalleled pass options and assurances to help guests plan ahead and navigate skiing in Utah during the coronavirus pandemic, visit the Ski Utah 2020–21 Winter Operations Page.
WHAT'S NEW AT UTAH SKI RESORTS:
Skiing will look different this year as Alta celebrates its 83rd year of lift-served skiing, but the resort is ensuring its guests that they will still be skiing the same Alta powder we love. The resort is excited about the completion of the Alf's Restaurant expansion. Check out the new ski shop and coffee shop at Alf's, and stop in for some waffles to fuel up during the day.
All the resort's day lodges will be open with limited menus, and guests will be asked to limit their time in the restaurant to 30 minutes. Grab and go breakfast and lunch options will be available in the Wildcat and Albion parking lot. The Alf Engen Ski school is offering private lessons. (Reservations are recommended.) The Alta Children's Center is open this winter, but reservations are required. Skier capacity will be limited through parking availability, and the resort is encouraging skiers to check alta.com for parking and road conditions before heading up the canyon.
For more information about operational updates and safety protocols for Winter 2020–21, visit alta.com/winter-2020-21.
Beaver Mountain Ski Area is excited to announce we have installed a second SunKids conveyor lift. Located in our beginner area above the Little Beaver lift, this conveyor will add a level of progression as it is slightly steeper than our current conveyor. After a fun contest for our guests to help name the new lift, Big Eezy was chosen. We will now have Big Eezy and Little Eezy surface lifts in our beginner area. Both our Snowsports instructors and our guests teaching friends and family will love this new addition.well as an online ordering system to ease guest flow and reduce wait times.
Eagle Point has added newly built homes and expanded the number of existing condominiums available for guest rental, increasing the total lodging capacity for the resort area by 20 units from last season. The majority of this lodging is available to book directly through the resort. The resort will also be bringing The Canyonside Collection online this winter — four units that include private hot tubs and other modern amenities, and represent the only new condominium residences built in over 20 years at Eagle Point. This lodging is conveniently located just steps from Canyonside Lodge.
Eagle Point has also expanded high speed internet into more condominiums so that nearly all rentals throughout the resort now include high speed internet connectivity. The Skyline Lodge has also been reconfigured and added an additional 150 square feet of new space, allowing an expansion of the rental/fitting area and improvements to the customer flow.
Nordic Valley Ski Resort is preparing for their most memorable year since opening in 1968. The ski resort is currently working on a capital improvement project that will bring the Ogden area resort its first high-speed chairlift and the largest expansion project in resort history — both are slated to open during the upcoming winter.
Earlier this summer, Nordic Valley began construction on the resort's first high-speed detachable chairlift, a six-person lift. According to resort officials, the new lift construction project — together with Power Pass resort Arizona Snowbowl's high-speed chairlift gondola combination lift — makes up one of the largest lift installation projects in North America in advance of the 2020–21 winter season.
The new chairlift will be the resort's first new lift in over 20 years and Nordic Valley will be just one of three Utah resorts to offer a lift of this type. Manufactured by Leitner Poma, it will be 4,213 feet in length with a vertical of 1,400 feet. The high-speed lift will be located on a brand new area — 300 skiable acres that has been owned by Nordic Valley but never developed until now.
In addition to the capital improvements, Nordic Valley will be moving the majority of its ticket sales online. Lift tickets will be available online with deep discounts the further in advance they are purchased. The resort is also introducing new on-mountain dining improvements, including grab-and-go options as well as an online ordering system to ease guest flow and reduce wait times.
Park City Mountain is scheduled to open on Friday, November 20, 2020. Safety has always been one of Park City Mountain's core values and due to the impacts of COVID-19, that commitment is more important than ever. Heading into the winter season, the resort's operating plans focus on safety, having a successful season from start to finish and prioritizing pass holders. In addition to strictly-enforced face covering and physical distancing requirements, Vail Resorts is implementing a new, easy-to-use reservation system for winter at Park City Mountain and its 34 North American resorts. For the vast majority of days, Park City Mountain will be able to accommodate everyone who wants to visit, but the new reservation system will help manage capacity and give guests peace of mind knowing they'll have the space needed to stay safe this season. Learn more at ParkCityMountain.com.
Also new for the 2020–21 season, Vail Resorts is launching Epic Mountain Rewards which gives Epic Pass holders a discount of 20% off food and beverage, lodging, group ski and ride school lessons, equipment rentals and more at Park City Mountain and other Vail Resorts locations. Additionally, Epic Pass holders can redeem one free wax and 50% off one basic tune per season at select U.S. locations. Epic Mountain Rewards is available to anyone who purchases an Epic Pass, Epic Local Pass, Epic Day Pass, Epic Military Pass, and many of the Company's other regional season pass products. The discounts go into effect on October 1, 2020 for the 2020–21 season.
As the 2020–21 winter season approaches, Snowbasin is pleased to share additional enhancements and precautionary measures the resort will be taking in order to ensure the health and wellbeing of guests, employees and the mountain community while continuing to offer the superior experience guests have come to expect. To read more about operational updates and safety protocols at Snowbasin, visit snowbasin.com/2020-21-winter-season.
The Snowbasin team has worked extremely hard to create additional space within the resort's expansive 3,000 acres. These include the following enhancements for the 2020–21 season:
New Learning Area: Snowbasin has relocated the Grizzly and Wildflower Carpets to offer expanded beginners' terrain with an 11% slope, just north of the Learning Center. With the success of the resort's award-winning Learn and Earn program, Snowbasin is committed to expanding learning opportunities on its slopes year after year.

Outdoor/Slopeside Dining: Three new ski-in/ski-out, outdoor dining options will open on-mountain to provide faster service while also eliminating the need to go inside lodges. These slopeside dining facilities will be placed near Earl's Lodge, the Old Day Lodge and at the base of Strawberry Gondola. Guests will be able to purchase food or drinks at a window and enjoy outdoor seating with a view.

Yurts & Warming Areas: A new yurt village has been built at the base of the Middle Bowl to provide an area for guests to rest and warm-up, remote from any resort lodge. Additionally, the resort has added a yurt to the base area to provide faster season pass and ticket pickup without entering Earl's Lodge. Furthermore, the Old Day Lodge will be open to provide additional space for seating and restrooms as well.

Handle Tow: The Wildcat Handle Tow was installed at the junction of Littlecat Trail and Orson's Terrain Park to provide easier access to Wildcat Express. This allows guests an additional open-air option to access upper and mid-mountain terrain without taking Needles Gondola.

Ski Trail to Canyon Rim Parking: Snowbasin added a new trail, Squirrel, to easily access the Canyon Rim parking area without entering a shuttle. Guests can enter the trail near the top of Littlecat Chairlift to ski 3,000 feet to the parking lot. A new crosswalk will also be added to allow guests to safely enter the parking.

Needles Lodge: Renovations were made at Needles Lodge with the addition of 'The Overlook,' a new full-service bar with panoramic views from 8,700 feet as well as operational improvements to increase speed of service and flow.

Slopeside Drop-Off: A new drop-off zone was added to the Wildcat Parking Area, allowing guests to drop off friends or family slopeside. From there, guests can ski to several lifts without needing to visit the base area. With this update, the Wildcat Parking Lot will be open daily. Please note that skier services, including rentals, are not available at this location.
Snowbird is excited to return to skiing and riding this winter with many new offerings to enhance your winter experience while prioritizing the wellbeing of our guests, employees and community.
The official app of Snowbird will be launching this week. It has never been easier to connect with your friends on lifts and trails, track your performance stats, view real-time weather, resort information and more. Learn more at snowbird.com/snowbird-app.
Snowbird's newest dining additions include two food trailers: "Gadzooks" in Gad Valley and the "Subie Shack" on Dick Bass Deck. These food trailers will provide more outdoor food and drink options that will get you back on the mountain energized.
Mid-Gad Restaurant has always been the ultimate ski-in/ski-out location for those looking to fuel up between runs. This year upgrade your lunch break with a sit-down dining experience and cocktails at your favorite mid-mountain grill.
While physical distancing in lift queues occurs organically due to the length of skis and snowboards, guests can expect additional spacing measures including extended maze designs and more lateral spacing to ensure a consistent flow of appropriately spaced traffic. Front row mazes will be in place at Gadzoom, Peruvian Express and Mineral Basin.
For more information about new additions for Winter 2020–21, visit snowbird.com/winter-experience-2021.
Solitude Mountain Resort will introduce a variety of upgrades and new experiences that accommodate social distancing and increased safety measures, including:
More outdoor seating – including tents and heaters – and more grab-and-go options at restaurants

Fresh-made, take-and-bake dinners available at the Village Store for lodging guests and neighbors

The Yurt Experience at St. Bernard's will bring our signature culinary experience into Solitude Village, allowing for greater distance between tables while preserving the intimate feel and outstanding cuisine

Reservations for rentals, reconfigured flow in rental shops

Touchless transactions for parking

Additional, temporary public restrooms to reduce queueing, plus additional cleaning and hand sanitization across the resort
Solitude Mountain Resort will not be selling walk-up day tickets on site for the 2020–21 season. Single-day lift tickets must be purchased online in advance for a specific date. The resort does not anticipate requiring reservations for Ikon Pass, Solitude season pass, or Solitude Ticket Pak holders.
Group lessons for children 6 and under will not be offered upon season opening. Group lessons for children ages 7-12; Fly Like an Eagle, our multi-week program for children ages 7-13; and adult group lessons will be offered with modified hours (10:00 a.m. to 1:00 p.m.) and no lunch will be served. The Solitude big mountain, race team, devo program, Women on Wednesdays multi-week lessons, and Hidden Tracks mountain tour will be offered as usual. Solitude will also be adding more options for private lessons to meet anticipated demand.
Powder Mountain has purchased three new snow cats outfitted with open air seating and trailers to provide safe transportation up Lightning Ridge and Raintree, allowing the resort to continue offering its well-known Single Ride Snow Cat skiing experience.
All food and beverage outlets will be outfitted with to-go windows for quick and easy food to eat on-hill or in your car. The Timberline Lodge Cafeteria will now be a sit-down restaurant, offering a full menu.
For all other information about Powder Mountain's updates and efforts to keep guests safe and healthy this season, please visit powdermountain.com/winter2021.

Woodward Park City
Woodward Park City, Utah's ultimate year-round action sports resort, will welcome guests for the 2020–2021 winter season with exciting fun and new improvements. Guests will notice upgraded ways to access the one-of-a-kind indoor Action Sports Hub and outdoor Woodward Mountain Park, terrain refinements, "Four Then More," a beginner learn to ski conversion program, and COVID-19 operations and safety precautions.
Guests will find new ways to purchase access to Woodward Park City including All Access Memberships, new outdoor Mountain Park memberships, and monthly All Access and Mountain Park passes. Memberships require a multi-month commitment and offer additional perks; passes do not require a multi-month commitment. Memberships and passes are currently available for purchase.
Woodward Park City's Woodward Mountain Park and Tubing lanes will open November 20, 2020 (weather and conditions permitting) for the 2020–2021 winter season with enhancements to the Woodward Mountain Park, including: a rerouted Easy Rider, the resort's easiest way down; a repositioned Progression Park, a skier or rider's first introduction to freestyle terrain; and an expanded Peace Park, freestyle terrain that focuses on a fun, non-linear flow to create the ultimate environment for creative expression.
Woodward Park City is for all ages and abilities, from first-timers to pros. The new "Four Then More" program is Woodward Park City's beginner conversion initiative. It includes four on-snow sessions with lessons, lift tickets, and rentals for $299 for ages four and up. Upon completion of the program, participants will receive an outdoor mountain park membership for one month.
In response to COVID-19 safety precautions, Woodward Park City offers limited capacity for both indoor and outdoor activities. Guests are encouraged to pre-purchase indoor and outdoor sessions in advance at woodwardparkcity.com for the best availability and pricing. Tubing session tickets purchased in advance will be available through an on-site contactless kiosk. Lift tickets providing access to the Hot Laps Quad lift will be sold in four-hour sessions. Woodward also offers contactless food and beverage orders for its two food and beverage outlets.
NEW AROUND TOWN:
Visit Salt Lake's "Salt Lake Bound = FREEdom Found" promotion offers skiers and snowboarders the choice of two FREE 1-day Ski City Super Passes or a $200 Delta Air Lines eGift Card by simply booking two (2) or more nights at any participating lodging property, including lodging throughout the Salt Lake valley and at each of Salt Lake's four world-class resorts: Alta, Brighton, Snowbird and Solitude. For more information and to book your Ski City vacation, go to visitsaltlake.com/places-to-stay/special-package-deals/freedom-found.
The town of Park City is ready for an exciting ski season! Guests visiting the historic Main Street district will enjoy an all-new, magical experience during the upcoming holiday season. An interactive art exhibit called the 'Snow Globe Stroll' will be on display with the installation of nine life-sized snow globes that are six feet tall. Each snow globe depicts a different aspect of Park City life, from its silver mining heritage to local wildlife and Olympic culture. As guests approach each of the globes, they 'come to life' with light and changing imagery and, of course, falling snowflakes. The snow globes will be displayed on Park City's Main Street from November 28, 2020 – January 3, 2021.
New to the Heber Valley is a very creative new social distancing option at the Cafe Galleria Restaurant in Midway, Benvenuti Alpenglobe! Get cozy in new, private dining shelters with panoramic views of all four seasons. Available daily by reservation, with seating and table service for up to eight. As always, the Heber Valley is expecting cold temperatures, helping the amazing Ice Castles come to life again to start off the New Year! If the cold is too much for you and you are ready to relax after a day of outside winter activities here in the Heber Valley, don't forget about the unique Homestead Crater.
LODGING IMPROVEMENTS & UPDATES:
Alta Lodge is excited for its 80th season as Alta Ski Area's first lodging property. Along with updated health and safety protocols to support the wellbeing of our guests and staff, the Lodge has added more flexibility in services to help meet guests at their comfort levels. While some details have changed, the core of the Alta Lodge experience - comfortable ski-in/ski-out accommodations, intimate Lodge atmosphere, amazing food, incredible skiing and an authentic, home away from home experience for the entire family, will remain the same.
In the spirit of a traditional mountain inn, nightly rates include a full hot breakfast and four-course dinner, now with complimentary room service and expanded lunch offerings. Guests will continue to enjoy the complimentary morning yoga, now with in-person and virtual options. And new this season, Alta Lodge is offering extended Kids Stay Free rate (children 12 and under stay free, breakfast and dinner included) to one week and longer windows every month of the 2020-21 winter season. Their complimentary Kids Club will continue to offer supervised activity during après ski along with newly added customized 'to go' options based on age and interests. Alta Lodge opens for the season on November 20, and with limited daily resort parking, visiting skiers are encouraged to stay slopeside to enjoy a truly authentic Alta ski vacation. Visit us at altalodge.com.
New at Montage Deer Valley this winter season is the Empire Lounge, a private guest lounge offering an exclusive dining experience throughout your stay when you reserve the Empire Lounge Access package. The Empire Lounge offers a safe, socially distant space and VIP service to start your day or wind down after a day on the slopes. Located in a spacious, comfortable and convenient setting, access to the Empire Lounge includes daily breakfast, lunch and evening hors d'oeuvres, desserts and beverages. In addition, the resort has expanded its private dining experiences. From family dinners to milestone moments, Montage Deer Valley offers a variety of ways to combine the finest regional cuisine with an ambiance of complete comfort, privacy and impeccable service. Intimate affairs may be reserved in the refined indoor spaces of Apex's private dining room, the slope-side Après Lounge with its own cocktail bar, the cozy and sophisticated Library or Study, or the unique snow globe-style atmosphere of the brand new Igloos at Vista Lounge, offering stunning, panoramic valley views.
The Goldener Hirsch, Deer Valley's iconic Austrian-inspired luxury hotel tucked mid-mountain at Deer Valley's Silver Lake Village, has expanded and will be introducing 40 brand new, luxury residential condominiums on November 1, 2020 and is now taking reservations for the Winter 20–21 season.
The newly expanded Goldener Hirsch offers an exclusive, luxurious mountain experience in an intimate alpine village setting. Featuring sleek, modern hotel rooms and multi-bedroom floor plans, the Goldener Hirsch includes new amenities such as a rooftop pool and gym, a plaza bridge connecting the original building with new, as well as sunlit courtyards, a café, and ski valet. Find out more at goldenerhirschinn.com.
WHAT'S NEW IN TRANSPORTATION:
At 6:00 a.m. on Tuesday, September 15 history was made in Utah when the first flight, bound for Atlanta, pushed away from SLC Airport's opening of one of the brand new terminals at The New SLC. Once fully completed, the $4 billion project will completely replace the original airport built in 1960, and takes the title of the world's first new hub airport of the 21st century. Despite challenges presented by Covid-19, this first phase of SLC Airport's massive reconstruction project opened to the public on time this September. The project's second phase—the terminal's Concourse B west—opened just six weeks later, nearly two years ahead of schedule, thanks to reduced traffic at the airport. Both councourses are now fully open and boast some of the best new amenities an airport can offer, including a baggage system specially designed to handle oversized bags efficiently as ever, such as skis and snowboards. The project is expected to be completely finished in 2024.
The Utah Transit Authority will continue to operate its ski buses this winter with adjusted operations, including limited capacities and mask requirements. Read more at rideuta.com/Rider-Info/Ski-Service.
Share This Article