University Of Colorado Names Jana Weinberger Director Of Skiing & Ian Lochhead As Head Alpine Coach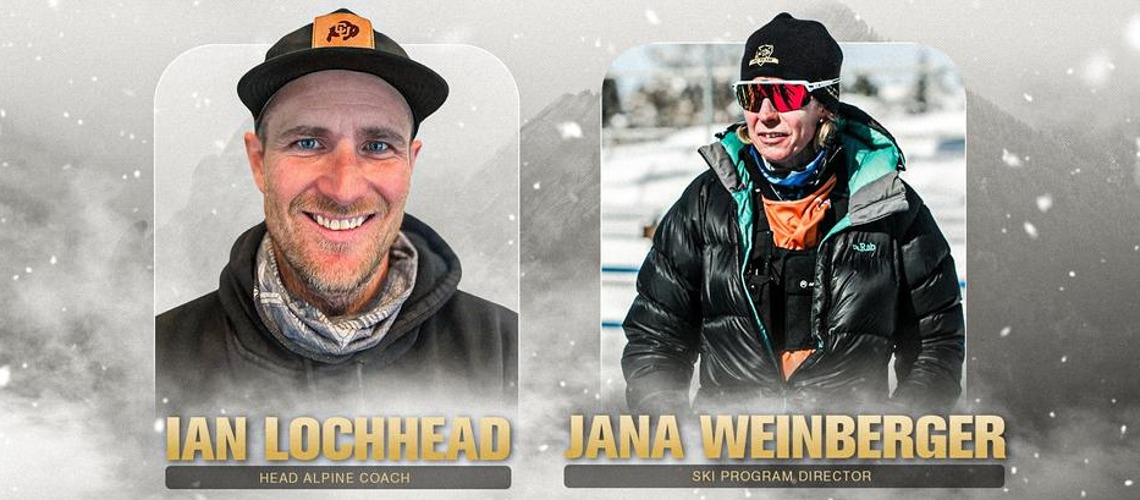 The University of Colorado has named Jana Weinberger the Director of Skiing and announced the hiring of Ian Lochhead as the Head Alpine Coach, Athletic Director Rick George announced Wednesday.

Weinberger has been a part of the CU Ski Team for the past 21 seasons, first as a student-athlete (2003-06) then as the Assistant Nordic Coach (2007-17), Head Nordic Coach (2018-22) and most recently the Interim Head Coach in 2023. Already a member of the CU Athletic Hall of Fame, she was a two-time Individual National Champion and helped the Buffs to the 2006 team title as a student-athlete and has led CU to three more National Championships as a coach.

"Jana has been a staple of the CU Ski Team since arriving on campus more than 20 years ago as a student-athlete," George said. "She has been a part of National Championship teams as both an athlete and coach and is already in our Hall of Fame. I'm confident in her ability to lead this program back to where it belongs, competing for and winning National Championships."

As a coach, she was the assistant Nordic coach for the team championships in 2011, '13 and '15, and also helped CU secure the mythical National Championship in Nordic skiing two other times in 2008 and '10, scoring the most Nordic points at the NCAA Championships in all five of those seasons. She has guided 21 different Nordic skiers to 108 race victories and 11 different Buffs to a combined 17 Individual National Championships as a coach.

Weinberger is the first female head coach or director to oversee a program that includes both Nordic and alpine disciplines in the history of the Rocky Mountain Intercollegiate Ski Association and one just two in NCAA history along with Cami Thompson Graves of Dartmouth. And she is the first female head coach or program director in CU history to oversee a men's program.

Lochhead comes to CU from Ski & Snowboard Club Vail, where he was the head coach of the U16 and FIS groups since 2018. He helped rebuild a culture of accountability and hard work within the club that endured during the COVID-19 Pandemic and he organized and budgeted for camps in Austria, Chile, New Zealand and at Mt. Hood in Oregon. During his time at Vail, he helped with hill preparations for the 2022 U18 National Championships and as a liaison with the Men's U.S. Ski Team in preparation for the 2022 Winter Olympics in Beijing.

"Ian will be a tremendous addition to our ski team," George said. "His experience in developing alpine athletes at the highest levels and understanding the intricacies of the sport will serve us well. I'm excited about the future of the program with Jana at the helm and Ian taking over the alpine program."

Prior to Vail, Lochhead worked at the U.S. Ski Team from 2012-18, first as the men's development team assistant coach (2012-14), then as the head coach of the Europa Team (2014-16) and finally as the head coach for the World Cup Slalom Group from 2016-18 which included the 2018 Winter Olympics in PyeongChang. He began his coaching career in 2009 in Vail as the Head J4 Coach and as an assistant coach for the men's FIS group prior to joining Team USA.

Lochhead graduated from the University of Denver with a degree in Business Administration and skied for the Pioneers for four years, helping the team win NCAA Championships in 2008 and '09, when he was named All-RMISA. Lochhead's family does have CU roots as both of his parents and his grandfather graduated from CU, the latter competing on the gymnastics team for the Buffs.

Lochhead grew up in Glenwood Springs, Colo., and began skiing for the Sunlight Ski Team before transitioning to Ski Club Vail prior to earning a spot on the DU Ski Team.

"I would like to give a special thanks to our hiring committee," George said. "And specifically, Bill Marolt and Bruce Gamble. Bill is more ingrained in the history of our athletic department than any single person as a former Athletic Director, Head Ski Coach and student-athlete, winning and orchestrating championships at all levels. Bruce has stayed closely connected to this program for over five decades since himself winning championships under Marolt and both have my full confidence when it comes to what's best for the ski program."
Share This Article