Technoalpin Snowfactory - Ten Years Of Developments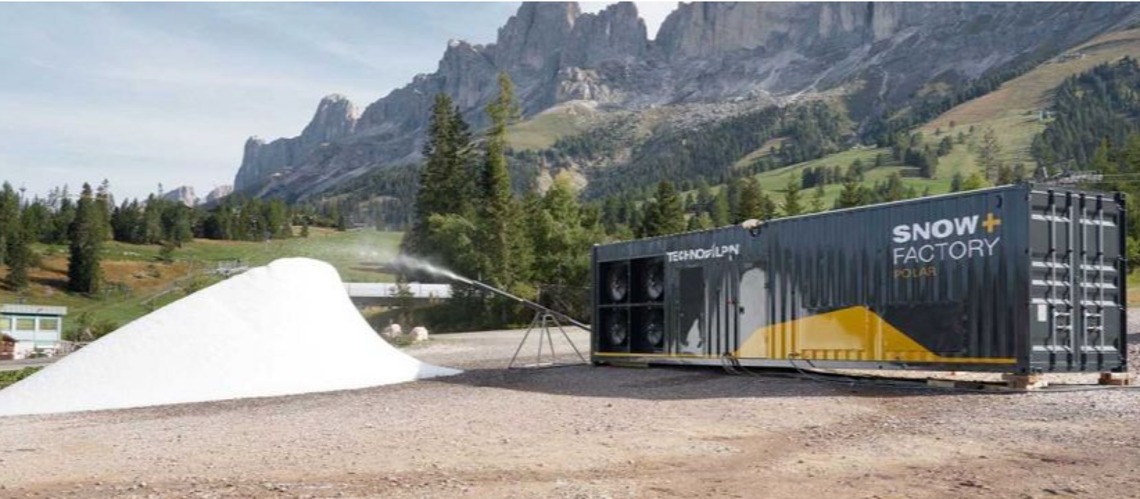 TechnoAlpin started developing SnowFactorysome 10 years ago. The first machine went into operation in Winterberg in 2014. A lot has happened since then, with 80 machines already in use around the world, from California to Vietnam. Obviously, the technology has come a long way.
The advantages of the current models are apparent at a glance. Large-scale snow production and straightforward snow distribution allow hundreds of meters to be distributed via underground pipelines across the entire ski area with just one SnowFactory system. The SnowFactory also requires far less energy than comparable models thanks to its low connection load and various refrigerants. Last but not least, a specially developed smart control system ensures straightforward use and uncomplicated control both in the office and when out and about.

Successful new projects
A few special projects have also been implemented with the SnowFactory technology in the past year. Looking ahead to the 2023 IBU Biathlon World Championships, Oberhof (Germany) has been provided with another snow warehouse and SnowFactory. Consequently, snow production with a sustainable energy concept and renewable energy resources can get off to an earlier start, keeping ski areas operational throughout the winter season. In the long-term, winter sports centers should be able to generate 100 percent of their own energy requirements.
The Australian ski resort of Mount Buller has added two new SnowFactory machines to its existing snowmaking system last year. Mount Buller's entire snowmaking system is now based on a total of four machines, which underpin the said system and guarantee a sound start to the winter season, regardless of temperatures and snowfall.
An indoor halfpipe was constructed for training purposes in Chongli (China) as part of the facilities created for the 2022 Winter Olympics. Top freestyle athletes can now complete their stunt training here all year round under optimum snow conditions. The completed indoor halfpipe was equipped, among other things, with a TechnoAlpin SnowFactory generating 1,000 m3 of snow per day.
Share This Article