Swiss Cable Cars Avoid Fondue Ban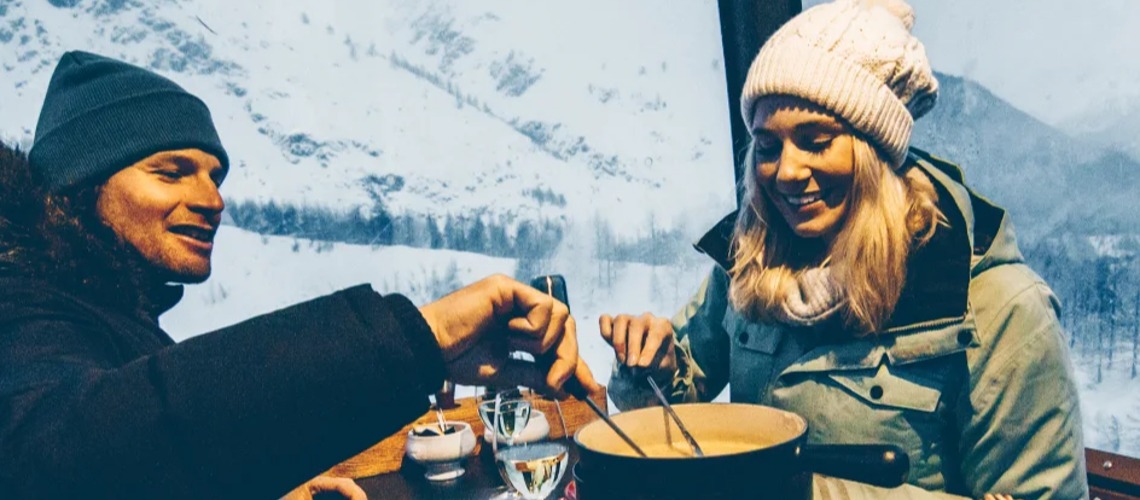 For almost 20 years, cable car companies have been offering fondue rides to the delight of many guests. As a result of a revised EU standard, there has recently been a ban on open flames in cable car cabins [wow, really, fires banned in cable cars, who'd a thought it].

The Swiss Cable Car Association campaigned for the preservation of fondue rides. Now he is presenting an industry solution for enjoying fondue in closed cabins, which has been approved by the Federal Office of Transport.

Around 20 mountain railways offer their guests not only an impressive view from the cable car cabin but also a treat for the palate. Eating fondue or raclette during a cable car ride is both an extraordinary experience for customers and an additional source of income for the cable car companies. Despite the use of an open flame heat source in the cabin and the associated risk of fire, no incidents have been reported to date.

The safety recommendations of the European Union, which have defined the minimum fire protection requirements for cable cars since 2004, also applied to Swiss mountain railway operators. When these recommendations were replaced by the EN 17064 standard – fire prevention and firefighting – in 2019, this meant a de facto ban on the previous fondue rides.

However, Swiss legislation Art. 5 SebG and Art.6 SebV allows exceptions to the applicable EU standards under certain circumstances. For this, however, proof must be provided that proves that the deviation from the standard does not increase the overall risk – in this case for fire prevention and firefighting. Seilbahnen Schweiz submitted this proposal, including the development of an industry solution, to the Federal Office of Transport (FOT).

"The cable car companies were well aware of their duty of care and the application of necessary measures," says Berno Stoffel, director of cable cars in Switzerland. "The safety of the guests has top priority in the company and accordingly various measures for fire prevention and fighting have long been implemented."

Uniform solution developed

The industry solution lists operational principles, a risk analysis and clearly defined measures to contain the risk of fire. When it comes to the use of materials, it is imperative that, for example, the table in the cabin must be permanently installed and made of fireproof material. The occupancy of the cabin is also defined depending on the cabin size, but in any case a maximum of ten people may be in the cabin.

Berno Stoffel is very satisfied with the industry solution: «I am pleased that we were able to develop a solution for the cable car companies that is accepted by the BAV. In the end, it is the guests who benefit from this solution. A beautiful view, a delicious menu - whether raclette or fondue - and without having to worry about safety.» The industry solution offers both: enjoyment and security at the highest level.
Share This Article