Snowsports Pioneer McIntyre Passes Away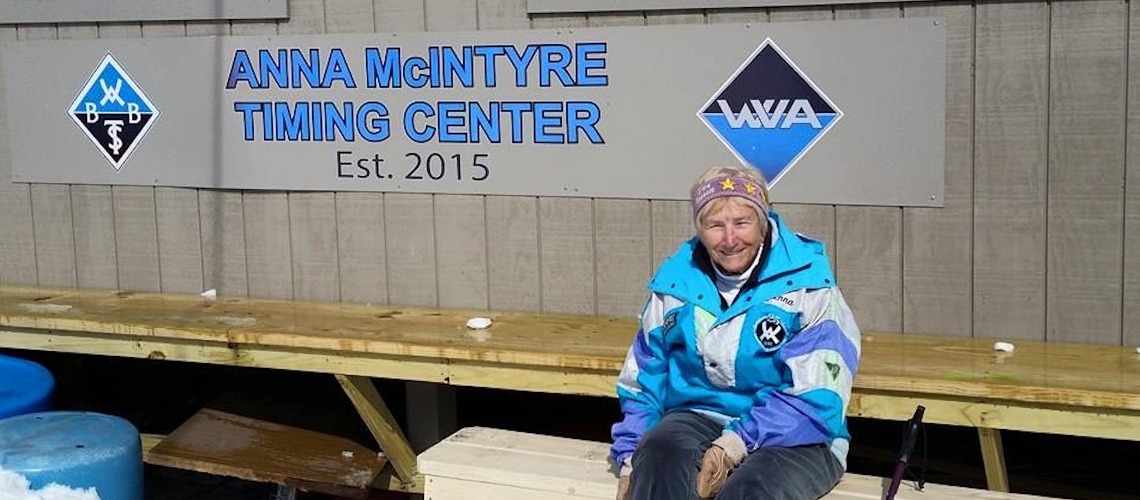 Influential snowsports official and pioneering snowboarding advocate Anna McIntyre passed away at the age of 91.
McIntyre was born in Haverhill, Massachusetts and grew up in Connecticut (where she was known for drag racing her 1931 Ford Model A), before moving to New Hampshire in 1957. When her children were old enough to ski, she and her family got season passes at Waterville Valley when it first opened and from there, she blazed a trail.
In 1980, McIntyre became the first woman FIS Chief of Race for an alpine World Cup, and was the only woman who oversaw international ski competition for decades—working all 11 World Cups at Waterville Valley and acting as Chief of Race for nine of those. She created a name for herself within the industry for the work she did within the male-dominated world of World Cup ski racing.
She also helped to bring technology to World Cup racing in 1978, and managed the recruitment and organization of volunteers for the Waterville races, with the volunteers referring to themselves as "Anna's Army." Additionally, she was an official at four Olympic Winter Games: Innsbruck, Lake Placid, Calgary and Salt Lake City.
McIntyre also led the movement to bring snowboarding to the Olympics. In 1991, she petitioned U.S. Ski & Snowboard (then U.S. Ski & Snowboard Association or USSA) board of directors to include the sport, resulting in the eastern division allowing a trial year of competitive snowboarding. Throughout the first season, McIntyre developed the first snowboarding rule book and in 1992, she was named the first chairperson of USSA's new Snowboard Committee. Snowboarding became its own discipline within USSA the year after that. From there, she worked with USSA and its CEO Howard Peterson to lobby FIS to approve the sport, which it did in 1994. The IOC officially welcomed snowboarding to the Olympics in 1998.
Within U.S. Ski & Snowboard, McIntyre was the first woman officer in the organization. The organization also named an award after her, the Anna McIntyre Citation Award, given to the person who has contributed to the advancement of the sport of snowboarding every year.
She racked up a massive number of other accolades throughout her life, including being elected to the U.S. Ski & Snowboard Hall of Fame and the Waterville Valley Hall of Fame. She also won the New England Ski Museum's Spirit of Skiing Award, North American Snowsports Journalists Association's Lifetime Achievement Award, U.S. Ski & Snowboard's Julius Blegen Award, the organization's highest award for service to sport, and U.S. Ski & Snowboard's Burckett-Dodge Award for outstanding contribution to alpine officiating. Waterville also named their race timing building the Anna McIntyre Timing Center.
"Anna was one of our sport's most impactful advocates for a half century," said Ex-Officio U.S. Ski & Snowboard Board of Directors Chairman Dexter Paine. "She was the consummate volunteer, always working in a professional manner and always seeking ways to make our sport better. She and my dad worked together many times as volunteers. Anna chewed me out occasionally and even disqualified me a few times."
"What a pioneer Anna was, who made such an impact in so many ways, inspiring generations and creating new opportunities for our sports and athletes," said Sophie Goldschmidt, President and CEO of U.S. Ski & Snowboard. "We are forever grateful for all Anna did."
She will be missed, but her legacy will live on through snowsports.
In lieu of flowers, donations can be made in memory of Anna to the Anna McIntyre Scholarship Fund for Local Athletes or the Building Fund at WVBBTS/SEF: WVBBTS/SEF, PO Box 277, Waterville Valley, NH 03215.
Share This Article