Ski Map Artist James Niehues Releasing Original Paintings And Sketches To The Public For The First Time Ever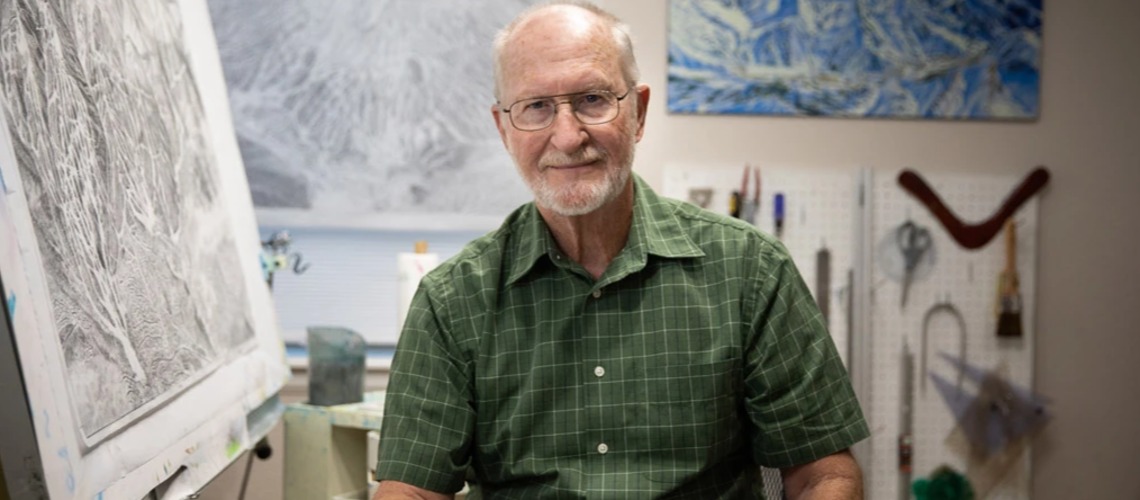 James Niehues, the celebrated artist behind the evocative hand-painted depictions of more than 200 ski resorts across the globe, announces a release of his collection of original paintings and sketches covering the past 35 years as he steps away from creating ski resort trail maps to focus on other projects.
On October 19th, 2021 Niehues will release his first set of 10 originals showcasing the breadth of his work spanning resorts across the United States including select original paintings and sketches of Brighton, Mount Hood Ski Bowl, Northstar, Killington Pico, Okemo and Heavenly.
Two of the original works being released - Snowmass and Telluride - are among the most rare items in Niehues' collection as they feature his early work with Snow Country Magazine from more than 25 years ago. They will be auctioned with 100% of the proceeds going to support the Colorado Snowsports Museum and Hall of Fame.
"I have always enjoyed the challenge of fitting an entire mountain on a single page," says Niehues. "Mountain's are wonderful puzzles, and I knew if I painted with the right amount of detail, they would last. A good design is relevant for a few years, maybe even a decade. But a well-made map is used for generations. As I retire from painting ski maps, I am thrilled to know hundreds of my maps are still used by skiers and snowboarders, including my earliest work from the 1980s."
In addition to the original Snowmass and Telluride paintings, 25 framed Limited Edition canvas prints of each mountain will be for sale, signed and numbered by the artist. Further releases of Niehues' collection of his original paintings and sketches will be announced in the coming weeks.
"The museum is beyond grateful to James for this generous fundraising opportunity. In addition to preserving his life's work, we're also delighted to share it with the public," says Jennifer Mason, Executive Director of The Colorado Snowsports Museum and Hall of Fame.
Niehues is also excited to announce his collaboration with Wagner Custom Skis, who will feature his art as part of their custom ski graphics. Wagner Custom will donate a pair of their custom skis featuring either Snowmass or Telluride as part of the fundraising effort for Colorado Snowsports Museum and Hall of Fame.
"It is an honor to work with Jim, someone whose art has been a part of so many skier and snowboarders' lives," says Pete Wagner, CEO & founder of Wagner Custom Skis. "We're excited about the connection our customers feel to his iconic artwork and to their favorite ski destinations, and that we'll now be able to offer a Niehues design to further personalize their skis like no other."
Finally, in conjunction with the release of his originals, Niehues will also be making available a single, one-time only non-fungible token (NFT) for Snowmass and Telluride with proceeds supporting the Colorado Snowsports Museum. Additional details will be available later this month.
"Ben Farrow and I are thrilled to be partnering with Jim to raise money for the Colorado Snowsports Museum. Their commitment to preserving the heritage and history of skiing is unparalleled," says Todd Bennett, co-founder of Open Road Ski Company.
To be the first to know about future original releases and to keep up-to-date on Niehues' journey to document the beauty of America's public lands, visit jamesniehues.com, or follow his adventures on Instagram (@jamesniehues), Twitter (@jamesniehues) and Facebook (@jamesniehuesorsc).
For over 30 years, James Niehues' maps have been integral to the enjoyment of skiers and snowboarders at resorts and mountains across the globe. His most recent book, The Man Behind the Maps - a compilation of the more than 200 individual trail maps he has hand-drawn - became the number one Art-Illustration Kickstarter campaign of all time and is loved by skiers and snowboarders around the world. His book was the top selling ski book of 2020 and has over 500 five-star reviews.
Share This Article