SIN Chats With...Jesper Saltvik Pedersen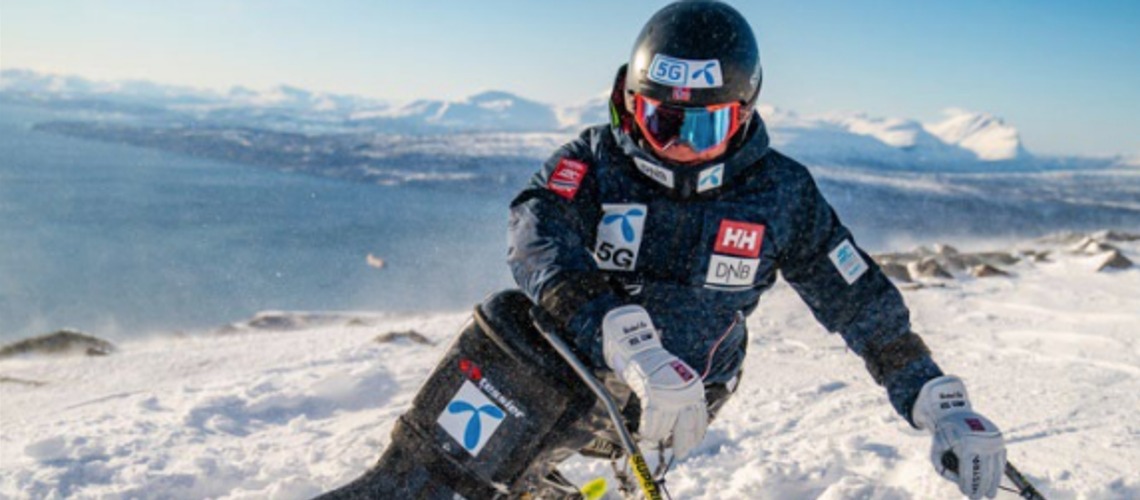 Recently, at the Alpine Ski World Cup in Solden, Austria, SIN had the pleasure of spending time with the Norwegian Alpine Ski Team and their new clothing supplier, Helly Hansen. SIN chatted with Jesper Saltvik Pedersen on what it toook to win 6 Paralympic medals
What made you want to be a professional skier?
For me, becoming a professional skier has always been a big dream, but it has also kind of been natural to me. Ever since my parents tried sit ski with me when I was 2-years old, alpine skiing has been a big part of my life. And the most important thing, even from the early days, has been to always have fun and want to improve a bit every day. I guess I'd say this has led me to where I am today.
What hardships have you overcome in order to pursue a career in professional skiing?
I am from Karmøy, which is an island without mountains or snow, so my family and I have spent many hours in the car in pursuit of the mountains. That's something I hear quite often from my local community – when somebody from Karmøy can take Paralympic gold in alpine skiing, everything is possible. But I suppose that when you want something bad enough, everything really is possible.
What would you say is the biggest high point of your career, and the lowest?
Biggest high point until now is probably the Paralympics in Beijing. The lowest point in my career was when my dad, who is the reason why I am where I am today, died in 2020. It's been a hard time after that, but I have managed to focus on the things that I have the power to change and fix. I believe I am on track to have my best season so far, and I will do that to honor my dad.
How do you prepare/do you have a ritual for your races?
Before each race, I always visualize how I'm going to ski the course in the best way possible, and by having a plan that I trust, I can get the extra confidence I need to ski fast. Could you describe a typical day of training with the team? Training and race days typically start with the whole team eating breakfast together. The evening before, we've gone through the plan for the next day, so everybody knows what's going to happen. Then, we get up to the ski resort, take a couple of warm up runs and then we're ready to inspect the training course. We usually do that in pairs during training and discuss the best plan for skiing as fast as possible. After each run, we usually have a chat at the bottom to give each other feedback and figure out the plan for the next run. When we're done training, we get down to the hotel again, relax for an hour or two, and then there is usually some dry land training. After that, it's dinner and a new meeting with video analysis to figure out what we're going to focus on the next day.
How important is trust within your team?
In our team, trust plays a big part. We have to trust that the coaches know what they're doing and believe in their way of thinking. We also have to trust our teammates when we give each other feedback from our runs.
How do you manage the emotional and physical pressure of being part of the team?
To be a part of this iconic team is something I only see as an advantage. To be a part of the same team as Kilde, Solevåg and Mowinckel is unique for us in Norway, and to be able to tell our opponents that we train alongside them on a regular basis is something that gives us an advantage right away. Of course, there are some pressures that come with being a part of such a great team, but I think that only makes us stronger and more motivated to become better skiers every day.
How do you balance your personal life with being a professional skier?
To balance my personal life while being a professional skier can be difficult. When I'm home, I try to hang out with friends and family when I have the chance, and stay in touch with them on FaceTime, etc. when I'm overseas. How does it feel being part of the legacy of the Norwegian Alpine Ski Team? To be a part of the legacy of this team is a big honor and something that influences many of the decisions we take within the team. We want to live up to the great past and present of the team and contribute to this great culture.
What is it about skiing and the mountains that make you feel alive?
The sensation of not being hindered by the wheelchair (or anything really) and being able to do whatever I want is what makes me feel alive while skiing in the mountains.
What don't people know about alpine skiing?
Alpine skiing is something everybody can participate in, and there's always room for improvement, not matter what level you're at. In para alpine skiing, the feeling of freedom is the most important thing I think. To be able to be free in the mountains and do whatever you want on equal footing with friends and family, and not locked to a wheelchair, is an amazing feeling.
Share This Article