Shaggy's Skis - Reusable Face Shields Now Available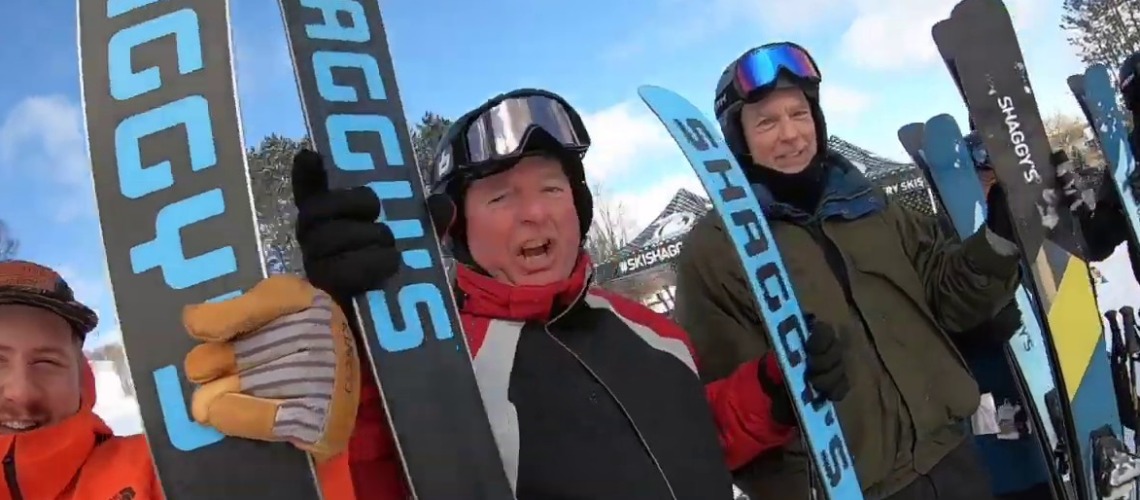 Shaggys skis are working hard making facemasks in these difficult times. They say:
We've managed to stay healthy here at the shop, and hopefully you have too. With our PPE production continuing, we've needed all hands on deck to keep up with demand.
Many of you have asked us whether our face shields and eye shields are available to the general public, and the answer is YES! Initially most of our production capacity was reserved for hospitals, EMS organizations, and other first responders. But as more and more states across the country are slowly beginning a return toward something approximating normal, our PPE is now being sent to dental offices, physical therapy offices, and other businesses that may have been closed during the peak of the pandemic.
Our thoughts and prayers go out to all those affected by the COVID-19 pandemic.
Stay safe, stay healthy, and be a part of the solution!
The Shaggy's Family
NEW REUSABLE SHIELDS AVAILABLE
Over the last week, we've transitioned our production of face shields from a disposable model to the type shown above. The sturdy, reusable frame provides a two-inch offset, allowing loupes and similar instruments to fit behind the anti-fog lens.
And when it's time for a new lens, simply remove the existing one from the four tabs along the outer edge of the plastic frame and pop the new lens on those tabs. Frames can be cleaned easily, and our production of frames and replacement lenses will continue for as long as a need exists.
Each frame comes with one anti-fog lens, and replacement lenses are available in packs of 10 and 50.
See the product here: www.skishaggys.com/collections/ppe/products/reusable-anti-fog-face-shield-4-mil
Orders can be placed online at any time. New inventory is added daily, so if frames are out of stock, keep and eye on the website or sign up for an in-stock notification. If you'd like to place an order over the phone, call us at 231-459-4323 during business hours (8-5 Monday through Friday).
WHAT ABOUT SKIS??
We're so thankful to have been able to chip in during these difficult times, but rest assured that we'll get back to building skis as quickly as we can!
For those of you with skis on order, yours will be the first built when we return to normal production. We'll keep you updated as to when we expect to begin pressing skis.
We've got some pretty cool stuff in the works for our 2021 model year skis, which will be released this summer. Some of you were able to get a sneak peek at our 2021 ski test/demo at Boyne Mountain in March, but for the rest of you, we'll be dropping some breadcrumbs later this month....
MEET THE TEAM
Whether you've just learned about Shaggy's or have been aware of us for years, it's likely most of you haven't met our team. The seven of us work out of our shop in Boyne City, Michigan. We'll introduce ourselves (starting with Spencer at the far left of the above photo and working right):
Spencer Lindenberg - Sales & Marketing - Spencer is usually the one to respond to emails and answer the phone. He's ready to answer any questions you may have about our skis!
Kelsey Fegan - Ski Builder - Kelsey does just about anything related to ski production, from planing lumber to ski layups. She's our jack of all trades!
Chad Barratt - Ski Layup - Chad is our resident ski layup expert. He's normally spreading epoxy between the different layers of skis and getting them in the presses!
Jeff Thompson - Co-Founder & Partner - Jeff began making skis with his brother and father (John) way back in 2005 and founded Shaggy's in 2008. He handles ski design, engineering, and much more!
John Thompson - Co-Founder & Partner - John has been involved with Shaggy's from the very start, and he handles the finishing of all our skis. He now has well over a decade of experience as our chief finisher!
Shari Thompson - Partner & Shop Mom - Shari, John's wife and Jeff's mother, is affectionately known as our "Shop Mom." She handles topsheet printing, shipping, and making sure everything is moving smoothly!
Ryan Kildee - CNC & Woodshop Tech - Ryan is our CNC whiz, ensuring all of our cores, bases, and sidewalls are cut correctly. He also preps all of the parts for our skis before they are ready for layup!
Once we re-open the shop to customers, stop by and say hi if you're in the area! If you're not close enough to make that happen, check out our VLOGs to see what happens behind the scenes at Shaggy's!
Share This Article