Serfaus-Fiss-Ladis Celebrates 10 years Of Bikepark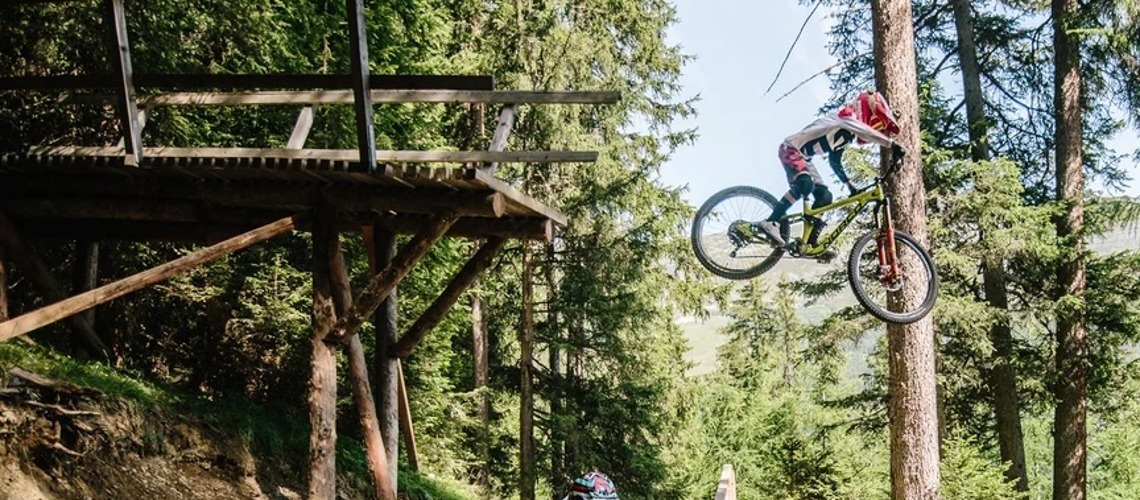 Although the temperatures are getting cooler and the days are getting shorter, nature appears in the most beautiful colors above the fields of fog on the high plateau in the upper Tyrolean Inn Valley and the landscapes are more breathtaking than ever. There is no reason to mope. On the contrary: everyone here is in a party mood, because the Bikepark Serfaus-Fiss-Ladis is celebrating its 10th anniversary. In addition to the anniversary party, there are also other highlights and must-dos that are definitely worth a visit in late summer and autumn.
The Bikepark Serfaus-Fiss-Ladis is celebrating its 10th anniversary – time to come along and celebrate! After all, a tenth birthday only happens once. That's why there will be the "10 Years of Bikepark" festival in Serfaus-Fiss-Ladis from September 1st to 3rd . A great supporting program awaits all visitors - with an expo and free testing options on the event site, music by DJs, drinks and snacks, the party atmosphere is guaranteed. You can also show off your own skills at various competitions. In addition, the Girls Shred with influencer Bine Herzog ensures that the female guests and riders do not miss out on biking fun.
The best way to celebrate the bike park's 10th anniversary is of course with a few laps in the bike park. The nine lines , from very simple to very challenging, are available to all bike guests until October 22nd . Year after year, guests are offered the best bike park action here. Whether it's a pleasure ride or an all-out ride, the high plateau's bike park makes both possible. When celebrating, you can't miss toasting, which is ideal for the huts, restaurants and cafés spread across the single trail network and in the area surrounding the bike park. For all those who would rather drop from huts than sit in huts, the "Hill Bill" is a hot tip. Go from 0 to 100 with the iconic hut drop.
With the brand new Zirbentrail , the Serfaus-Fiss-Ladis bike region is creating a new single trail highlight that combines everything that makes a mountain biker's heart beat faster. Starting at an altitude of 2,600 meters, you can marvel at the incredible autumn panorama of the high plateau at the Zwölferkopf before tackling the incredible 9.1 kilometer long single trail descent. The mostly flowing trail contains many waves, doubles, curves and north shore elements and offers pure variety for beginners and advanced riders. The Zirbentrail, which is based on three earlier trails (Almtrail, Flüstertrail, Zirbentrail), but also contains newly designed sections and features, solves the legendary oneFrommestrail (8.9 kilometers) is the longest single trail in Serfaus-Fiss-Ladis.
Not to be missed in Serfaus-Fiss-Ladis is the Högtrail , which is an absolute highlight trail and, as one of the five Great Trails in Tyrol , is one of the flowiest single trails for downhill-oriented mountain bikers that the state has to offer. You can expect a lot of flow on the 3.8 kilometer long trail. At the same time, jumps provide that certain extra something and North Shores and root passages are also characteristic of the Högtrail - a real "all-in-one" trail that is equally suitable for beginners and single trail professionals.
If you want to experience even more single trail action, you should definitely try the three other single trails in the region.
In order to shred all the single trails and bike park lines and make the mountain bike experience particularly unique, the necessary skills must not be missing. At the Women's Camp and the Men's Camp, riders now have the chance to hone their basic technique and improve their bike handling. With like-minded people and professional coaches, you work on the basics, such as choosing the optimal line, and also try out drops and tables - all in a relaxed atmosphere and in an ideal environment. The camps will take place from September 8th to 10th. There are only a few places left, so it's worth being quick!
There is also a high-end selection of courses for kids and teens as well as adults in Serfaus-Fiss-Ladis.
This shouldn't be a problem on the BIKE EVEREST TIROL , an extraordinary mountain bike tour with a whopping 8,848 meters in altitude. On this 285 kilometer long tour, the height of Mount Everest is conquered by bike, so to speak. Seven stages run between Garmisch-Partenkirchen and Nauders am Reschenpass. The routes of stages five and six directly cross the Serfaus-Fiss-Ladis region. Participation in BIKE EVEREST TIROL is possible individually all year round. You can register for it here- a spectacular event for hard-core mountain bikers but also for more leisurely e-bike fans, with idyllic mountain scenery and past numerous historical sights. A varied program is also provided for family members and friends who come along as companions and are not directly competing in the BIKE EVEREST TIROL. When choosing between regional leisure activities, excursions with the mountain railways and e-bikes rented on site and accompanying tours led by guides, there is something for everyone.
If you've had enough gas over the summer or want to take it easy, it's best to just grab an e-bike. Because there are no limits at all in Serfaus-Fiss-Ladis. There are many long tours through the mountain bike region here. If you're craving a little adrenaline, the single trails are within reach anyway. Enough charging stations and rest areas enable endless e-bike fun.
With the online tour planner you can quickly and easily put together the perfect tour for your individual needs.
Further information on biking in Serfaus-Fiss-Ladis is available at: www.bike-sfl.at .
Details on the Serfaus-Fiss-Ladis holiday region can be found at www.serfaus-fiss-ladis.at .
Share This Article