Seiser Alm 2020 Moonlight Classic: Justyna Kowalczyk, A Star On The Night Of A Full Moon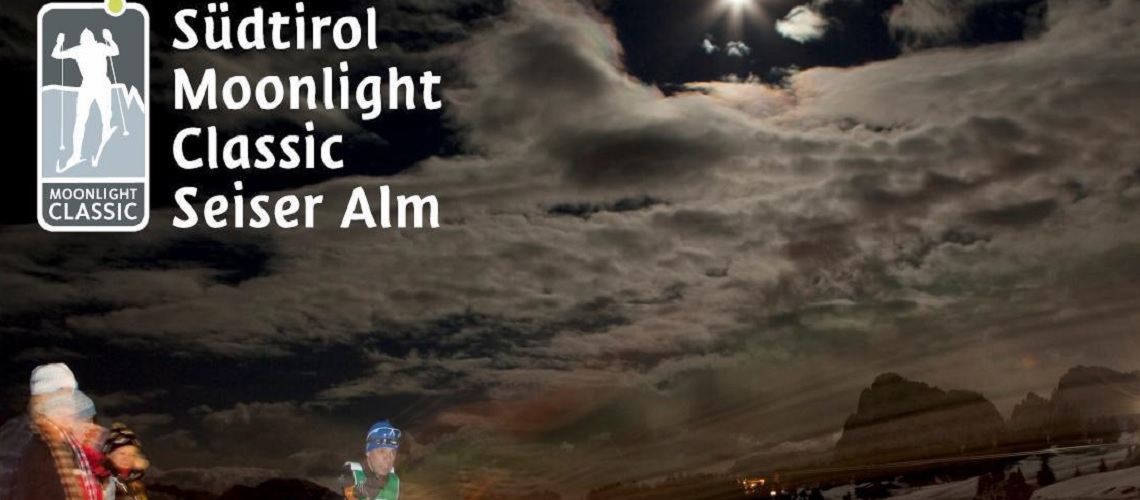 Seiser Alm is getting ready for the Moonlight Classic, a traditional cross-country skiing race which will take place, as is the custom, on the night of the full moon. This year it falls on Friday 7 February. The skiers who will compete on Europe's largest alpine pasture can choose between two trails (15 and 30 km, respectively). They will ski under the light of a full moon while torchlight will guide them towards the finish line. Once again, the standards will be very high, thanks to the presence of several top athletes. Justyna Kowalczyk, the first Polish woman to win an Olympic medal in cross-country skiing will participate with the female skiers.
There's very little time left before the much awaited event for lovers of cross-country skiing: the Seiser Alm Moonlight Classic. This year marks the 14th edition, which in itself is proof that it is a unique date in the world of cross-country skiing. As is tradition, the Moonlight Classic will take place in a breathtaking setting lit only by the full moon, in the cold of a snowy night that will be warmed up by torchlight. The Seiser Alm is covered in snow and the two circuits (15 and 30 kilometres) are in perfect condition, ready to welcome the skiers on Friday 7 February 2020.
ÉLITE ATHLETES AND BIG NAMES
This year's Seiser Alm Moonlight Classic is remarkable for the fact competitors come from far and wide: Germany, Sweden, Austria, the USA, the Czech Republic, Slovakia, Norway, Poland, Switzerland, Portugal and, of course, Italy. This is attributed to the intense promotional work undertaken by the race's organisation committee over the years. So far 200 skiers are signed up, but experience tells us that this number could double in the days leading up to the race.
The races will be accompanied by several other events: there's Just for fun for those who want to take part without the stress of appearing in the final rankings, and the debut of the Moonlight Classic Warm UP. This features the Olympic medalist Karin Moroder and makes sure everything is ready for the main competition.
Many of cross-country skiing's big names will participate too: they include those of two athletes who appeared in the 2006 Olympics in Turin, Giorgio di Centa and Cristian Zorzi. They will be joined by Russia's Eugeniy Dementiev, who won last year's edition. There will also be a few veterans who are still in great shape, such as the Norwegians, Anders Nygaard, Thomas Alsgaard and Stanislav Řezáč. Mauro Brigadoi and Francesco Ferrari will also be there.
The female skiers include Antonella Confortola, although all eyes will be on Justyna Kowalczyk, who dominated an era with five medals in the Olympics (including two golds) and eight in the World Championships.
THE SEISER ALM MOONLIGHT CLASSIC: PRACTICAL INFORMATION
Bibs can be collected between 3 and 6 p.m. on February 6, or else from 9 a.m. onwards on the day of the race. Entrants can sign up on the website www.moonlightclassic.info at a cost of €60, and they can do so up until 6 p.m. on the day of the race.
The official race is due to start at 8 p.m. at Compaccio, and 10 minutes later it will be followed by the Just for Fun category. The atmosphere will be made even more magical by the presence of groups in traditional Seiser Alm dresses, who will cheer on the athletes and warm the hearts of everyone present by playing cowbells. The competitors in the 15 km race should reach the finish line about half an hour later and the winner of the 30 km race is expected to arrive at around 9.15 p.m. The prize-giving ceremony is due to take place at 10 p.m. and the "after race party" will continue in the heated tent where the group "3 guat" will play blues, pop and rock music into the small hours. Needless to say, the locally produced food will be delicious.
Competitors can use the Seiser Alm cable car free of charge on the day of the race, while it will be free for spectators from 6 p.m. to 1 a.m. Parking will also be available in the starting and finishing areas from 5 p.m. onwards
For further information, visit: www.moonlightclassic.info
Share This Article