RIP Jake Burton Carpenter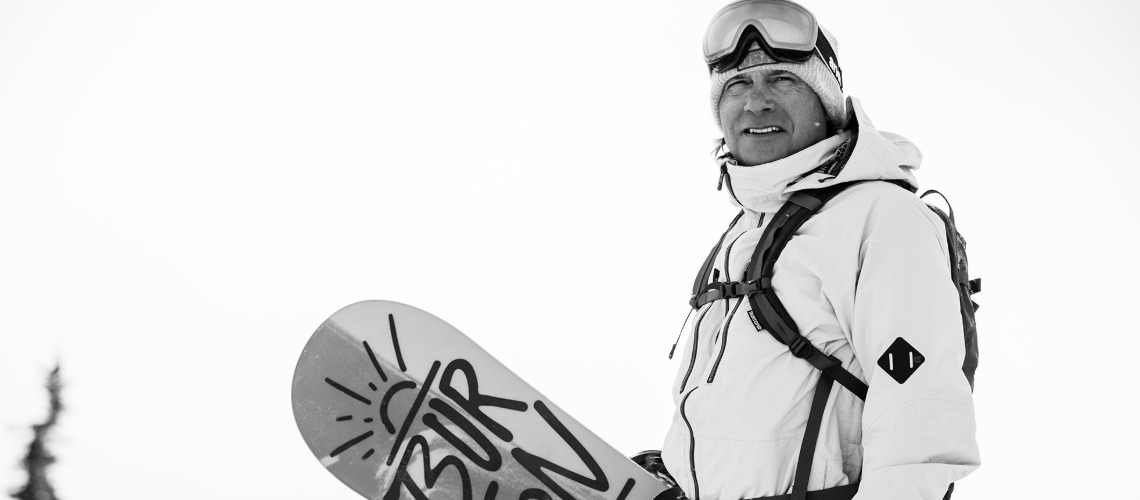 Jake Burton Carpenter, owner of Burton Snowboards and a snowboarding pioneer, passed away in Burlington, VT at the age of 65.
John Lacy, Burton's co-chief executive officer, wrote: "It is with a very heavy heart that I share the news that Jake passed away peacefully last night surrounded by his family and loved ones as a result of complications from recurring cancer. He was our founder, the soul of snowboarding, the one who gave us the sport we all love so much."
Lacy went on to say, "This all happened very suddenly, and it's a tremendous loss for his family, his friends and all of you. We will share more details about plans to celebrate Jake's life soon. Today, please take the time and space you need to process this very sad news. If you need to go home and be with loved ones or prefer to stay today, please do what is best for you. At noon today, we will be holding a gathering in the lobby/store for those who benefit from grieving with others; it will be a time to share stories, and celebrate an incredibly full life."
In an e-mail sent to staff on November 9, Carpenter revealed he was again battling testicular cancer. He had been diagnosed in 2011 but after several months of therapy had been given a clean bill of health.
Carpenter wrote, "You will not believe this, but my cancer has come back. It's the same tumor as the first time around. We just never got rid of it all. A bit of it hung out in my lymph nodes and got back into business. The odds are in my favor, but it is going to be a struggle for sure."
He continued, "As much as I dread what is facing me, it's easier to deal with when you know that you have a family that will carry on. I feel the same way about my company, my friends and our sport. I will be back, but regardless, everything is in good hands, which is an amazing feeling when entering this zone of uncertainty."
Jake was first captivated by "surfing on snow" when, at the age of 14, he received a Snurfer board, an invention of Michigan businessman, Sherman Poppen. The concept became a burning passion as he worked to perfect the board into a product that could become more than a backyard hobby. In 1977 he produced his first board, the Backhill, which he distributed from his station wagon for $88 each.
On New Year's Eve in 1981, Jake met Donna in a bar at Stratton Mountain Resort. They got married, bought a house in Manchester and built boards in the barn. Donna held a multitude of roles at Burton over the years. In the early days, she helped Jake dip wood snowboards into a vat of polyurethane, took down orders in the middle of the night when the phone rang in their bedroom, expanded Burton's market to Europe, held the CFO position, oversaw HR and started her own gourmet food business in her hometown of Stowe, Vermont. Currently, Donna is the founder and director of Burton's women's initiatives, overseeing all efforts to ensure that Burton is the employer of choice and the brand of choice for women. Through Donna's leadership, Burton established new women's marketing, product and creative departments to drive the women's business and created internal committees, which focus on retaining and promoting women. She is very involved with her local community, running an after-school snowboard program and serving on the board of Vermont Public Radio.
It was Jake and Donna's unwavering commitment to making snowboarding a legitimate sport that had such a tremendous impact on the snow sports industry. Jake fueled the growth of snowboarding worldwide by convincing resorts to allow snowboarders on their lifts and organizing events like the US Open Snowboarding Championships, which just celebrated its 25th Anniversary in 2007. Burton is also responsible for sponsoring a global athlete roster that included many of the world's most influential snowboarders, including four Olympic gold medalists. Burton's commitment to riders begins at a young age with its "Smalls Team," which includes girls and boys as young as four. The impact of these nurturing relationships and long-term commitment to developing riders is evident by the company's 13-year relationship with professional snowboarder and recent Olympian Shaun White.
It is generally recognized that the snowboarders put the snow sports industry back on a growth pattern after several years of stagnancy. Snowboarding brought kids back to the slopes, giving them a sport and a culture they could relate to, and Jake & Donna were a driving force behind the sport for over 30 years.
Share This Article